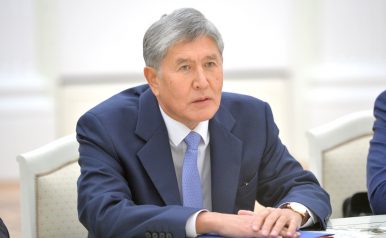 Meanwhile, "cautious optimism" about Uzbekistan and a quick lesson on Soviet history in the region; weekend reading.
Links for your weekend reading:
Kyrgyz-Kazakh Rift: This week the Kyrgyz parliament adopted a proposal to formally reject $100 million in aid from Kazakhstan. Bruce Pannier called it "an 'own goal' of epic proportions." Why has Bishkek rejected "essentially a gift given to help Kyrgyzstan update state entities to meet EEU trade standards"? Pride, mostly.
Kazakhstan tightened border control on October 10 after Kyrgyz President Almazbek Atambayev started flinging around accusations that Astana was backing Omurbek Babanov, the main competitor to eventual winner Sooronbai Jeenbekov (from Atambayev's Social Democratic Party). Atambayev, in typical hot-headed fashion, both subtly and outrightly insulted President Nursultan Nazarbayev and Kazakhstan in interviews and his UN General Debate speech. Just this week he said, of the Eurasian Economic Union, "A union that depends on the whims of one person, no matter how great that person is, cannot be solid." The one person is assumed to be Nazarbayev, given the current kerfuffle.
As Nurjamal Djanibekova wrote for Eurasianet this week, diplomatic talks continue and while there has been some improvement in pace at the border, things are far from normal. If Atambayev's mudslinging was a political tactic, it has smeared his successor too and set up a headache for the Kyrgyz people.
(Shameless self-promotion: The subject of my article in the upcoming issue of The Diplomat Magazine is the Kazakh-Kyrgyz Rift and the ever-important issue of respect. Check it out when Issue 36 goes live next week.)
Uzbekistan and Hope: Human Rights Watch, perhaps one of late Uzbek President Islam Karimov's least favorite organizations, has officially declared its (cautious) optimism as new Uzbek President Shavkat Mirziyoyev's first year in office approaches. HRW was allowed to send a delegation to the country earlier this year for the first time since 2010. This week the human rights organization released a report that outlined signs of hope and reasons for continued caution. The report ended with a list of steps the activists hope the Uzbek government will take to transform the "modest steps" it has taken "into institutional change and sustainable improvements."
A recent article in the New York Times encapsulates well the optimism and caution flowing through regional observers. "Some see in the opening only a feint toward liberalism, intended to dupe international observers just long enough to lift trade embargoes imposed on cotton, a major export commodity," writes Andrew E. Kramer, after noting a number of signs of improvement: the release of some political prisoners and loosening bonds media. Plenty of political prisoners remain in jail, and a whole litany of human rights concerns remain valid. But as HRW says, "This is a real moment of hope for the human rights of the Uzbek people."
Central Asia and the Bolshevik Revolution: In a fascinating article for Eurasianet, Alexander Morrison carefully charts a course through the history of the 1917 October Revolution and its impact on Central Asia. "In this colonial periphery," he writes, "the October Revolution was even less representative of the popular will than in European Russia." General Mikhail Frunze in 1919-1920 led the reconquest of Central Asia, beginning the process of Soviet consolidation in the region where, as Morrison notes, Soviet rule was politically weak, "with almost no base among the indigenous population." The history of the Soviet Union in Central Asia is complex, and Morrison does not cut corners in explaining the ebb and flow, usage of local nationalism and then rejection of it, tightening economic and political control, but also "a recognized place for national culture."
The Diplomat, October 28, 2017