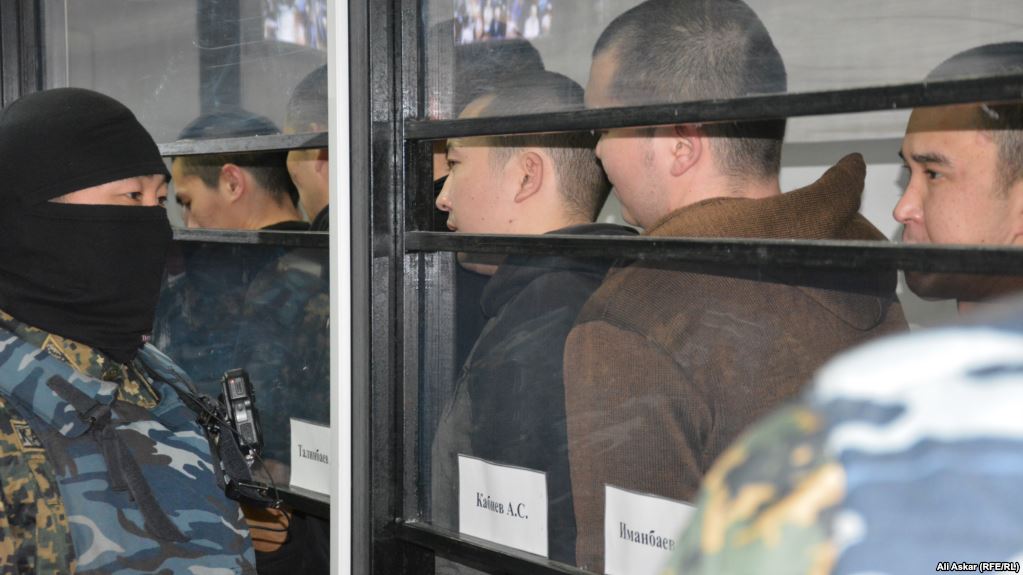 Kazakhstan has an article in its Criminal Code -- Article 174 to be exact -- that outlaws actions that foment social, national, tribal, racial, class, or religious hatred and actions that insult national honor or dignity or the religious feelings of citizens.
The article is sufficiently vague that it has allowed broad interpretation by Kazakhstan's courts, which have on several recent occasions found journalists, bloggers, civic activists, and others guilty of violating the article. Rights groups have decried such use of Article 174 to silence government critics.
A proposed major addition to the Criminal Code is being debated, and some believe this article would also be open to broad interpretation and potential abuse.
Article 184-1 seeks to punish those who have caused "great harm to the vitally important interests" of Kazakhstan. Conviction on this charge could carry the death penalty.
RFE/RL's Kazakh Service, known locally as Azattyq, quoted Deputy Justice Minister Zauresh Baymoldina as saying the "vitally important interests" would include actions that "compromise the territorial integrity of the state, the stability of the constitutional structure, social, or political stability, [or] defensive capabilities and security."
It seems to be a response to terrorism, though there are clearly other actions that would fall under this article.
Proposed penalties for violators of Article 184-1 include prison terms of 15 to 25 years. Loss of citizenship is another penalty that was already recently added to the books.
Kazakhstan still officially allows for the death penalty, although there has been a moratorium on its use for nearly 20 years.
So far, there is only one specific offense under the draft article that is punishable by death: any attempt to kill the first president of Kazakhstan, Nursultan Nazarbaev "with the goal of hindering his legal activities or in revenge for [his] activities."
Veteran Kazakh civic activist Yevgeny Zhovtis has told Azattyq that Article 184-1 is a modern adaptation of the Soviet Criminal Code concerning "anti-Soviet" activities.
He is among those who fear the article will be used to punish government opponents. "It only remains to wait a little while until 'enemies of the people' and 'undesirable elements' appear...[including] opposition figures, independent journalists, or activists," Zhovtis told Azattyq.
For that reason, attorney Ayman Umarov told Azattyq that the authorities must concretely define what is "vitally important" for the country. Umarov agreed the article seemed to target terrorists. But he said, for example, large-scale embezzlement of state funds is vitally important for the state and the people.
Blogger Miras Nurmukhanbetov wrote that the Criminal Code "is turning into a stick to be used against those who think differently [than the authorities]."
Defining 'Terrorism'
There have been very few incidents in Kazakhstan since 1991 independence that would qualify as acts of terrorism.
But like many other countries, Kazakhstan has shown a tendency to equate violent acts where deadly force is used to terrorist acts.
The violence in the western city of Aqtobe in early June was branded a terrorist attack. In that incident, a group of some two dozen mostly young men robbed a gun shop and then went on a bizarre spree where they hijacked a bus and, after first allowing all the passengers to leave, drove to a military facility and launched an ineffective attack that was quickly repelled and in which most of the attackers were killed.
No extremist or terrorist group ever claimed the attackers were part of their group, although Kazakh officials explained the young men were inspired to violence after listening to Islamic extremist radio broadcasts.
Another incident in Almaty in July 2016 was labeled terrorism, though it involved one ex-convict who confessed he had killed several policemen (he purportedly wanted to kill some judges but couldn't find any) out of vengeance for being put it jail.
Some Kazakh citizens have gone to conflict areas such as Syria or Iraq -- not many, probably only several hundred -- enough that the Kazakh government does have a legitimate concern but possibly not so many that the Criminal Code has to be greatly overhauled to deal with the as-yet-quite-small problem of terrorism in the country.
Which brings us back to Yevgeny Zhovtis's concern that a law meant to punish a specific group of individuals who represent a genuine threat will end up being used to punish people who challenge the authorities.
Azattyq's Yerzhan Karabek contributed to this report. The views expressed in this blog post do not necessarily reflect those of RFE/RL
Radio Free Europe/Radio Liberty, 08.04.2017