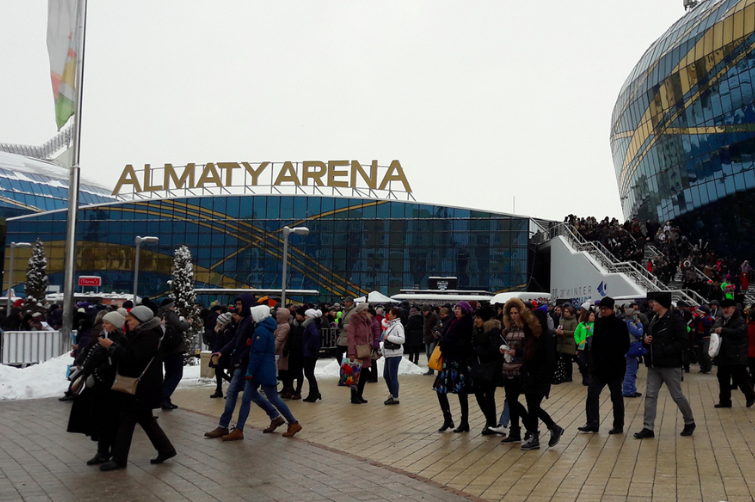 Kazakhstan made the front pages of international newspapers last month when it hosted the first round of Syria peace talks. The diplomatic initiative is kicking off a year that will see a major PR push to portray Kazakhstan as a global player.
For some years now, Kazakhstan has embraced soft power with a vengeance, as part of its mission to gain a prominent spot on the world stage. It is taking things to a new level in 2017. With one session of peace talks already under its belt, the capital city, Astana, is readying for the EXPO-2017 international fair. Down in the business capital, Almaty, the winter version of the World Student Games closes this week. Meanwhile, in New York, Kazakhstan's diplomats have just begun their two-year stint on the United Nations Security Council.
The initiatives are intended for a domestic audience, as much as to draw the attention of the outside world. "Over the last decade, President [Nursultan] Nazarbayev has engaged in diplomatic 'badge-collecting' — hosting international prestige events, partly as a component of his legacy-building strategy, but also as a 'bread-and-circuses' tool domestically," Central Asia analyst Kate Mallinson told EurasiaNet.org.
Kazakhstan has expended huge financial and diplomatic capital on its reputation-burnishing exercises, promoting the country as a responsible member of the international community and a multicultural bastion of tolerance. Analysts believe these efforts are now beginning to earn diplomatic dividends.
Kazakhstan's "portrayal of itself as a geopolitical player and a multicultural, multi-ethnic society has paid off in a number of instances, and a recent example is the fact that Astana hosted international negotiations on Syria," Anita Sengupta, an expert on the Eurasian region at the Calcutta Research Group, told EurasiaNet.org.
By hosting the peace talks in Astana — for which Kazakhstani ally Russia was a driving force — Nazarbayev is positioning himself as a peace broker. He has already won plaudits for his efforts in nurturing the rapprochement between Turkey and Russia last year that culminated in these talks — the first to bring the Syrian government and some selected rebel groups together to negotiate after six years of warfare. Relations between Russia and Turkey collapsed following the downing of a Russian fighter plane by Turkey in November 2015, and Nazarbayev, an ally of both, was credited with bridging the divide.
Kazakhstan pulled off another diplomatic coup in 2016, when it secured Asia's vacant non-permanent member seat on the Security Council for two years, beginning this January. To secure the council seat, Astana successfully countered concerns over the country's deteriorating record on protecting basic individual rights.
While Kazakhstan has scored some points on the international arena, officials are also harnessing soft power initiatives to deflect attention from such concerns at home. "This allows them to distract public attention for a time from pressing problems in the economy and in the social sphere," political commentator Amirzhan Kosanov told EuraisaNet.org.
Astana is battling to keep the public onside after two years of economic stagnation, brought on by the collapse of energy prices in 2013-14. Economic growth slowed to just 1 percent in 2016, according to preliminary figures — its lowest level since 1998. The government is also eager to dampen any protest moods in the country. Last year, authorities were caught off guard, when peaceful demonstrations erupted across Kazakhstan over contentious land reforms that were later shelved.
There are signs that these soft power initiatives are not having the desired effect on domestic audiences. "Events such as the winter student games are hoped to distract the domestic population from ailing socio-economic conditions, but the omnipresent billboards advertising the forthcoming games in Almaty hold little resonance for Kazakh citizens who have become jaded," suggested Mallinson.
Kosanov also pointed to the fact that "events like EXPO-2017, which have required huge input in public funds on the part of the state, are taking place against a backdrop of a general downturn in the economy and a deterioration in the lives of ordinary people."
"And naturally this gives rise to some dissatisfaction among the public, especially since the preparations for the exhibition have been marred by huge corruption scandals," Kosanov added.
Kosanov was alluding to a graft scandal that rocked the Astana EXPO-2017 fair, an international exhibition, previously staged in Milan and Antalya, which the government lobbied hard to win, and which opens in June, featuring the theme of Future Energy. Last year, Talgat Yermegiyaev, the former head of the event's organizing company, was sentenced to 14 years in jail after he was found guilty of embezzling 10.2 billion tenge ($31 million) from the fair's funds.
Despite this scandal, the death of three workers on construction sites for the exhibition and the collapse of one of its buildings, the government still sees Astana EXPO-2017 as a chance for Kazakhstan to showcase itself to the world. In the hope of enabling an inflow of visitors, authorities have abolished visas for citizens of a host of countries. That move helped Kazakhstan secure a place on The New York Times' list of top places to visit in 2017. The newspaper described the country as a "luxury eco-destination."
Then there is the Winter Universiade, or World Student Games, which opened on January 29 in Almaty and saw 109 billion tenge ($330 million) worth of investment in related infrastructure. Almaty hopes to reap the benefits from international media coverage highlighting its credentials as a winter sports destination. To sell the games to the public, the government is touting their legacy. The city now boasts new, state-of-the-art facilities, such as the 12,000 capacity Almaty Arena, and what will become a new residential district, which was built to house the athletes.
EXPO-2017 is estimated to have cost around $3 billion, financed by a mix of public and private money. After critics raised fears that the futuristic glass and steel pavilions were a potential white elephant, Nazarbayev intervened personally, earmarking the site for the Astana International Financial Center, which is intended to make his glitzy new capital a regional banking hub.
With the Syria talks drawing a satisfying level of global attention, the Winter Universiade winding down and EXPO-2017 on the horizon, Kazakhstan will hope that this year it can remain in the international headlines for all the right reasons.
Editor's note: Paul Bartlett is an Almaty-based freelance writer.
EurasiaNet.Org, 06.02.2017