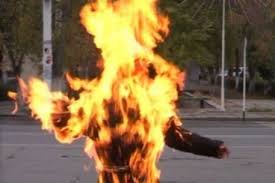 Self-immolation has in recent times become a recurrent gesture of ultimate despair in Kazakhstan.
In the latest such case, a ex-employee of the Atyrau regional prosecutor's office, 37-year old Leila Smadyarova, set herself alight in front of her former place of work, local newspaper Ak-Zhaiyk reported.
Smadyarova's responsibilities at the prosecutor's office consisted of ensuring state detention facilities were properly ensuring the rights of prisoners. In August, a court in the Atyrau, which is situated in western Kazakhstan, issued an order for Smadyarova to be placed under house arrest pending investigations into allegations that she had taken 3 million tenge ($9,200) in bribes. She denied the accusation.
Trial proceedings have since got underway. Prosecutors have argued that Smadyarova, who was an assistant to the regional prosecutor, took the bribe in two parts.
Ak-Zhaiyk cited unnamed sources as saying Smadyarova was driven to the act of self-immolation to draw attention to her plight. She maintains that she never took any bribes and that she is the victim of a smear campaign undertaken by people that she had previously brought to justice. Other than witness statements from those individuals, prosecutors have no evidence, Smadyarova has reportedly said.
Smadyarova was taken to a local hospital with burns to her face and lower leg. Doctors have said she is no immediate danger to her life and that she is fully conscious.
The case has shocked the public not just because the gesture is an extreme one, but because it has occurred so many times.
Activist Baurzhan Aldybergenov said the incident should serve as a clarion call for greater solidarity.
"If we just whine, then we will all die like sheep. We must defend our rights. To do this, we must care for one other, support one another and protect one another," he wrote in a Facebook comment.
Prosecutor's offices seem a particularly favored target for self-immolations — a trend that grimly hints at the sense of frustration felt by many Kazakhstanis forced by vicissitude to cope with the justice system.
In mid-December, a 48-year old woman in Astana, Maira Rysmanova, succumbed to injuries sustained after she set herself alight in a desperate protest in front of the General Prosecutor's Office. Rysmanova resorted to the gesture in a plea for a review into the case of her son, who she said had been unjustly prosecuted on drug possession charges.
Later that same month, 46-year old entrepreneur Nurken Ainabekov set himself alight in front of the headquarters of the prosecutor in the South Kazakhstan region. Ainabekov denied accusations of fraud leveled at him by the police. He had been involved in a project to build a clinic that ended up with him incurring major financial losses. That episode ended up with him being landed with criminal charges.
In October 2015, 20-year old Yerlan Bektibayev, a young man in the southern Kazakhstan city of Taraz, committed suicide by setting himself alight in front of the local headquarters of the ruling Nur Otan party. His gesture was intended to draw attention to what he said was the injustice he said he had suffered at the hands of the police.
Also, back in May 2009, a 52-year old man carried out the same act in front of the office of the Atyrau regional prosecutor in protest at the pursuit of a criminal investigation against his 18-year old son. The man died of his injuries in the hospital. The son was later cleared.
Eurasianet.org, 01.02.2017