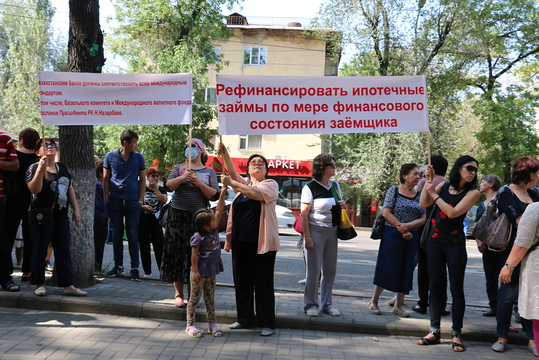 Mortgage holders picket a bank in Almaty, Kazakhstan, in a demand for their loans to be refinanced following the dramatic fall in value of the national currency, the tenge.
In a reprisal of impromptu rallies seen earlier this year, around 30 mortgage holders in Kazakhstan's business capital picketed banks on September 19 demanding their loans be refinanced.
Frustration is mounting among many debtors that a program ordered by President Nursultan Nazarbayev for the central bank to provide commercial lenders with 130 billion tenge ($380 million) to refinance loans is failing to take full effect.
The rallying mortgage holders, who complained that their debts had not been refinanced, called during their picket for them to be granted 1 percent interest rates and five-year repayment periods.
But Zhanna Sadykova, a member of the Let's Leave Housing for the People, claimed in remarks to EurasiaNet.org that banks are refusing to grant those terms.
Those suffering the most are people like 64-year old pensioner Tatyana Alenkina, who obtained a dollar mortgage worth $35,000 in 2008 to buy an apartment. She repaid $27,000, but a paltry monthly pension worth 35,000 tenge (devalued to $89 by the collapse of the national currency) means she can no longer keep up with payments.
"They kicked me out of my apartment in the evening, they won't let me into my apartment any longer. I cannot find my things. I am going hungry. Now I'm living in a basement," Alenkina told EurasiaNet.org.
The National Bank has said that as of September 1, almost 18,000 refinancing requests out of a total of more than 24,200 have been fulfilled. Protesters blamed banks for disruptions to the refinancing program.
ATF Bank executive director Eldos Zhumabayev told reporters that his institution was the first to use up National Bank-provided refinancing funds and that it needs to wait for repayments from debtors before it can continue its refinancing efforts. Zhumabayev said ATF Bank has refinanced loans of 1,700 people and that another 150 applications are outstanding.
The picketers also marched on the offices of the former BTA-Ipoteka, now Astana Investment Group, where 10 mortgage holders say they have been denied refinancing.
"Who knew there would be a crisis? Why did they lead the country to a crisis?" one woman participating in the picket shouted to general approval.
As protesters began unfurling banners a man identifying himself as a prosecutor told the crowd they had no authorization to protest, so the picketers moved on sullenly after some minutes.
The National Bank refinancing program has been extended to December 1, and it now looks like it could be extended by yet another year.
Alexei Lee, head of the national fund for the development of financial services, told state news agency KazInform that 35 percent of government money allocated for refinancing has still not been utilized by recipient banks in the 18 months since the program was instituted.
"Around 48 billion out of the 130 billion tenge have yet to be used," Lee said. "Our suggestion is to extend [the program] at least to December 1, 2017."
EurasiaNet.org, 20.09.2016