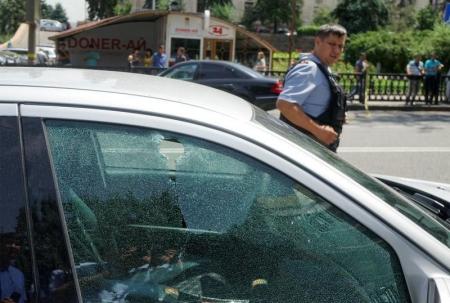 In a disturbing development for Kazakhstan, another supposedly radicalized gunman singled out security forces for an attack — this time in the country's largest city, Almaty.
Interior Ministry said at least five people — three police officers and two civilians — were killed on July 18 during attacks centered on a police station and branch office of the National Security Committee, or KNB.
President Nursultan Nazarbayev was quick this time to make a public statement on the events, which he described as a terrorist attack. That marked a contrast with his slow reaction to violence breaking out in Aktobe on June, when he was not seen in public for three days.
Nazarbayev was briefed at a national security council meeting by KNB chairman Vladimir Zhumakanov, who provided some intriguing details on one detained suspect, Ruslan Kulekbayev.
Kulekbayev was born in June 1990 in the southern Kyzylorda region, but lived in the Almaty region selling mobile phones.
"On August 27, 2010, he was convicted [on charges of violent robbery]. On May 8, 2012, he was convicted [on charges of illegally acquiring and storing firearms] and sentenced to two years and eleven months in prison," Zhumakanov told the president.
Kulekbayev's alleged radicalization took place while he was in prison, Zhumakanov speculated.
Another curious detail offered by Interior Minister Kalmukhanbet Kasymov was that a man fitting Kulekbayev's description was also suspected of killing a woman over the weekend.
"It happened at night, we have witnesses. It seems he had an argument with a woman of loose morals [i.e. a prostitute], a citizen of Uzbekistan — he went up to the car where she was sitting, he asked the taxi driver to switch on the light, and when he refused, he opened fire," Kasymov said in a somewhat confused account.
A woman interviewed by EurasiaNet.org, who was at the Nikolsky bazaar by the police station at the time the shooting broke out, confirmed the suggestions of radical Islamist link.
"A young guy with an automatic rifle began firing over there," the woman said, pointing toward the Almaly district police station. "Then he headed toward the church. He shouted 'Allah hu Akbar' and then he shot at a Gazel [van]."
Police said that the assault on the police precinct began around 11 a.m. local time as the attacker attempted to force his way into the building. The attacker shot a sentry guard and stole his weapon, officials said in a statement. The suspect, presumed to be Kulekbayev, then shot two pursuing officers, the statement said.
Police say that during his escape the gunmen tried to carjack a civilian, killing him in the process.
Around five hours after Kulekbayev was detained, another suspect was also captured. While the Interior Ministry had earlier in the day said he was involved in the attack, Kasymov later said that the man was just a driver forced to drive the gunman.
Everything in the official reaction to the Almaty unrest was marked by startling haste. As news of the bloodshed began spreading, the KNB's antiterrorist center raised the alert in Almaty to code red — the highest possible level. By the evening, the KNB announced it was dropping it back down to amber.
The heavy police presence seen in various areas of the center suddenly vanished toward the evening, suggesting the operation had been wrapped up. Despite that, many streets remained virtually deserted.
If the president was quicker to react on this occasion than during the unrest in Aktobe, state media were similarly sluggish. Several television stations were pulled off the air for a number of hours.
In the ensuing information vacuum — a recurrent phenomenon during any security crisis in Kazakhstan — wild rumors circulated on social media and through messaging apps.
One talked about an explosion at the central football stadium. Another was about a large group of armed men circulating around an Almaty suburb. Others speculated about an alleged assault on a military base in the town of Kapshagay, around 100 kilometers north of Almaty. Panic was sown widely when speculation emerged that gunman had taken hostages at the City-Center shopping center. That too turned out to be unfounded. Yet more rumors had it that the city's hospital No. 5 had been stormed by gunmen.
The head of the recently created Information Ministry, Dauren Abayev, put the spread of rumors down to the rapid reaction of security forces. Police and special forces troops rapidly fanned through the city and blocked off major roads throughout the day.
"In these cases, police take special measures to protect strategic facilities and places where large numbers of people gather. So the arrival of certain groups of police officers can sow apocalyptic moods," he told website Ratel.kz.
Abayev even undermined Nazarbayev's characterization of the day's events as a "terrorist act."
"Right now we cannot give an answer to the question [about whether this was a terrorist act]. Now we are conducting an investigation, clarifying all the circumstances, so stating something would be premature," he said.
In a late-evening briefing, Kasymov appeared to put another nail in the simplistic Islamic terrorism version by suggesting that the suspected attacker was preemptively taking revenge for his years of detention, knowing that he was due for imminent arrest on murder charges anyhow.
EurasiaNet.Org, 18.07.2016