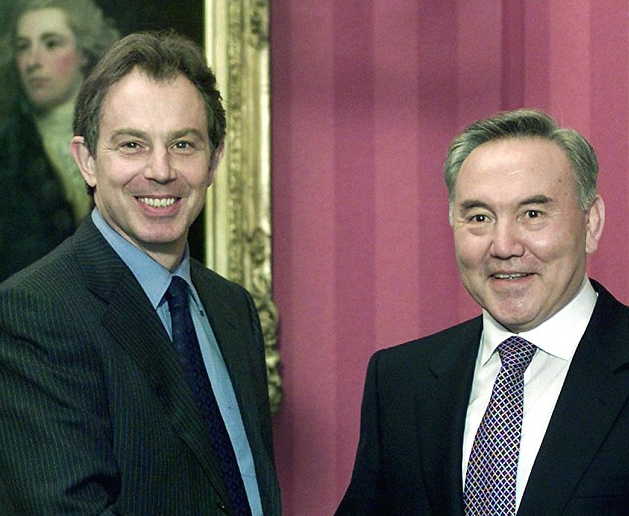 Few of Tony Blair's cronies have defended the former prime minister more vociferously after the damning conclusions of Sir John Chilcot's Iraq report than his one-time 'director of political operations' John McTernan.
The ex-Downing Street fixer spent days hitting the airwaves to explain why he 'rejects' Chilcot's judgment, while arguing that his 'very honest' old boss had nothing to be sorry about.
Perhaps he ought to have declared a financial interest in spinning for Blair, though.
For I can reveal that, behind the scenes, Blair recently arranged for McTernan to be given a hugely lucrative three-month contract in Kazakhstan, to act as senior adviser to the despotic and murderous government of dictator Nursultan Nazarbayev.
Leaked documents sent to the regime by Blair's office in late 2014 show McTernan was secretly to be employed as 'Senior political strategist/comms expert in residence' in the former Soviet state's capital, Astana.
The position was arranged by Andreas Baumgartner, regional head of Tony Blair Associates.
'[McTernan] is the best-qualified candidate for this position,' Baumgartner wrote to the Kazakhs. 'John was a UK Labour Party adviser on health, welfare, regeneration, defence and then became Tony Blair's Director of Political Operations, i.e., part of Tony's innermost political advisers' circle.'

McTernan 'has the full personal trust of Tony, who personally recommended him as the best-suited person for this position'.

Baumgartner added: 'We have also looked at a number of other options, but John McTernan is the one we would strongly recommend.

'We do not want to make any quality compromises for this important and sensitive position. Given his seniority and experience, John would normally not do full-time in-residence assignments any more.

'However, given the friendship of Tony with [Nazarbayev's prime minister Karim] Massimov and our commitment to Kazakhstan overall we are making this possible until Christmas, as requested.
'John is the best candidate not only from the background/qualifications perspectives, but also from the continuity and context perspective.'
Strangely, however, McTernan has never publicly declared his morally dubious dealings with the corrupt and kleptocratic regime, which has a long-standing record of murdering, imprisoning and torturing its opponents.
Indeed, in November 2014, a sharp-eyed Twitter follower noted that he was in Kazakhstan and asked whether he was there for business or pleasure. 'Pleasure,' McTernan replied.
....................................................................................
Freddie Forsyth puts the boot into Beckham book

The Day of the Jackal author Frederick Forsyth is bemused at sharing space on the bestseller lists with celebrities such as David Beckham and glamour model Katie Price.
'Who are all these people?' he demanded at the People's Book Prize, of which he is patron. 'And why do they all want to write a book?
'They don't have the discipline or the knowledge. It seems to be the in thing. Everybody's doing it and they often don't have anything interesting to say.' The Odessa File author, 77, whose books have sold more than 70 million copies, added: 'David Beckham could write the first 20 pages of the telephone directory and it wouldn't matter.

'So what? He's a footballer.'
However, one worthy winner at the ceremony in the City of London was my colleague Quentin Letts, who received the Beryl Bainbridge award for first-time novelists for The Speaker's Wife.
....................................................................................
Billie's ex lets off steam by boxing in the park

Lewis star Laurence Fox's divorce from Billie Piper has been so fraught that he even compared the 33-year-old actress to a dead hamster.
Now, Fox, 38, has found a way to channel his anger.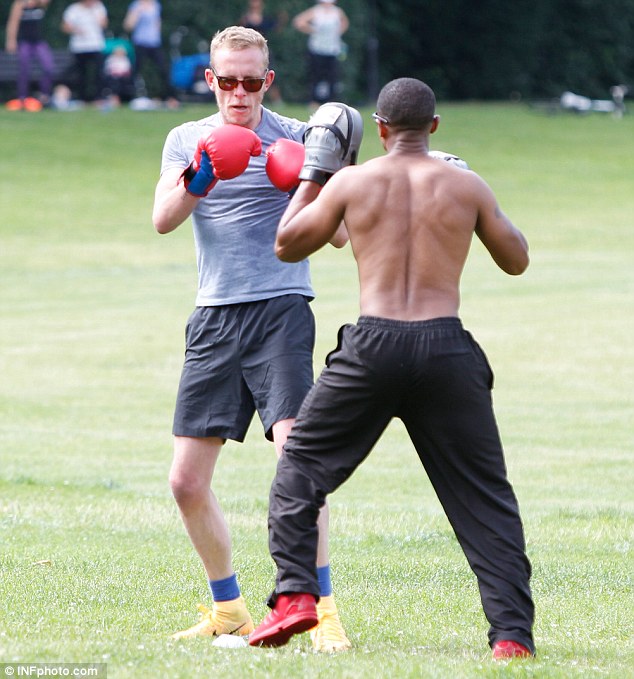 The son of distinguished thespian James Fox was spotted boxing with a personal trainer in a North London park this week
Laurence, who was cautioned in 2007 for punching a photographer as he left a West End theatre, got so worked up during a sprint that he peeled off his grey T-shirt.
Fox, who has two children from his nine-year marriage to Piper, appears to be on a health drive as he substituted his usual roll-up cigarettes for an electronic vaper.
....................................................................................
It's not only Theresa May's Cabinet that is likely to have more of a gender balance. Her security detail also contains a high percentage of female bodyguards — presumably so they can follow the new Prime Minister into the powder room. We are not yet at the stage of Colonel Gaddafi, who had a praetorian guard of feisty Libyan ladies, but the May protection officers are still quite a change.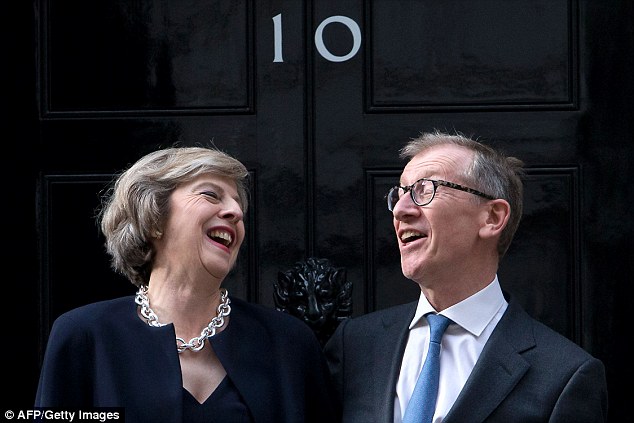 Theresa May's security detail contains a high percentage of female bodyguards. Pictured: Mrs May with her husband Philip outside Number 10 Downing Street
The Great British Bake Off winner Nadiya Hussain admits her husband is having trouble adjusting to her new-found fame.
Luton-born Nadiya, who had an arranged marriage with Abdal in their parents' native Bangladesh in 2005, discloses: 'A couple of weeks ago, he was doing some clearing up and said, "You've changed".'
Mother-of-three Nadiya explains: 'He'd found a load of false eyelashes on a shelf.'
DailyMail, 14.07.2016