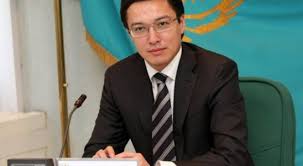 After a precipitous plunge over many months, Kazakhstan's embattled currency has gained ground in recent weeks.
The governor of the central bank has now revealed the reason for the tenge's sudden rally. Nearly half a billion dollars in public funds has been thrown at propping it up.
The precise total spent in the month of February to keep the tenge afloat was $474 million, Daniyar Akishev revealed to parliament on March 3.
That has helped the currency rally from an all-time low of 384 to the dollar on January 21 to 345 on March 3.
The tenge has lost 45 percent of its value since August, when the central bank announced that it would no longer prop up the currency and would let it float freely.
The central bank has always reserved the right to carry out interventions if it deemed them necessary, which it has done on several occasions since the shift to a free float last summer.
Akishev's announcement only confirms widespread speculation that the central bank is behind the tenge's recent sudden rally, which many observers are linking to a parliamentary election due in Kazakhstan on March 20.
The thinking goes that ahead of the election Astana is seeking to pacify public anger over the devaluation of tenge, which has hit people hard in their pockets and even sparked occasional public protests.
If that is so, economists believe that the tenge may go into freefall in the post-election period, by
which time the ruling Nur Otan party led by President Nursultan Nazarbayev should be safely back in parliament with a massive majority.
Akishev denied that politics had anything to do with the central bank propping up the tenge, however.
"This is not linked to domestic political processes within the country," he said in remarks quoted by Tengri News. Instead, oil prices are the main factor shaping currency policy.
Low global oil prices have hit Kazakhstan's economy hard. Last week, the government slashed its growth forecast for this year to 0.5 percent, and some experts are forecasting that the economy will shrink this year for the first time since 1998.
A rally in the tenge may help lift the public mood a little ahead of the parliamentary vote, and authorities are working hard to persuade people that the soaring cost of living will be contained.
Kursiv website cited the national bank as saying it expects the annual rate of inflation to drop below 8 percent by the end of the year, down from the 13.6 percent annual rate reached in 2015.
"The long-term task of the National Bank remains to lower the level of inflation to 4 percent by 2020," Akishev said in remarks quoted by Kursiv.
EurasiaNet.Org, 3.3.2016