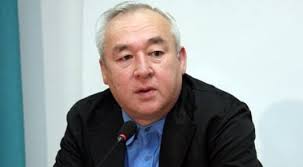 Kazakhstan's anti-corruption agency is investigating the head of the journalists' union Seitkazy Matayev over suspected theft and tax evasion, it said on Monday, less than a month before a parliamentary election.
The move, which Matayev said was an attack on press freedom, follows a crackdown on local media and political activists who have been critical of the government.
President Nursultan Nazarbayev's allies aim to retain control over the lower house in the March 20 vote.
Matayev, who was questioned along with his son Aset, chief executive of local news agency KazTAG, could face six to 12 years in prison if found guilty, the anti-corruption agency said in a statement.
In a separate statement, both Matayev and his son denied any wrongdoing and described the case as an attack on press freedom.
Matayev, who worked as Nazarbayev's spokesman in 1991-93, is best known for running the National Press Club in Almaty. The club, based a small downtown building, is often used by businessmen, politicians and activists to hold press briefings.
In recent years, the Central Asian country has been tightening already limited press freedoms, government critics and rights groups say.
In late 2014, a Kazakh court shut down Adam Bol, a magazine often critical of the government, on charges of "propagandizing for war". The owner and editor of news website Nakanune.kz, Guzal Baidalinova, has been under arrest since December on charges of disseminating false information that threatened public order.
Nazarbayev, 75, who has run Kazakhstan since 1989, first as a Communist boss and then as president, called the snap election last month in what observers said was a tactical move to avoid a poll later in the year when economic situation might worsen.
Plunging prices for oil, Kazakhstan's main export, have hit the economy hard, forcing the abandonment of the tenge currency's peg to the dollar in August. The tenge has since lost nearly half of its value against the greenback.
(Reporting by Olzhas Auyezov; Editing by Catherine Evans)
Reuters, 22.02.2016