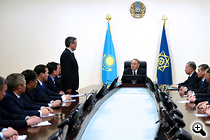 Kazakh National Security Committee Chairman Nurtay Abykayev (standing) receives his marching orders from Kazakh President Nursultan Nazarbayev during a meeting with the country's intelligence agency on Dec. 25, 2015. Abykayev was replaced by Vladimir Zhumakanov, a career intelligence agent with more than three decades of service. (Photo: Kazakhstan Presidential Press Service)
Kazakh National Security Committee Chairman Nurtay Abykayev (standing) receives his marching orders from Kazakh President Nursultan Nazarbayev during a meeting with the country's intelligence agency on Dec. 25, 2015. Abykayev was replaced by Vladimir Zhumakanov, a career intelligence agent with more than three decades of service. (Photo: Kazakhstan Presidential Press Service)
A shake-up at the top of Kazakhstan's intelligence agency has watchers of the country's opaque elite speculating about preparations for political life after President Nursultan Nazarbayev.
The replacement in late December of 68-year-old National Security Committee chairman Nurtay Abykayev is not expected to usher in a significant change of Kazakhstan's political course. All signs point to the Nazarbayev family firming its grip over the key levers of power and a continuing reliance on repressive tactics as a way of keeping government critics in check.
Abykayev is being substituted at the top of the intelligence agency, which is widely known by its Russian acronym KNB, by Vladimir Zhumakanov, a career intelligence officer with over three decades of service. Also on December 25, Samat Abish, Nazarbayev's 37-year-old nephew and the son of the president's businessman brother, Bolat Nazarbayev, was promoted to first deputy KNB chief, filling the spot formerly occupied by Zhumakanov.
Abish's career trajectory has been vertiginous. He graduated from Kazakhstan's KNB Academy and then the Russian Federation Academy of Foreign Intelligence, an institution in the Moscow region that counts Russian President Vladimir Putin among its graduates. After holding several high-ranking positions in the Justice Ministry, he joined the KNB in December 2009. He has acted as deputy KNB chairman from March 2013.
His family ties make it clear where one of his main responsibilities will lie. "Abish is currently too young to take the helm of the country's most powerful institution, but as a trustworthy member of the [Nazarbayev] family, he is expected to play a prominent role in any post-Nazarbayev scenario," Kate Mallinson, a Central Asia expert at the London-based consultancy GPW, told EurasiaNet.org.
Almaty-based analyst Dosym Satpayev suggested that this latest promotion puts Abish in an unrivaled position to assume the KNB chairmanship once that role becomes important to a political succession. "It can be assumed that he is going to play an important role during Kazakhstan's transition of power," Satpayev, director of the Kazakhstan Risks Assessment Group think tank, told EurasiaNet.org.
Nazarbayev is no stranger to placing members of his inner family circle in top security posts. His late former son-in-law Rakhat Aliyev briefly served as deputy KNB chairman in the early 2000s, although he later fell from favor over what is generally assumed to have been his attempt to usurp authority from Nazarbayev.
The official reason given for Abykayev's removal is that at 68, he is past retirement age. While not implausible, the explanation is less than fully convincing considering several members of Nazarbayev's team, including the septuagenarian president himself, are past pension age. Rumors have abounded for several years that Abykayev is suffering from cancer, leading analysts to conjecture that his state of health is probably a factor in the move.
A member of an influential faction dubbed the Old Guard — a coterie of political hawks that have served Nazarbayev loyally since he began forging his political career back in the Soviet era — Abykayev was not dispatched into the political wilderness. Instead, he was given a seat in the Senate, the upper house of parliament. Satpayev said that was indicative of Nazarbayev's desire to keep an experienced, wily and trusted ally in the political loop.
"Nurtay Abykayev has been beside the president for too long to be sent too far away," Satpayev said. "He may, therefore, retain his status as one of the influential shadow players, especially since he has access to secret information, and also to the files of virtually every other member of Kazakhstan's political and business elite."
The appointment also keeps Abykayev – who is nicknamed the gray cardinal in recognition of his behind-the-scenes political influence – ready in reserve to run for the Senate chairmanship, should the president wish him to do so. The chairmanship, which is currently held by Kassym-Jomart Tokayev, another trusted political heavyweight, is an important role constitutionally. It is the upper house speaker who temporarily assumes the reins of power should the president become incapacitated, or die in office.
At 75, Nazarbayev shows no sign of preparing to relinquish power in Kazakhstan, which he has ruled since the late 1980s, before the country gained independence.
Under legislation passed in 2010, Nazarbayev – who won re-election last year with 98 percent of the vote – is exempt from the usual constitutional term limits and can stand in elections for the rest of his life. He has, observers say, maintained his hold on his country of 17.6 million people with the help of the KNB, which has been at the forefront of efforts to thwart political dissidence.
Over the years, the security service has been turned into a "major machine of suppression and coercion" whose objective is to establish "total control" over all aspects of society, Almaty-based civil society campaigner Galym Ageleuov said.
"By virtue of the fact that civil society has been suppressed under the pretext of maintaining security, the KNB's functions and scale have grown exponentially," Ageleuov told EurasiaNet.org.
According to multiple sources, it is 60-year-old Zhumakanov who has been running the show at the KNB in recent years with Abykayev ailing.
"Zhumakanov is [Nazarbayev's] right-hand man, which he wields to fight the opposition, jail the obstinate and reduce the rights and liberties of Kazakhstanis to zero," the opposition-minded Respublika-kz.info website remarked caustically in a report published in 2012.
On the political front, it will be business as usual with Zhumakanov at the helm of the security service, analysts say. "The change in leadership is unlikely to affect the agency, whose main remit is political repression," Mallinson told EurasiaNet.org. "Over the last few years, Kazakhstan has witnessed a strengthening of the coercive organs of government and the agency will continue to be the main instrument in eliminating opposition and critics of the president."
www.eurasianet.org, January 20, 2016