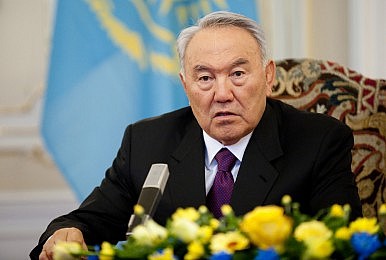 Kazakhstan has issued a diplomatic call for restraint from its allies Russia and Turkey following Ankara's shooting down of a Russian warplane involved in airstrikes on Syria.
The Foreign Ministry said in a statement, issued the day after Turkey downed the Russian fighter jet, that the "tragic incident" on November 24 was cause for regret.
Both sides should exercise restraint and explore "all possible measures and channels of communication for the de-escalation of the situation," Kazakhstan's Foreign Ministry said.
The statement follows an ill-tempered war of words between Ankara and Moscow. Russian President Vladimir Putin condemned what he called "a stab in the back by the accomplices of terrorists" and foreign minister Sergey Lavrov has canceled a planned trip to Ankara.
The standoff between two of Kazakhstan's allies that have long been at loggerheads over Syria — with the Kremlin backing embattled incumbent Bashar al-Assad with airstrikes targeting rebels and Turkey's Recep Erdogan seeking his overthrow and backing the militants — is uncomfortable for President Nursultan Nazarbayev.
Kazakhstan is a staunch ally of Russia and a fellow member of the Moscow-led Eurasian Economic Union, but also has a close partnership with Turkey and is a fellow member of the Ankara-led Turkic Council.
Turkey's links with Turkic peoples have played a role in the controversy, as the fighter jet crashed in an area of Syria inhabited by ethnic Turkmen, some of whom are believed to be Ankara-backed rebels.
Astana was careful not to apportion blame for the shooting down of the aircraft, in which one pilot died and the other was rescued by Russian special forces.
"An international fight against terrorism is currently being waged. Both Russia and Turkey are operating in this direction. Kazakhstan is also supporting this fight," it said.
"At the same time, the deterioration in Russo-Turkish relations, forged over long years, arouses serious concern. The incident could affect the effectiveness of the anti-terrorist campaign."
Kassym-Jomart Tokayev, the chairman of Kazakhstan's Senate, was clearer about apportioning blame, tweeting that the "reckless action of Turkish Air Force against Russian fighter jet shouldn't hinder the creation of a broad coalition to fight terrorism."
This is not the first time Astana, which is currently bidding for a seat on the UN Security Council and presents itself as an honest broker on the international stage, has had to walk a diplomatic tightrope over international incidents involving Russia.
Moscow's annexation of Crimea last year and the eruption of the ongoing separatist conflict in Ukraine put Kazakhstan in an awkward position, which it wriggled out of with vague expressions of support for Ukraine's territorial integrity intended to distance Astana from Moscow's international ventures.
With historical cultural and linguistic links to four Central Asian states (Tajikistan is Persian-speaking), Turkey is an important partner for the region.
Yet other Central Asian governments have maintained a studied silence about the raging controversy that is making headlines all over the world.
It was, however, likely on the agenda of a meeting in Tashkent on November 25 between Uzbekistan's foreign minister Abdulaziz Kamilov and U.S. Ambassador Pamela Spratlen.
EurasiaNet.Org, 25.11.2015