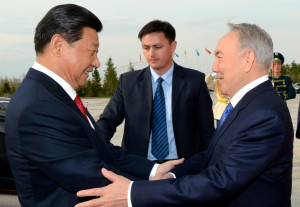 On August 31 Chinese President Xi Jinping held talks with Kazakh President Nursultan Nazarbayev in Beijing, with the pair agreeing to build stronger ties. Xi welcomed Nazarbayev to China for his state visit and to participate in the country's V-Day celebrations on September 3.
Xi called for improved bilateral cooperation in capacity, investment, trade, energy, infrastructure and high technology, and urged both countries to make full use of financing mechanisms such as the Asian Infrastructure Investment Bank (AIIB) and the Silk Road Fund. The AIIB has initial capitalization of $50 billion and the latter has a development fund of $40 billion.
Nazarbayev said that the Kazakhstan-China strategic partnership has entered a new stage as both sides implement the consensus reached during Xi's visit to Kazakhstan last May. In the joint communique subsequently issued following their discussions the Chinese Ministry of Foreign Affairs noted that the two nations would "strengthen cooperation in the field of infrastructure construction including cross-border railways and roads, and deepen cooperation in the fields of border ports, inspection and quarantine" as well as "Further develop cross-border transportation infrastructure to create favorable conditions for Chinese cargos to transit through the Kazakh railway network."
Nazarbayev's and Xi's agreement deepened those reached last month in Beijing, when Chinese Vice Premier Zhang Gaoli and Kazakhstan's First DepuKTZty Prime Minister Bakytzhan Sagintayev concluded a six-point consensus to advance bilateral cooperation while co-chairing the seventh session of the China-Kazakhstan Cooperation Commission in Beijing. Zhang and Sagintayev agreed to step up integration of the China-proposed Silk Road Economic Belt with Kazakhstan's new "Bright Road" economic policy and to establish a joint work group on building the Silk Road Economic Belt as soon as possible.
The pair also agreed to boost bilateral trade to $40 billion annually by strengthening cooperation on infrastructure, equipment manufacturing, construction materials, petrochemical industry, automobiles and agriculture. According to China's Ministry of Foreign Affairs, in 2014 China-Kazakhstan bilateral trade totaled $22.4 billion, a 21.5 percent drop from the over $28 billion in bilateral trade in 2013.
It has been a difficult year throughout the post-Soviet space. The announcement on August 21 of a billion dollar loan to Kazakhstan by the Asian Development Bank (ADB) came a day after Kazakhstan announced a new monetary policy, abandoning its currency-band exchange system and opting for a free-floating exchange rate, with the result that by the end of the day the tenge had lost a quarter of its value against the dollar. Nazarbayev explained that the devaluation had been "a forced measure, but we did not have any alternative," adding that the country's future economic policies must be "oriented to the new realities and be ready for oil prices of $30 to $40 per barrel."
Since January 2015 the Kazakh economy has suffered from low global oil and commodities prices. A difficult period of retrenchment lies ahead, including probable large-scale layoffs as well as cutbacks in public investment and social and infrastructure programs as this year the Kazakh economy has only grown by a sluggish 1.2 percent. The latest 26 percent devaluation caused by delinking the tenge from the dollar comes on top of 19 percent devaluation in February 2014, which caused food prices to soar and sharply eroded the purchasing power of the population.
Accordingly, the agreements signed during Nazarbayev's visit have added import. The press service of the Samruk-Kazyna sovereign fund reported the value of the contracts at $5.1 billion. Among the agreements, Kazakhstan Temir Zholy (KTZ) President Askar Mamin and Jiangsu Governor Li Xueyong signed a $600 million strategic partnership agreement to develop a special trade-economic zone in KTZE – Khorgos Gateway on Kazakhstan's eastern border with China, as well as a Logistics Zone SCO in China's port city of Lianyungang, the easternmost stop of the "Eurasian Land Bridge," the overland rail link between East Asia and Europe.
The agreements couldn't be more timely for Kazakhstan's economy. KTZE – Khorgos Gateway is Kazakhstan's premier inland greenfield dry port project located on the border of Kazakhstan and China. The dry port, which by its completion in 2018 will cover 2.2 square miles, is expected to become a significant point of economic growth throughout Kazakhstan, as a hub linking cargo between the East and West. It will function as one of the largest international transport logistics and distribution centers, providing Kazakhstan, China and countries of the Eurasian region with new opportunities for access to world markets.
The port is owned by national multimodal operator JSC "KTZ Express," a 100 percent subsidiary of national railway company Kazakhstan Temir Zholy, and is operated by "KTZE-Khorgos Gateway" LLP in cooperation with DP World. The parties will jointly implement projects in areas such as transportation logistics, carriage of route trains, and construction of terminal and warehouse infrastructure in the KTZE – Khorgos Gateway.
The value of Chinese foreign direct investment in Kazakhstan today is more than $17 billion, placing it in the top sources of FDI in Kazakhstan. Earlier this year, China and Kazakhstan signed 33 deals worth $23 billion.
Within two years Kazakhstan will mainly import products from China, Germany and Ukraine, which together currently account for 62 percent of its total imports, the majority of which moves by rail. Kazakhstan's main export markets will be China, Italy and Russia, with by 2017 the three countries accounting for 54 percent of Kazakhstan's total exports, a dramatic change from the expectations of the Eurasian Economic Union, inaugurated with great fanfare in January.
China-Europe rail traffic via Kazakhstan has risen dramatically in the past two years; during the period January-August 2015, 291 trains shuttled between China and Europe, a tripling of the volume for the same period in 2014. Last month a KTZ delegation headed by Mamin participated in the Second International Logistics Forum China – the Silk Road, held in Sept. 21-22 in Lianyungang.
China has determined that spending on infrastructure along the Silk Road is one of the best investments that it can make in neighboring countries. In calling for both nations to make full use of both the AIIB and the Silk Road Fund Xi is offering Kazakhstan concrete mechanisms for funding infrastructure development far beyond any fiscal support coming from either fellow Eurasian Economic Union member Russia or international lending institutions such as the World Bank or International Monetary Fund.
Little wonder then that Nazarbayev remarked, "Today the world economy is experiencing a crisis and investment capacities of international financial institutions have narrowed significantly. In the current situation, cooperation with China serves us well to overcome this difficult phase." Accordingly, Kazakhstan can expect to see many more trains traversing its territory.
www.silkroadreporters.com, October 21, 2015