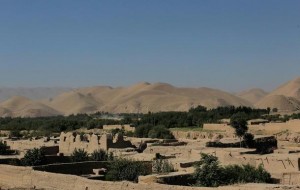 Since September 28, Afghan security forces have struggled to wrest control of Kunduz, capital of Kunduz province, from its seizure by the Taliban. As Kunduz adjoins Afghanistan's frontier with Tajikistan, officials from Dushanbe to Moscow have become increasingly concerned that militants may seek to cross the border and carry their jihad into the post-Soviet space.
Now it is the turn of Turkmenistan to be concerned, as on October 18, Taliban militants overran the strategic Ghormach district in Afghanistan's northern Faryab province on the border with Turkmenistan after clashing with Afghan security forces in a multi-pronged assault from different directions. The Taliban's "Voice of Jihad" news agency claimed that the militants captured the district's administrative center and all government buildings and in a four hour assault overran three check points, killing eight soldiers and capturing 13 others, including the police chief, who was wounded in the attack.

Not that these events were unforeseen – over the past several months Faryab provincial and local officials have stated that the Taliban and their allies now control dozens of villages in the province.

Aside from Faryab, Turkmenistan shares borders with Afghanistan's Jowzjan, Badghis, and Herat provinces, all of which have seen a rise in Taliban activity. For Turkmenistan, previous events along its 460-mile-long largely desert border with Afghanistan were largely involved with drug smuggling, but in 2014, members of Turkmenistan's State Border Service and three soldiers were killed in clashes with militants who crossed into Turkmenistan from Afghanistan. Rising militancy along the Turkmen-Afghan frontier was underlined by the recent publication by the United Nations of a map delineating increased Taliban influence, which indicated that nearly the entire Turkmen-Afghan border region is now suffering from increased militant activity.

The Al'ternativnye Novosti Turkmenistana news website cited on October 4 a source in the State Border Service revealing that the Turkmen government had redeployed 70 percent of its land forces, combat-ready equipment, and weapons along the Turkmen-Afghan border. In another move indicating the gravity of the situation, Turkmenistan's State Border Service's tactical battalion of ground forces stationed in the south of the country in Mary and Lebap oblasts were reinforced with additional artillery, air assets, and security personnel from other, more placid regions.

Accurate information about events in Turkmenistan is difficult to come by, as the nation has no independent media, with the government frequently controlling the news in order to project a benign version of events. Events on the frontier have been subjected to this; on October 15 in Astana, during a joint briefing with Russian President Vladimir Putin, Kazakh President Nursultan Nazarbayev noted, "There is a common threat, especially for the region of Central Asia" and then referred to "incidents that took place on the border with Turkmenistan, and we are concerned about Tajikistan."

Nazarbayev's candor was refuted, as the next day Turkmenistan's foreign ministry issued a sharply worded rebuttal, which stated, "The Turkmen side expresses its extreme concern and incomprehension with regards to such a statement by the President of Kazakhstan about the situation on Turkmenistan's state border, which is untrue."

Turkmenistan's denial in turn led the Kazakh Foreign Ministry on October 17 to issue a note to its Turkmen counterpart which observed that "the comments made by the leadership of Kazakhstan ... were made in the general context of sincere concern about the growing threat of terrorism in the world and in the region." In a conciliatory vein, the note also confirmed the Kazakh government's "readiness for further continuous and open dialogue in the spirit of good-neighborliness and friendly relations."

The Taliban Ghormach assaults have proven that, whatever the Turkmen government asserts, the Afghan provinces on the border are becoming more and more violent.

Concerns about rising Taliban activity may lead Turkmen President and supreme commander-in-chief of the Armed Forces Gurbanguly Berdymukhammedov to revise or even abandon its 20 year-old nuanced neutrality foreign policy. In 1995 Turkmenistan grandly proclaimed a policy of international diplomatic neutrality, and on December 12 of that year, the United Nations General Assembly unanimously adopted the Resolution on the Permanent Neutrality of Turkmenistan, with 25 countries co-sponsoring the resolution.

The neutrality policy influenced Turkmenistan's relations with its restive neighbor and Ashgabat has previously offered to mediate among the warring parties involved in the Afghan conflict while also providing economic assistance to its neighbor, supplying electricity, oil, and natural gas.
This desire to mediate in Afghanistan may be the motivation behind the dismissal of President Nazarbayev's remarks, as less than two months ago Berdymukhammedov reiterated the offer, stating after meeting Afghan President Ashraf Ghani that "a settlement of the situation in Afghanistan is possible only through peaceful political means on the basis of a broad all-national dialogue. Military and forceful methods of settling internal Afghan problems are ineffective and unpromising."

Complicating the Turkmen-Afghan picture are an estimated 1.5 million Turkmens living in Afghanistan, comprising roughly three percent of the country's population, concentrated primarily in northern Faryab and Jowzjan provinces. In pursuit of a proactive policy, in early February 2014 Turkmenistan's government reached out to ethnic Turkmen leaders in Faryab and Jowzjan when a group of Afghan clerics met with Turkmen officials, including Deputy Foreign Minister Wepa Hojiev. Highlighting the sensitivity of the issue, the meeting was not reported by state media in either country.

If the Taliban further pressure Afghanistan's Turkmens, will they request Turkmen intervention or flee across the frontier? A massive refugee wave could swamp Turkmenistan's five million inhabitants and strain social services at a time of declining energy prices.

In the interim, Turkmenistan has not only redeployed military forces but has also dug ditches along the border, built fences, and set up new border posts. Whether the Taliban, should their northern campaigns prove victorious, will respect both the border and Turkmenistan's neutrality remains to be seen.

www.silkroadreporters.com, October 23, 2015