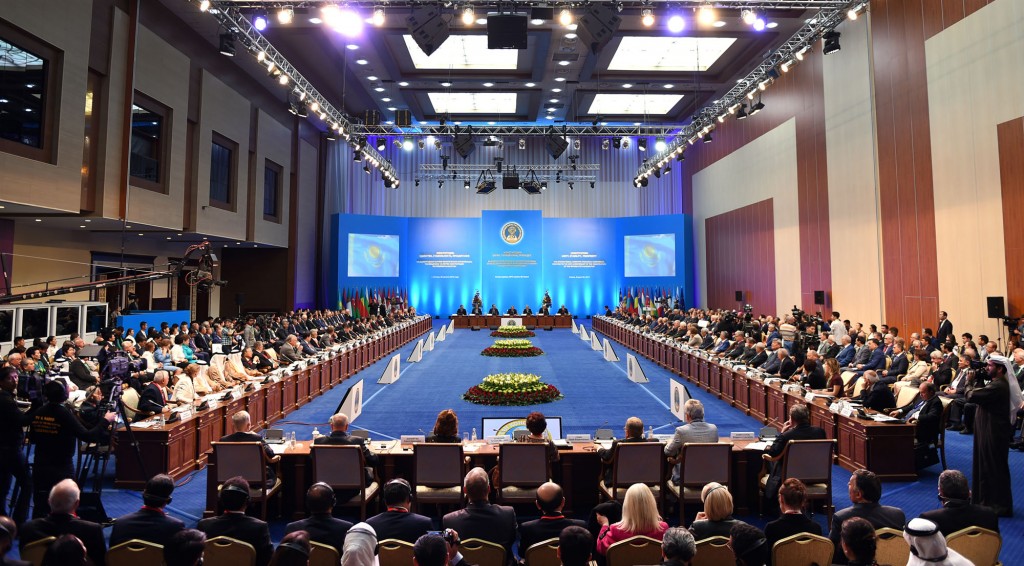 President of Kazakhstan Nursultan Nazarbayev reiterated his suggestion that Kazakhstan brand itself "Land of the Great Steppe" during the Aug. 28 conference "Constitution: unity, stability and prosperity," dedicated to the 20th anniversary of Kazakhstan's constitution.
"I "I believe that we should be called the 'Land of the Great Steppe,'" the President said, according to Nur.kz. "Some call themselves 'the Celestial Country,' others, 'the Land of the Rising Sun.' We are the children of the Great Steppe. This steppe protected our ancestors; they shed their blood to save us this land. In addition to the name 'Kazakhstan,' we should be known as 'the Country of the Great Steppe.'"
This is not the first time Nazarbayev has suggested that Kazakhstan create a new handle for itself in the international arena. During a national teleconference on Industrialisation Day, July 2, he said "Japan is the land of the rising sun. Korea is the land of morning calm. The Netherlands are the land of tulips. China is the Celestial Empire. All this is not enough for us. Kazakhstan is the land of the great steppe," Bnews reported that day.
The colours of Kazakhstan's flag represent the great steppe and the vast blue skies of the country, he said. "We are children of the great steppe, we are not just nomads. We must show the world a new Kazakhstan under these slogans, under the new brand."
The country's new brand also encompasses Kazakhstan's industrialisation, the Nurly Zhol new economic policy and the ongoing five industrial reforms on which the President campaigned earlier this year, he said. The five reforms contain activities to promote national identity and unity as well as to develop tourism and drum up interest in the country through online information and video tour portals, discussion platforms and other mechanisms.
This is not the first time the President has suggested ways for Kazakhstan to adjust its international "brand." In early 2014, during a visit to a school in western Kazakhstan, he speculated on the effect of losing the "stan."
The statement caused a spate of international discussion, but so far, there has been no serious discussion of a name change.
The Astana Times, 03.09.2015