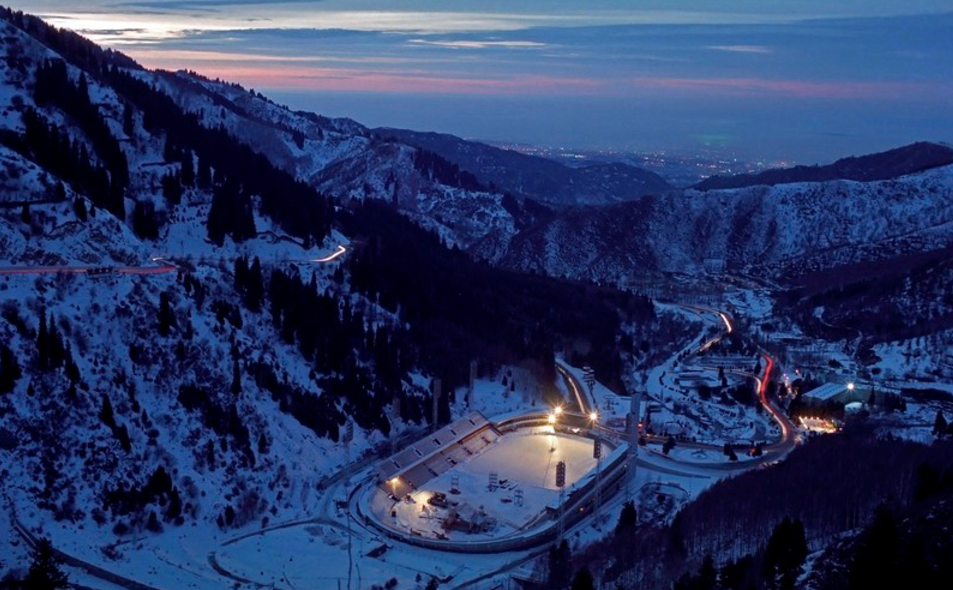 The David and Goliath struggle between Almaty and Beijing to host the 2022 Winter Olympic Games comes to its conclusion on July 31 as the delegates of the International Olympic Committee (IOC) meet in Kuala Lumpur, Malaysia, to decide who will win the right to host the Games.
EurasiaNet.org assesses the key questions surrounding the Olympic bidding process and the chances of Almaty, Kazakhstan's commercial hub, of landing the games that no one else wanted – except for Beijing. At the start of the bidding process, there were four European cities in the running, but they pulled out, leaving Almaty to slug it out with Beijing.
What are Almaty's main strengths?

Real snow in a picture-postcard alpine setting, and plenty of it, is Almaty's trump card. Beijing's bid is reliant on artificial snow with mountain events to be held in an arid zone with a distinct lack of the powdery white stuff. The IOC evaluation report, released in June, noted that the barren hillsides surrounding the ski runs in China would lack aesthetic appeal for the television cameras. Almaty's bid is compact with all the venues situated in a 30-kilometer radius. Beijing's bid is sprawling – its skiing events will be held more than 100 kilometers from Beijing with only the ice events in the city.
And what about Almaty's weaknesses?

The IOC report cited Kazakhstan's limited experience in hosting major international events and financial risks as the main drawbacks to the bid. With Beijing aiming to become the first city to host both summer and winter games, Chinese officials played up the experience gained from hosting the 2008 Summer Olympics. While Kazakhstan has scant experience of organizing an event on this scale, it does have some know-how – it hosted the Asian Winter Games in 2011. Kazakhstan should gain more experience in 2017 as Almaty hosts the Winter Universiade, a sports event for students, and the capital Astana hosts EXPO-2017, the international world's fair.
Can Almaty afford the Games?

Almaty's bid team is confident that the money is there. Almaty 2022 bid vice chairman Andrey Kryukov moved to assuage fears over long-term financial stability, despite Kazakhstan's economy being rocked by falling oil prices. Money piled up in Kazakhstan's $75 billion sovereign wealth fund could be used to underwrite the costs. However, earlier this month President Nursultan Nazarbayev called for belt-tightening in the preparations for both EXPO-2017 and the Winter Universiade. Kazakhstan has seen shortfalls in budget revenue over the last year. For Astana, the Winter Olympics represent the ideal platform to bring Kazakhstan to the world's attention and show that the country is open for business. For such a prestigious event, it is almost certain that the money will be found.
Who's got the better winter sports pedigree?

Neither country has a strong track record in winter sports, although Kazakhstan, as a former Soviet republic, arguably has a more august tradition in skiing, skating and hockey. China has won medals in five Winter Olympics sports; Kazakhstan has won medals in four. The IOC is eyeing the significant opportunities China offers to develop winter sports. Beijing alone has a market of 300 million people on its doorstep. In contrast, Kazakhstan, with a population of just 17 million, would have little impact on increasing winter sports participation. There are signs that Beijing's bid is already boosting interest in hockey in China. Beijing's secret weapon is 18-year-old Song Andong, who in June became the first Chinese-born player ever to be selected in the NHL draft. Andong is being touted as Chinese hockey's answer to basketball's Yao Ming, the first player from China to play in the NBA.
The costs of the 2014 Sochi Games were inflated by corruption. Is graft likely to be a problem again?

Corruption certainly played a part in Sochi's colossal final bill, which came in at more than $50 billion – around five times over budget. $30 billion is still unaccounted for. Neither China nor Kazakhstan are strangers to corruption. China is ranked 100 and Kazakhstan 126 out of 175 countries on Transparency International's Corruption Perception Index. Two recent cases have brought the corruption question to the fore. In Kazakhstan, Talgat Yermegiyayev, the main organizer of the EXPO-2017 exhibition, was placed under house arrest in June on suspicion of embezzlement. In China, Xiao Tian, vice chairman of China's national Olympic committee, was removed from the post in July after coming under investigation for corruption.
What about the human rights question?

Both contenders are ruled by authoritarian regimes where human rights are routinely ignored, media outlets muzzled, and government critics imprisoned. In December 2014, the IOC introduced a landmark reform, Olympic Agenda 2020, whereby would-be host cities now have to guarantee the protection of human rights. Human Rights Watch called China and Kazakhstan's human rights records "extremely poor" in a July 21 press release. Minky Worden, its Global Initiatives director, urged the IOC to "insist that the host country rigorously comply with the Olympic Charter and basic human rights rules – or risk losing the right to host the games." Almaty's bid has already tempered Kazakhstan's lawmakers. In May, its Constitutional Council struck down a law that would have outlawed "propaganda" of homosexuality to minors. This followed pressure from a group of household-name sports stars who urged the IOC to reject Kazakhstan's bid to host the Winter Games.
So, what are Almaty's chances?

There's not a great deal to choose between the actual bids. From the purist point of view, Almaty is the ideal choice with the spectacle set to take place in an alpine setting with lots of real snow. However, from the pragmatic standpoint, the opportunity China offers to develop winter sports participation may be enough to sway the IOC delegates.
EurasiaNet.Org, 29.07.2015