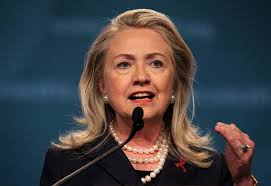 Hillary Clinton isn't just a Democratic candidate for president of the United States; she's co-president of the breakaway Republic of Clintonstan. As Clinton said herself in the early '90s when her husband was running for president: "If you vote for my husband, you get me. It's a two-for-one, blue plate special."
A lot has happened since then. The Clintons have successfully leveraged Bill's presidency by creating the Bill, Hillary & Chelsea Clinton Foundation, which has the capacity to broker geopolitically significant business and development deals between countries, bringing opposing spheres together to hug it out in the interests of mutual profit. It's the kind of high-level wheeling and dealing that would make some nations jealous. The Clintons aren't a couple — they're a de facto country. Clintonstan even has its own email server for use in the event that a Clinton is appointed or elected to public office outside of the Republic of Clintonstan, as was the case when Hillary became U.S. secretary of state.

A recent New York Times story ties Russia's purchase of the Canadian company Uranium One to a Clinton-led junket to Kazakhstan in 2005 with Uranium One director Frank Giustra. Kazakh President Nursultan Nazarbayev, who has reportedly paid millions to former world leaders such as ex-British Prime Minister Tony Blair for "advisory services," later agreed to pour his country's uranium-mining assets into Giustra's virtually empty Canadian shell company. The Clinton Foundation subsequently received a $31.3 million donation from Giustra.

Russia didn't especially like the prospect of a Canadian company operating a Kazakh nuclear reactor in Russia's backyard. So the Russians negotiated a trade: The Russian nuclear energy agency Rosatom paid $1.3 billion to complete a takeover of Uranium One in 2013 — two years after the Fukushima nuclear reactor meltdown in Japan had sent the value of uranium plummeting and the company had taken on significant debt.

Not that Canada doesn't have its own uranium. It produces 16 percent of the world supply of uranium from mines, more than any other country except Kazakhstan. Canada's publicly traded Cameco Corp. produces about 15 percent of the world's uranium supply. The sector consolidation being facilitated by the co-president of Clintonstan has motivated investors such as Democratic financier George Soros, who recently bought more than $40 million worth of Cameco stock.

While Uranium One does own a small operation in the United States — Willow Creek Mine in Wyoming — it's not a major source of uranium. So it's a stretch to argue that the Uranium One deal somehow "sold out" America. What's far more significant is that the deal has brought Canadian and Russian executives into formal cooperation over assets located in the Russian sphere but managed from Canada. If both nations aren't leveraging this opportunity to pickpocket each other for intelligence, then they're unworthy players of the world's oldest game.

There's an advantage to the Republic of Clintonstan brokering such deals instead of, say, the World Bank or USAID: the privatization of international development. It puts an actual face on the results, in contrast to faceless and clunky development organizations that use a lack of results as an excuse to toss more cash down a black hole.

The co-presidents of the Republic of Clintonstan should stick to playing oligarchs. They're good at it. China and Russia have oligarchs collecting intelligence and subverting assets on behalf of the state under the guise of business development and humanitarianism. The Clinton operation represents the future of intelligence.
www.joplinglobe.com, May 1, 2015