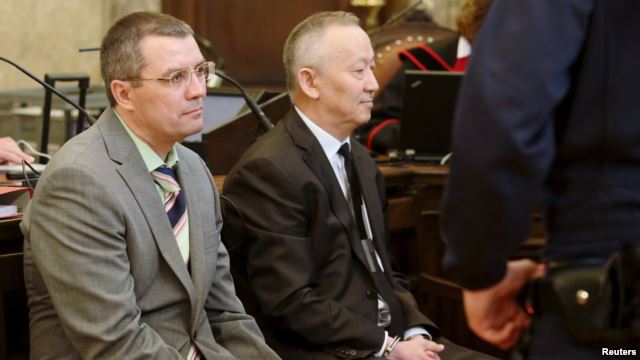 The trial of two Kazakh men charged in connection with the abductions and deaths of two bankers in Kazakhstan has begun in a Vienna court. The main suspect died of apparent suicide in a Vienna prison several weeks ago.
The trial, which began under heavy security on Tuesday, promises to be one of the most interesting and complicated that the Vienna regional court will hear this year.

This is because not only is it dealing with crimes allegedly committed in a foreign country, but the main suspect, a former Kazakh ambassador to Vienna died while in custody in a Vienna prison back in February. A preliminary investigation showed that the former ambassador, Rakhat Aliyev, who was found hanged in his cell, probably committed suicide.

However, his defense lawyers have rejected this, noting that Aliyev died just hours before he was due to testify as a witness against two other inmates, who he said had threatened to kill him and make it look like a suicide. A post-mortem turned up traces of sedatives in his body and the Austrian authorities have asked their Swiss counterparts to conduct an autopsy, in an effort to dispel any suggestions of a cover-up.

Aliyev, 52, had been charged with killing two bankers who disappeared in Kazakhstan in 2007 and whose bodies were discovered four years later. Although he denied any wrongdoing, Aliyev turned himself in to Austrian authorities in Vienna last June.

Conviction in absentia

Before Austrian prosecutors charged him with murder last December, Kazakhstan had twice sought to get Aliyev extradited so that he could be put on trial there. Vienna declined to do so due to concerns about Kazakhstan's human rights record.

In 2008, a court there had convicted him in absentia of abducting the managers and plotting to overthrow the government of Kazakh President Nursultan Nazarbayev. Aliyev claimed the charges were trumped up and politically motivated, after his divorce from Nazarbayev's daughter in 2007.

The two defendants that did go on trial in Vienna on Tuesday, are the former head of Kazakhstan's intelligence service, Alnur Mussayev and Vadim K., a former presidential bodyguard.

Both stand accused of helping Aliyev to abduct the two executives of the Kazakh bank Nurbank, before forcing them through physical abuse not only to resign from their posts, but also to hand over their shares and property rights, before strangling them to death.
A total of more than 60 witnesses, mostly from Kazakhstan, are expected to testify during the 27 days set aside for the trial. Not all of the witnesses are to appear in person, but are to give their testimony via video link.

pfd/jil (Reuters, AFP, dpa)

DW, 14.04.2015