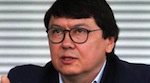 Rakhat Aliyev, the Kazakh president's former son-in-law who had came to Malta in a bid to evade double murder charges, has been found dead in an Austrian jail after killing himself, a court spokeswoman said on Tuesday, but his lawyers said they doubted he had taken his own life.
Aliyev had turned himself to Austrian prosecutors in 2014 after they filed charges in December, charging him with the murder of two bankers in 2007. Austria had refused Kazakhstan's two requests for extradition because of the former Soviet republic's human rights record.

Aliyev, a former Kazakh ambassador to Austria until 2008, became a vocal critic of President Nursultan Nazarbayev. After being forcibly divorced from his wife Dariga, Aliyev came to Malta in 2010 on the strength of his second wife's Austrian citizenship. After leaving Malta in 2014 he tried applying for Cypriot citizenship.

He had been in custody since June 2014 when he turned himself in to Austrian authorities after a four-year investigation.

The Austrian Press Agency said that on Tuesday Aliyev was supposed to testify against two fellow prisoners who allegedly blackmailed the former ambassador according to the indictment. Aliyev alleged that he was being forced to pay them €3,000.

APA quoted corrections department director Peter Prechtl as saying Aliyev's body was found at 7:20 a.m. in Vienna's Josefstadt prison in a cell where he had been in solitary confinement.

He had hanged himself in a bathroom, Prechtl said, who added that the cell he was in was checked regularly. Aliyev was said to have hanged himself with bandages on a coat hook. "For us, it was clearly suicide, there is no evidence that he was murdered," he said. To get into the cell, the murderer or murderers would first have had the appropriate key. "And that is indeed not easy to get," Prechtl told APA, adding that the entire area was under video surveillance.

Defense attorneys Manfred and Klaus Ainedter were quoted by APA as saying they could not imagine their client, 52, had killed himself. "I have significant doubts about this without wanting to blame anyone. I visited him yesterday. There could be no talk whatsoever of danger of suicide," Klaus Ainedter told APA, noting that he expected a thorough investigation.

Prechtl told APA that Aliyev had requested a single cell in the prison's hospital unit. He was not considered at risk of suicide and was graded "green" in the corrections department system, which meant he could be left unattended.

Aliyev had complained in Malta that he was being spied upon by officers from the Kazakh secret service, which he once was its deputy chief.

In June 2014, through his lawyer Joe Giglio, Aliyev filed a constitutional application calling on the Court to declare that an asset freeze carried out at the request of the Kazakh government was against his right to a fair trial, and to lift the embargo on his wealth.

The freezing order also affected the wealth of his Austrian-naturalised wife Elnara Shorazova, prohibiting the couple from transferring any movable or immovable property.

Having styled himself as a "progressive political dissident", in his constitutional claim Aliyev suggests that the Kazakh dictatorship had wormed its way into the Attorney General's office and that the Maltese courts have been "infiltrated by the Kazakh regime" – or that Malta was, by acting on a request of the dictatorship, by proxy denuding him of his fundamental human rights.
Matthew Vella, 24 February 2015