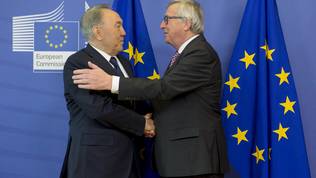 President Nursultan Nazarbayev is in Brussels putting the finishing touches to a landmark agreement with the European Union, cementing ties with Europe even as Astana pushes ahead to join the Russian-led Eurasian Economic Union.
Nazarbayev met Jose Manuel Barroso, president of the European Commission, on October 9, to "confirm the conclusion of negotiations" on the Enhanced Partnership and Cooperation Agreement, the EU said.
The agreement – three years in the making – aims to boost cooperation in around 30 policy areas including trade and foreign and security policy, it said, and will "significantly deepen political and economic ties" between Kazakhstan and the EU (Astana's largest trade partner and a major consumer of its energy exports).
The agreement is a far weaker deal than the Association Agreement signed by Ukraine this year, but is still the most ambitious deal to be concluded between the EU and any Central Asian state.
It "puts a strong emphasis on democracy and the rule of law, human rights and fundamental freedoms," the EU stated, although it failed to specify how.
The visit was marred by news that France is investigating possible kickbacks involving a helicopter deal with Kazakhstan, and probing allegations that Nazarbayev put indirect pressure on Brussels to close a bribery case against Kazakhstani oligarchs.
There was also controversy over Kazakhstan's human rights record.
Nazarbayev's visit "will serve as a pointed reminder of the EU's colossal failure to secure human rights improvements as part of its engagement with his government, whose record has gone from bad to worse in recent years," Veronika Szente Goldston of Human Rights Watch wrote in the EU Observer newspaper.
She accused the EU of breaking a pledge to link the agreement to political reforms and fulfillment of Kazakhstan's human rights commitments.
Campaigners say that in the three years since negotiations began on the agreement, Kazakhstan's human rights record has gone from bad to worse.
In 2012, following a bout of fatal unrest, Astana embarked on a massive crackdown on civil liberties, with sweeping closures of opposition parties and independent media.
This year, authorities have closed down two independent newspapers (Assandi Times and Pravdivaya Gazeta), clamped down heavily on public protests, and jailed 14 people under a law on religion that critics believe infringes the right to freedom of worship.
The European Parliament (which must approve the Kazakhstan agreement) last year passed a resolution outlining serious concerns about Astana's record on political and civil liberties.
In a Wall Street Journal op-ed on October 7, Nazarbayev spoke of enhanced opportunities for trade, energy, and security cooperation from the agreement, which would "open a new chapter in Kazakhstan-EU relations," but did not address human rights concerns.
Astana argues that Kazakhstan is committed to political reform, but that building democracy is a slow, incremental process. It denies flouting its international human rights commitments.
Nazarbayev will leave Brussels for Minsk, to attend a summit of the fledgling Eurasian Economic Union with Vladimir Putin and the presidents of Belarus, the third member, and aspirant candidate Armenia on October 10.
The timing of the visits serves as a firm reminder that Kazakhstan is not putting all its diplomatic eggs in one basket: As an expansionist Russia seeks to pull its former satellites back into its orbit, Kazakhstan is looking west to Europe as well as north to Moscow.
EurasiaNet