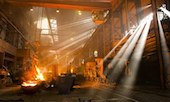 Mining firm ENRC bids farewell to the Stock Exchange but its Uzbek and Kyrgyz creators are here to stay. It is May 2010 at Monaco's vast Le Sporting banquet hall, where 800 guests have responded to an invitation from one of central Asia's most powerful, and secretive, oligarchs.
The host has packed the venue's gardens with white roses and arranged for entertainment from the singer Jennifer Lopez and French DJ David Guetta.
Several guests execute an impromptu lezginka, a traditional dance from the Caucasus, and a crowd forms to shower them with $100 and €100 bills, a sign of the donors' respect, which is then paid to the musicians.
The grand celebrations have been arranged to mark the wedding of one Sabir Chodiev, the son of Patokh Chodiev, 60, an Uzbek businessman whose then £1.85bn fortune had largely been secured with two Kyrgyz business partners in resource-rich Kazakhstan.
The timing of the wedding just about coincided with the zenith of the worldwide boom in commodity prices and the whole event is estimated to have cost Chodiev around £6m, a fifth of which went on Lopez's one-hour turn.
Those were better times in the world of Patokh Chodiev – plus his two business partners, Alexander Machkevitch, 59, and Alijan Ibragimov, 60 – a trio who largely became known in the City because of their links to a painful hit to many UK savers' pension pots.
After floating their mining company, Eurasian Natural Resources Corporation (ENRC), on the London Stock Exchange in 2007, the company's shares were quickly propelled into the FTSE 100 and, therefore, into many British pension funds.
But the past two years have seen persistent allegations of corruption against the company, along with a string of corporate governance rows, and the shares have crashed, prompting the trio to take the company private again. When the stock market closed on Friday evening the shares, which have fallen by 85% from their peak, were traded publicly for the last time.
So is London bidding farewell to the trio, whose company was dubbed "more Soviet than City" by Ken Olisa, a former non-executive director who was ousted by the three founders? Probably not.
ENRC may be disappearing from the London Stock Exchange, but the professional and personal lives of the tycoons link them inextricably to the UK.
One of their main businesses, private firm International Mineral Resources (IMR), is run out of London, several of their legal scraps are still being fought here, while ENRC continues to be investigated by the Serious Fraud Office for "fraud, bribery and corruption".
Lavish properties in the most exclusive parts of the capital continue to be owned by the businessmen, while among the diverse collection of London names touched by the oligarchs are Miriam Gonzalez, the lawyer and wife of deputy prime minister Nick Clegg; the steel billionaire Lakshmi Mittal; and the British artist Damien Hirst.
The tycoons' partnership was conceived in Kyrgyzstan, one of central Asia's poorest countries to the south of Kazakhstan, where Machkevitch and Ibragimov grew up.
The pair are thought to have met at a wedding in 1971 but pursued separate careers, as Chodiev worked in Japan for the Soviet ministry of foreign trade.
But by the late 1980s, in a move that has never been explained, they came together during the early stages of perestroika. Machkevitch and Ibragimov are believed to have moved to Moscow in 1987 to trade everything from scrap metal to iron ore, aluminium and oil.
Chodiev joined them two years later, with much of the trio's business being conducted in Kazakhstan, a market they knew well.
From there, they gained control of newly privatised chromium, alumina, and gas operations in Kazakhstan, creating partnerships (and eventually feuds) with some of the pioneers of early post-Soviet capitalism, including the London-based Reuben brothers and the metals trader Lev Chernoy.
Quite how this transformation was achieved remains unclear. Observers of the period say anybody could succeed in Kazakh business if they enjoyed powerful sponsorship, which explains the tales of alleged sweetheart deals with Kazakhstan's president, Nursultan Nazarbayev, and of charging "special commissions" to the Mayfair-based Mittal for acting as intermediaries to the Kazakh elite.
A spokesman for the trio would not comment on the payments, while Mittal's spokeswoman has denied the payment was a commission.
What is known for certain, however, is that from the chaos of the 1990s, the trio grew a substantial business, part of which became ENRC.
But by the time that company floated in 2007, some of their wealth had already arrived in Mayfair. In 2005 a British Virgin Islands-based company associated with Machkevitch paid £14.5m for a palatial three-storey Georgian mansion in one of London's most opulent squares.
Five years earlier, Chodiev bought his £10m penthouse in a glass-fronted development near London's Vauxhall Bridge, that boasts a 24 hour concierge service, residents' gym and secure underground car park.
Two Mayfair properties are registered to a company run by Chodiev's daughter Mounissa Chodieva, head of ENRC's investor relations.
A two-mile stroll north to Portman Square brings you to the offices of Amre Youness, who runs the trio's private mining business IMR.
Youness has married into the Heinz family, and so is related by marriage to US secretary of state John Kerry.
But despite his high-level links, IMR's private status has meant the company has been far less visible than ENRC.
Even so, the firm has attracted controversy. It sold ENRC a business that the listed company's former lawyers say may have made "cash payments to African presidents", while IMR is accused in the Dutch courts of "blatant fraud, exacerbated by bribery" by Russian fertiliser group EuroChem. IMR denies the accusations. ENRC and the trio deny all allegations of bribery and corruption.
Meanwhile, the oligarchs are furious at how they believe they have been treated by the City, arguing they have spent millions on lawyers and bankers in order to meet London compliance standards, only for their shares to slump. One close associate says: "They've been mugged by the City."
That anger is being played out against Dechert, the law firm that raised the allegations about payments in Africa, which ENRC is suing for allegedly overcharging for an internal corruption investigation.
The lawsuit names Clegg's wife, Gonzalez, who worked on the project. Dechert did not comment.
That case follows ENRC's pursuit of its former director, the City grandee Sir Paul Judge, who it accuses of leaking company information to the media. Judge denies this and is suing for libel.
Meanwhile, potentially embarrassing details about the tycoons and their families are set to be aired elsewhere in London's high court, as ENRC's former head of corporate finance, Kirill Stein, is suing the trio for £17m in bonuses and interest he says they reneged on paying.
Stein also names as defendants three of the oligarchs' children – Chodieva, Alla Machkevitch and Dostan Ibragimov – all of whom have London connections.
Alla, along with her sister Anna, is a director of the London-based Machkevitch Foundation.
Anna is said to be one of the largest collectors of Damien Hirst: she has acquired pieces including butterfly wing mosaics, cabinets of manufactured diamonds and the signature Hirst "dots".
All of which means that – for now – London and the trio remain bound.
Simon Goodley and Mark Hollingsworth

The Guardian