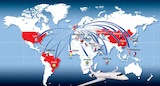 With every passing month, Tony Blair looks more and more like a deposed emperor who has systematically set up his own government in exile. How else should we view the inexorable rise of his shadowy and quasi-political network of businesses, whose tentacles stretch from his smart offices next to the American Embassy in London into every corner of the globe?
This week, it was revealed the former Prime Minister has added a new country, Mongolia, to his burgeoning portfolio of business interests.
He has signed a contract to advise the Central Asian country's leaders on 'good governance' through his money-making Government Advisory Practice.
And what does Mongolia have in common with most of the places Mr Blair does his business deals?
The answer is: pots of money. The once dirt-poor nation is about to strike it rich, thanks to vast copper and gold mines in the Gobi desert.
Blair won't say how much he is earning from the tie-up — and his large team of spin doctors routinely deny almost any figures relating to his myriad international deals — but we can be sure it'll run into millions.
How else could he bankroll 200 employees — a figure he's set his sights on growing to 500 over the coming years — in his expanding network of offices around the world?
At the centre of this nexus of money and power is 60-year-old Blair himself, who is guaranteed a warm welcome — befitting an international statesman of the highest rank — when he is feted by some of the world's most dirty and corrupt tin-pot leaders.
And political contacts in high places only help grease the wheels of his various opaque business ventures, which have propelled the ex-Labour leader into the ranks of the super-rich.
Depending on whom you believe, he is now worth £60 million to £80 million.
Sources close to Blair told me this week that the model for his growing organisation is the equally secretive U.S. global management consultancy McKinsey.
The vast company, which advises world governments and business leaders, refuses to name the people it does business with, or discuss its multi-billion-pound deals.
Sure enough, staff lists of the ex-PM's Africa Governance Initiative (AGI) — the charity he set up in 2008 — as well as Tony Blair Associates, the umbrella operation for his Government Advisory Practice (GAP), read like a Who's Who of former McKinsey executives.
They include German-born Stephan Kriesel, the GAP head; Joe Capp, who runs Blair's South American organisation; and Nnaemeka Okafor, who is the AGI's head in Nigeria.
Blair, who has links to McKinsey going back to his time in office, has also copied the U.S. firm's policy of hiring super-bright young graduates from Oxbridge, Harvard, Princeton and the Massachusetts Institute of Technology, instead of relying on experienced business managers.
Increasingly, Blair's UK headquarters — in a Georgian townhouse in London's Grosvenor Square, for which he pays £550,000-a-year rent — resemble the seat of power of a president or prime minister. (On the mantelpiece in his cream-coloured office are pictures of him with elder statesmen such as Nelson Mandela.)
But the difference is that as well as seeking power and influence, Blair is also after big money. He has installed his own 'trading floor' — complete with Wall Street-like computer screens — overseen by David Lyon, a former MD at Barclays Capital.
A team of staff is licensed by the Financial Services Authority so they have the power to advise clients and invest money on their behalf from this room, using the Reuters 3000 Xtra electronic trading platform.
With millions flowing in, Blair has set up a byzantine network of inter-related companies to funnel his vast earnings.
The effect is that his financial affairs are largely cloaked in a web of secrecy.
What we do know is that his Government Advisory Practice is administered through a company called Windrush Ventures.
Latest accounts show it had an income of £16 million and made profits of £3.6 million.
What we can be certain of is that those figures are just the tip of the iceberg.
For his part, Blair insists that, despite his globe-trotting, he is a UK taxpayer and his companies are registered here for tax purposes.
So just how far do the tentacles of Blair Inc reach around the world? And how ethical are the regimes that are enriching the former Labour leader to such an extraordinary degree?
COLUMBIA
In July 2010, Blair's Government Advisory Practice secured a deal to provide a team of consultants to the government.
How much the contract is worth has been kept secret, but it's thought to run into millions.
Unethical rating: 4 out of 5.
Up to 120 Colombian journalists have been killed over the past three decades for exposing drug and corruption scandals involving the country's politicians.
BRAZIL
Last year, Blair agreed a contract reportedly worth almost £4 million a year to advise the state government of Sao Paulo, the economic powerhouse behind the country's fast -growing economy.
Unethical rating: 3 out of 5.
In November, Amnesty International said police in the violence-hit state were carrying out revenge assassination attacks on members of bloody crime gangs who killed 90 officers. More than 570 people were said to have been killed by rogue policemen.
USA
For the past five years, Blair has been a senior adviser to U.S. bank JP Morgan, on a £2.5 million salary. His preferred mode of transport there is a rented £20 million Gulfstream V private jet. He stays in a suite at The Carlyle hotel overlooking New York's Central Park.
Unethical rating: 2 out of 5.
He admitted his charity, the Africa Governance Initiative, hired executives from JP Morgan to work in Rwanda, giving the bank a foothold in the fast-expanding Rwandan economy. He also accepted flights on a private Bombardier BD-700 Global Express jet operated by Rwanda's bloodthirsty dictator Paul Kagame.
SWITZERLAND
Blair is paid £500,000 a year by Zurich Insurance to act as an adviser on global warming. Last September, he earned £630,000 for an hour's work to help facilitate a £50 billion merger between the Swiss-based mining company Xstrata, and commodities trader Glencore, in a suite at Claridge's hotel in London.
Unethical rating: 2 out of 5.
Despite being a campaigner on climate change, Blair's travels around the world on private jets are estimated to produce more than 30 times the carbon emissions of the average person.
ALBANIA
It was recently revealed Blair is due to tie up a multi-million pound deal with Albania's socialist leader Edi Rama if his party wins elections this month.
Unethical rating: 3 out of 5.
There are claims Blair is cashing in on his status as a hero for his part in sending Nato troops into Kosovo to halt attacks on ethnic Albanians by Serb forces when he was PM in 1999. As a result, thousands of babies were named 'Tonibler' in his honour. Albania's international crime gangs are responsible for some of the worst human trafficking and forced prostitution in the West.
KAZAKHSTAN
The former PM's deal to promote the former Soviet outpost of Kazakhstan and advise it on good governance is said to be worth up to £16 million. Last April, he made a propaganda video praising the oil-rich state's progress and 'extraordinary economic potential'.
Unethical rating: 5 out of 5.
Dictator Nursultan Nazarbayev, leader for 23 years, won 95 per cent of the vote in rigged elections in 2011. In December that year, 15 striking oil workers were shot and killed by police. Torture is common, as is jailing human rights activists.
MONGOLIA
The latest country to be added to his growing portfolio. Blair negotiated a contract to advise on 'good governance' in Mongolia during a visit to the country's capital Ulan Bator in March.
Unethical rating: 2 out of 5.
The once-Communist state is now led by president Tsakhia Elbegdorj, who was democratically elected in May 2009.
There's a growing free media and plans for a Freedom of Information Act.
PHILIPPINES
Flown in by private jet, Blair was paid almost £400,000 for two half-hour speeches to businessmen in 2009.
Unethical rating: 4 out of 5.
In April, a Freedom of Information request revealed that Blair's staff negotiated for him and his entourage to stay at taxpayers' expense at the British Ambassador's official residence with its swimming pool, private garden and tennis court. Human Rights Watch accuses the military and the police in the Philippines of attacks against political activists and journalists.
SOUTH KOREA
Blair took a job advising a consortium of investors led by South Korean oil firm UI Energy Corporation in August 2008.
Unethical rating: 3 out of 5.
He persuaded Britain's Advisory Committee on Business Appointments, which vets the jobs of former ministers, to keep details of this deal secret for nearly two years, claiming it was commercially sensitive.
When it was finally revealed in 2010, he was accused by MPs of cashing in on his contacts from the controversial Iraq war — UI Energy is one of the biggest investors in Iraq's oil-rich Kurdistan region, which opened up to international companies after the fall of Saddam Hussein.
CHINA
Blair was reported to have advised the vastly rich China Investment Corporation — the nation's £400 billion sovereign wealth fund — when it bought a £700 million stake in the company that owns Thames Water, Britain's biggest water supplier.
Unethical rating: 4 out of 5.
This week it was revealed that Thames Water — which has Blair's former No. 10 adviser Ed Richards on the board — exploited loopholes so it did not pay any UK corporation tax last year.

China has a woeful record on human rights, with a highly censored media, and is accused of repressive policies against ethnic minority areas in Tibet, Xinjiang and Inner Mongolia.
THE MALDIVES
Last summer, Blair was the lunch guest of the then newly installed president Mohamed Waheed Hassan at the exclusive Four Seasons hotel, where he, his lawyer wife Cherie, and a small party of friends and family stayed.
Unethical rating: 5 out of 5.
Our ex-PM was slammed by opposition parties for meeting the brutal dictator, who months earlier overthrew the Indian Ocean archipelago's first democratically elected president at gunpoint. Subsequently, more than 600 members of opposition parties were locked up.
ABU DHABI
He has been earning £1 million a year advising Mubadala, the £20 billion sovereign wealth fund that invests Abu Dhabi's huge oil profits, since 2009.
Unethical rating: 2 out 5.
Conflict of interest claims were made when he became an unpaid adviser to the president of the mineral-laden African state of Guinea.
Blair met the country's president Alpha Condé last June, which coincided with Mubadala — who hired Blair — signing a deal to explore mining opportunities in Guinea, though Blair denies he made any money from the tie-up.
QATAR
Our ex-PM is thick as thieves with super-rich Sheikh Hamad bin Jassim bin Jaber al-Thani, the Qatari PM. Qatar stood to gain billions from the Glencore/Xstrata mining deal last year (see Switzerland).
Unethical rating: 3 out of 5.
Blair drew criticism in the Middle East, where he's an unpaid peace envoy, when he lobbied for a mobile phone company's deal to create a network on the Palestinian West Bank: the parent company Qtel was a client of the bank JP Morgan (see U.S.A.).
A Qatari poet was jailed for 15 years last February for a poem criticising the country's Emir.
KUWAIT
One of his first clients on leaving office in June 2007, Blair's deal with the Gulf monarchy is reported to be worth £27 million.
Tony Blair Associates was contracted to produce Kuwait Vision 2035, a report into the kingdom's political and economic future, which was delivered in 2010.
Unethical rating: 2 out of 5.
Blair has been accused of profiting from his decision to invade Iraq — a war which was popular with the Kuwaiti Royal Family since it saw the end of the Iraqi dictator Saddam Hussein, who invaded their country in 1990.

Posted by Economy & Finance