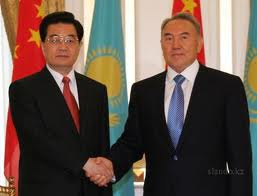 Recently, Kazakhstan's Oil and Gas Minister Sauat Mynbayev finally confirmed China's interest in becoming involved in one of the world's most expensive energy projects ever at the Kashagan oilfield on the Caspian Sea.
This statement ended months of media speculation after the US' ConocoPhillips had officially announced its decision to quit the project by selling its 8.4 percent stake to the highest bidder.
Under the current production sharing agreement concluded between Kazakhstan and members of an international consortium known under the name of the North Caspian Operating Company (NCOC), the Kazakhstani government has the preemptive right of purchase with regard to any stakes in Kashagan.
Nonetheless, other NCOC members also wield veto power and may therefore either purchase a stake for themselves ahead of any external player or block a prospective deal, should the stake find a buyer. While the first oil at Kashagan is slated to be extracted in May to June this year, the project already faced multiples delays in the past, and Conoco's precipitous exit could only make things worse.
However, India's ONGC Videsh Ltd agreed to replace the departing US company by acquiring its share for $5 billion back in November 2012. By doing so, it triggered a months-long approval procedure obliging Kazakhstani authorities to consider if they would blackball the deal or, conversely, let the Indians pull off their first major oil contract in post-1991 Kazakhstan.
ONGC's proposal was initially hailed as India's unique chance of obtaining access to the immense hydrocarbon resources of the Caspian region's key country, only reinforced by NCOC members' tacit approval of the planned purchase. But the Kazakhstani government decided otherwise: It took a pause until the end of May to elaborate its final position.
Although it is still unknown whether the China National Petroleum Corporation (CNPC) has ever had any business contacts with ConocoPhillips on the issue of Kashagan, it suddenly became clear in the wake of Mynbayev's announcement that India's odds are now considerably slimmer than they were just a few weeks ago.
Since Kazakhstan has already committed substantial funds to other highly expensive infrastructure projects, including the modernization of its three oil refineries, it is quite unlikely that it could bear the costs of the transaction.
As an anonymous government source cited by Bloomberg conjectured, Kazakhstani authorities may decide to buy Conoco's stake only to resell it later to CNPC. Another possible option is the establishment of a joint-venture controlled from Beijing rather than from Astana.
China already secured the expansion of its energy trade with Kazakhstan during Kazakhstani President Nursultan Nazarbayev's official visit to Beijing in April. On that occasion, Kazakhstan's national oil and gas company KazMunaiGas and CNPC signed an agreement on the extension of the Kazakhstan-China oil pipeline, with China willing to import even more hydrocarbons from its neighbor.
According to the latest statistics, the transit of Kazakhstani oil via the Atasu-Alashankou pipeline jointly owned by the two countries increased by 36 percent between January and March on a year-on-year basis.
As Nazarbayev said in his speech after being greeted by China's new leader Xi Jinping, China currently accounts for 25 percent of the total oil production in Kazakhstan. Earlier this year, several independent energy analysts said this could be over 40 percent if all of China's stakes in Kazakhstan-based oil and gas companies were combined together.
CNPC's expected Kashagan success is not a single episode in China's economic diplomacy. In recent years, Chinese gold-extracting companies have become particularly active in neighboring Kyrgyzstan, while Uzbekistan's UzbekNefteGas is implementing several large-scale projects jointly with Chinese partners and Turkmenistan has been selling most of its natural gas to China since December 2009.
In this context, China's successes in Central Asia can only worry Russia, India and the West. While former US secretary of state Hillary Clinton called Russia's Eurasian Union "a move to re-Sovietize the region," Washington's fears about Moscow's expanding influence in Central Asia should not be overestimated. China represents a far more serious competitor unconstrained, unlike Russia, by a dubious historical legacy, and avoiding any controversial rhetoric related to regional integration.
The author is a Paris-based international affairs expert who writes for the Jamestown Foundation and the Central Asia-Caucasus Institute.
www.globaltimes.cn