Kazakhstan Widens Currency Trading Band, Tenge Little Changed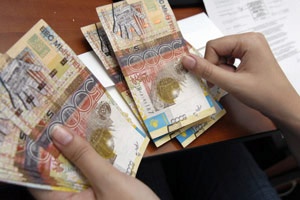 Kazakhstan's central bank widened the corridor used to control the exchange rate of the national currency against the dollar.
The bank will maintain its target for the average rate of the tenge against the dollar at 150, and extend the trading band to plus 15 tenge and minus 22.5, the central bank said in an e- mailed statement today. The move will come into effect on Feb. 5 and the range should remain in place until March 20, 2011, the bank said. The tenge was little changed at 148.3375 per dollar at 2:29 p.m. in Almaty, from 148.3150 yesterday.
Kazakhstan devalued the tenge by 21 percent in February as the central Asian nation's financial crisis forced the government to seize control of BTA Bank, then its biggest lender, and spend more than $19 billion to prop up the economy. The government said then that the currency may fluctuate about 3 percent either side of 150 per dollar.
With assistance from Laura Cochrane in London. Editors: Mark Sweetman, Gavin Serkin
Bloomberg