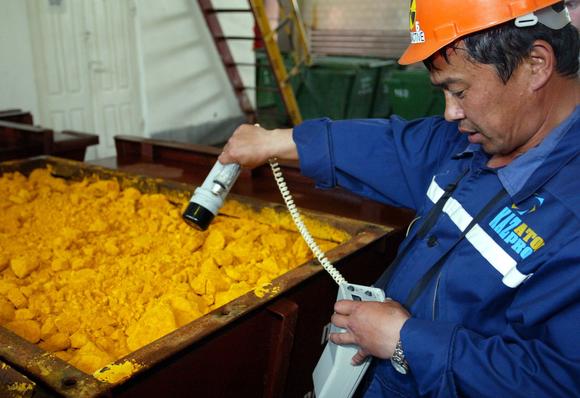 Privatization drive confronts wariness about state intentions
The latest drive by Kazakhstan to privatize many of its state-owned companies and reduce the government's role in the economy is off to a better start than previous efforts.
Yet the efforts by President Nursultan Nazarbayev to modernize the resource-rich former Soviet republic's economy will face crucial tests in the months ahead as attention turns to the most high-profile companies, including flag carrier Air Astana and Kazatomprom, the world's largest uranium producer. Investors remain scarred by previous experiences with state-backed companies and will need reassurance on policy continuity as the nation's founding president enters his twilight years.
Following the 2015 collapse in world oil prices, Kazakhstan announced its biggest privatization plan since its independence in 1991. The authorities set a target of reducing state ownership of the national economy from more than 40% to around 15%, the standard of the Organization of Economic Cooperation and Development.
Assets targeted for privatization include 65 large companies in the oil and gas, transportation and nuclear sectors, which are together worth approximately $70 billion, according to government estimates.
The ambitious program is a far cry from the corrupt, opaque attempts of the 1990s and the disastrous "People's IPOs" in 2012, which were intended to cultivate an investor class and foster more public engagement with the local stock market. Ultimately, there was little take-up by domestic buyers and only Kazakhstan Electricity Grid Operating Co. and energy commodity transportation company KazTransOil sold shares.
So far, the 2016-2020 Complex Privatization Plan is on track, with the sale of at least a third of the lower-hanging fruit, mainly indebted entities and non-core assets. Next, Samruk-Kazyna, the nation's sovereign wealth fund, is planning to sell stakes of up to 25% in both Kazatomprom and Air Astana in public stock offerings. This would dovetail with the launch of Astana International Financial Center, a planned financial services hub in the Kazakh capital.
Air Astana, 49% owned by British aerospace company BAE Systems, is highly exposed to the weak Kazakh currency, the tenge, as well as the country's ailing banking sector. Some industry observers say the airline lacks much growth potential.
Prized asset
Kazatomprom, however, is the real jewel in the Kazakh crown, as it accounts for 40% of global uranium production and controls the world's second-largest proven reserves. It is one of the world's better-managed uranium companies, enjoys deep cash reserves and carries almost no debt. Owing to national security issues, there is little transparency on its business dealings.
While some buyers might shy away, the response to its proposed initial public offering has been enthusiastic, with several investors pushing for an earlier listing, but the government is waiting for uranium prices to recover and show upward momentum before proceeding.
Privatization drive confronts wariness about state intentions
Depressed oil prices have also delayed the sale of a stake in KazMunaiGas, the country's largest oil producer, by several years. The removal of several long-standing independent directors has seemingly resolved the dysfunctional relationship between the company and U.K.-listed subsidiary KazMunaiGas Exploration Production. A subsequent uptick in the company's financials and renewed discussion over a share buyback by the subsidiary will help KazMunaiGas move toward a listing.
KazMunaiGas has shrunk its debt from $17 billion in 2014 to below $9.8 billion by selling noncore assets and reducing capital expenditures. It also successfully issued a $2.75 billion Eurobond this year at yields far lower than some comparable Russian state and other national oil companies.
Through its asset sales, Samruk-Kazyna aims to increase the efficiency and value of its portfolio companies and implement corporate governance principles based on OECD standards. The program has been better accepted at some companies, including Kazatomprom, than others though initial results have been encouraging overall.
Earlier this year, Samruk-Kazyna received the highest possible rating on the Linaburg-Maduell Transparency Index, a global benchmark for sovereign wealth funds. The fund has also witnessed a jump in returns on equity and net income that has outstripped those of several larger sovereign wealth funds, including Malaysia's Khazanah Nasional and Abu Dhabi's Mubadala Investment.
Samruk-Kazyna has also undertaken some commendable tactical changes, including retiring long-serving independent board members at its portfolio companies. In replacing such directors, Samruk should take more care to seek out heavyweight nonexecutives whose presence could enhance the boards' oversight capability.
While attempts have been made to cut the legacy umbilical cord from Soviet times between the government and state companies, many still carry the weight of significant social expenditures, and the government has indicated that it expects buyers to maintain still-bloated personnel levels.
Better shape
The European Bank of Reconstruction and Development has worked extensively with the Ministry of National Economy on reforming pricing in areas such as aviation, gas, renewable energy, water services, ports and rail transport, as well as trimming subsidies. This has helped make companies in these sectors more commercially viable.
Questions, though, remain about the progress achieved and whether the changes carried out so far are sufficient. Investment banks including JPMorgan Chase and Credit Suisse have been appointed to handle Samruk's stake sales, but it is still unclear who the intended buyers are.
The government wants to retain control over profitable and strategic assets. As there is not enough capital in Kazakhstan to absorb the bulk of the planned listings, the government will have to sell shares mainly to foreign buyers. This will require convincing investors with potentially minimal voting rights that the companies will not be run like personal fiefdoms.
The government must assuage the worries of investors still wary from their experience with miner Eurasian Natural Resources Corp. The company delisted from the London Stock Exchange in 2013, seven years after its IPO, amid allegations of fraud and rows between its board of directors and founding shareholders over corporate governance standards.
It is vital to Kazakh citizens that the government attracts the right partners for long-term growth and development of its state champions. Fulfilling the objectives of the privatization program and communicating its successes will be essential. Given the poor record of implementation on many presidential legacy projects and given largely skeptical domestic and international investors, the government needs to assess its long-term priorities. It faces a clear choice to maintain momentum, which will be impossible to regain if the authorities cannot resist familiar pressures to offload assets to domestic elites.
Kazakhstan on paper is very much open for business. May the rhetoric become reality. Let the reformers prevail to really make it so.
"Nikkei Asian Review", October 10, 2017