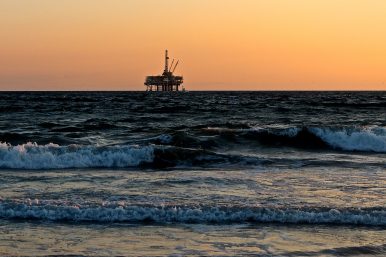 Kazakhstan, it seems, has been one of the worst violators of a promise made in December to cut oil production. According to data in the International Energy Agency's March Oil Market Report [PDF], Kazakhstan had agreed to a 20,000 barrel per day cut but instead increased production over the baseline month level (October) by 78,000 bpd.
Late last year, OPEC and 11 non-OPEC countries — including Russia and Kazakhstan — agreed to production cuts in a global effort to right the oil market. The market had crashed in 2014. A production race between Saudi Arabia and U.S. shale producers flooded the market with oil and the price collapsed, taking the economies of energy producers with it.
The 13 OPEC countries agreed to cut output by 1.2 million bpd, with Libya and Nigeria purposefully left out of cuts. Eleven non-OPEC countries — Azerbaijan, Bahrain, Bolivia, Brunei, Equatorial Guinea, Kazakhstan, Malaysia, Mexico, Oman, Sudan, and South Sudan — made commitments to cut production by 1.8 million bpd among them. Oil market analysts at the time said some of the countries were essentially listing natural declines in production as cuts, but that for others — especially Russia and Kazakhstan — the cuts would be real, if they happened.
Cheating at production cuts is par for the course, both within OPEC and outside of the cartel. But the OPEC countries are holding firm. According to the IEA report, "OPEC kept up robust adherence to its 1.2 mb/d supply cut in February." The report assessed OPEC compliance in January and February at an average of 98 percent, though the individual countries vary widely with Venezuela only 18 percent compliant and Saudi Arabia 135 percent compliant.
As Reuters noted in December, the agreement — largely seen as being between Saudi Arabia and Russia — was the first of its kind since 2001. Russia was the key player of concern, given its checkered past of making commitments to cut and then ignoring them. Much of the discussions throughout 2016 centered on whether Russia would indeed follow through with production cuts — it didn't in 2001.
The IEA report's assessment of non-OPEC compliance is, as with the OPEC countries, variable: in January Russia was 39 percent compliant and Kazakhstan a whooping -199 percent compliant. Oman is at the other extreme with 103 percent compliance in January.
In December, Russia agreed to a 300,000 bpd cut in six months and seems to be on course, with an actual cut — as of February — of 119,000 bpd.
Kazakhstan's promised cut of 20,000 bpd is tiny by comparison to the real oil giants — Russia and Saudi Arabia. Indeed, Kazakhstan hesitated on making a commitment at all. When Kazakhstan's energy minister joined the talks in December, he wavered on promising any kind of commitment, saying, "We are not the biggest oil-producing country outside OPEC, we will see what our partners' position is." Ultimately Kazakhstan signed on and in early January Kazakh oil authorities said production was being cut by 20,000 bpd, according to a Trend report. But as the IEA data shows, that didn't really happen.
The massive Kashagan field came back online in October. The field — frequently touted as the largest oil discovery in a generation — originally began production in 2013 but was quickly hamstrung by a leak and engineering difficulties. To many a skeptic's surprise, it restarted production on time in October 2016.
According to the IEA report, Kazakh production rose — according to preliminary February data — by 40,000 bpd to average 1.718 million bpd, pushing Kazakhstan's compliance percent to -389 percent. "The increase stemmed mostly from Kashagan," the report notes, "which produced 170 kb/d last month [170,000 bpd], only five months after start up." Kashagan, IEA says, is expected to reach a pace of 180,000 bpd by mid-year with a goal of 360,000 bpd by the end of 2018.
Astana doesn't see itself as having cheated, and Kazakh energy officials are bearish about production going forward. Platts reported in late March that Kazakh energy minister Kanat Bozumbayev was asked about cuts and replied, "It is not a question of how much. We can only increase." Kazakh officials skipped a meeting in Kuwait to discuss extending the production cut deal.
Indeed, the IEA report says that "Kazakhstan has pledged to cut output by [20,000 bpd], but has said that output from Kashagan, Tengiz, and Karachaganak would be exempt for production restraints." Bozumbayev, the Platts report notes, "has previously described as symbolic Kazakhstan's obligation under the agreement to cut its production by 20,000 b/d."
The Diplomat, 14.04.2017