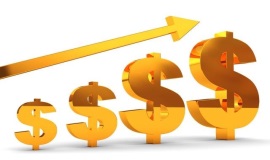 In Kazakhstan, the most telling sign that investors are bracing for another currency devaluation is their refusal to part with dollars. Exporters and other holders of the greenback are turning to the currency swaps market for contracts that allow them to obtain the local currency they need without having to sell their dollars outright. Volumes in such deals reached a daily average of $2 billion this month, five times more than in all of last year, according to Kazakhstan stock exchange data.
Eleven months after a 19 percent devaluation that left the tenge in a band around 185 per dollar, concern is mounting that another weakening is imminent after the ruble sank 47 percent since the move. Both Kazakhstan and neighboring Russia, its biggest trading partner, are grappling with a tumble in oil prices that eroded their largest source of export earnings.
"There is a growth of dollarization," Yerulan Mustafin, an analyst at Halyk Finance, a unit of the country's second- biggest bank, said by phone yesterday. "We expect that the tenge will either depreciate gradually or devalue."
Anticipation of a weaker tenge has also spurred a shift to foreign-currency deposits, whose value topped those in the tenge for the first time in five years in November, according to the latest central bank data.
'Sharp Fluctuations'
Kazakhstan, part of a Russia-led economic union since Jan. 1 that seeks to boost trade within the former Soviet republics, may need to devalue by as much as 35 percent in the first half of 2015, Vladimir Miklashevsky, a strategist at Danske Bank A/S, wrote in a report on Jan. 8. A forced weakening may take the tenge to 250 per dollar by March 31, according to David Nangle and Armen Gasparyan, analysts at Renaissance Capital, the Moscow-based investment bank controlled by Russian billionaire Mikhail Prokhorov.
"The National Bank intends to prevent sharp fluctuations of the exchange rate," central bank Chairman Kairat Kelimbetov told President Nursultan Nazarbayev yesterday, according to a statement on the president's website. The central bank's press service declined to comment further on the tenge.
Timothy Ash, chief emerging-markets economist at Standard Bank Group Ltd in London, said by e-mail yesterday that he's "not sure whether the market will take such assurances that seriously," calling the tenge "even more over-valued" now that oil prices tumbled below $47 a barrel this month.
Election Timing
Policy makers may choose to avoid weakening the currency amid speculation presidential elections will be brought forward to this year from 2016, Renaissance's Nangle and Gasparyan said in a research note yesterday.
"With more than $100 billion of reserves and by keeping tenge liquidity extremely tight, Kazakhstan could avoid devaluing, albeit to the detriment of country's balance sheet and/or growth," the Renaissance Capital analysts said.
Kazakh reserves increased 17 percent last year to $28.9 billion in December. Assets of the country's oil fund rose about 4 percent in 2014 to $73.6 billion.
The selloff in Russia has spread across the former Soviet Union. Azerbaijan's central bank spent $1.1 billion, or about 8 percent of its international reserves, to defend its currency last month. In Belarus, authorities devalued their currency this week as an interest-rate increase and capital controls introduced in December failed to stem declines.
"Market participants are expecting action from the National Bank of Kazakhstan," Halyk's Mustafin said. "Pressure from low oil prices and the ruble will probably persist, adding to expectations for a devaluation."
--With assistance from Paul Abelsky in Moscow.
To contact the reporter on this story: Nariman Gizitdinov in Almaty at This email address is being protected from spambots. You need JavaScript enabled to view it.
To contact the editors responsible for this story: Wojciech Moskwa at This email address is being protected from spambots. You need JavaScript enabled to view it. Andras Gergely

(Bloomberg)

www.garp.org