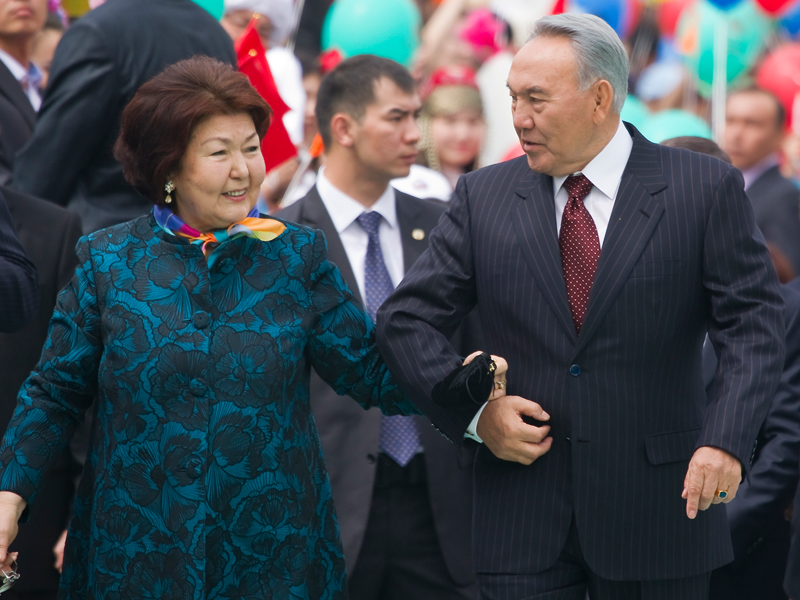 Behind every great man is a great woman, as they say. But who stands behind the world's dictators? In good times and in bad, the ladies of the Dictators' Wives Club sure put up with a lot: corruption, political uprisings and often other wives. Some, like Rwandan First Lady Jeannette Kagame, use their position to advocate for important charitable causes in their nations.
Others, like Syrian president's wife Asma al-Assad, are pros at looking the other way and smiling for official Instagram photos.
For this list, we defined a dictator as a near-absolute ruler known for human rights abuses, restrictions on freedom of the press, and oppression of opposition.
Ana Paula dos Santos, wife of Angolan President José Eduardo dos Santos
The first lady: A former fashion model, Ana Paula dos Santos knew her husband from her time as a flight attendant on the Angolan version of Air Force One. She now has a degree in teaching and law, and is a member of the International Steering Committee.
A diplomat once described the president and first lady as 'a handsome couple, elegantly and expensively dressed, looking for all the world as though they're living in southern California.' The first lady received a lot of flack from the public when she announced that her son would be attending the Portuguese school in Luanda because of the 'bad quality' of state education -- something for which many people hold her husband responsible.
Her husband: During President dos Santos' 34 years in office, he has consolidated all political power under his control. Countless atrocities, including torture and mass murders, occurred under his watch during a 27-year-long civil war. There are still reports of torture and repression of ethnic minorities going on in Angola today.
Sabika bint Ibrahim Al Khalifa, wife of Bahraini King Hamad bin Isa Al Khalifa
The Queen Consort: Sabika bint Ibrahim Al Khalifa is the first wife of King Hamad bin Isa Al Khalifa. Aside from being a devoted mother to their four children -- one of whom is the crown prince -- Ibrahim Al Khalifa is an outspoken activist for women's and children's rights, both in Bahrain and around the world, having addressed the UN General Assembly about these issues.
She serves as the head of the Supreme Council for Women in Bahrain, encouraging women to vote in the country, and is also the chief patron of the Society for Women and Children in Bahrain.
Her husband: The country has been run by the Al Khalifa dynasty since 1783. Hamad declared himself king in 2002, previously holding the title of Emir, meaning 'commander.' After an uprising against him in 2011, Amnesty International condemned the failure of the Bahraini government amidst 'spiraling repression,' including banning all public gatherings and rallies, revoking citizenships of those who speak out, and torturing both adults and children. In spite of this, Bahrain remains backed by support from the U.S.
Chantal Biya, wife of Cameroonian President Paul Biya
The first lady: Known as a trendsetter (there's even a Tumblr devoted to her famously tall hair-do), the first lady of Cameroon is very social and has met Michelle Obama, Paris Hilton and, just this past September, the Pope. Biya has been quoted as saying that her favourite European designers are Dior and Chanel, and many of the pieces in her wardrobe are custom-made.
30-eight years her husband's junior, Biya is also a member of African Synergy, a club that comprises the wives of 22 of the continent's heads of state.
Her husband: President Biya has been in office for more than 30 years, and in 2008 removed restrictions on term limits so that he could run for office indefinitely. His state security forces have been accused of executing protestors and using other means of violence and oppression to prevent political opposition.
Hinda Déby, wife of Chadian President Idriss Déby Itno
The first lady: Hinda Déby is considered the 'new first lady,' or 'fourth lady' of Chad (or thirteenth, depending on who you ask), as her husband has been married many times. She is, however, well-loved, renowned for her beauty, and perhaps the best-known of the president's wives.
The fashionable and highly-educated Déby serves as her husband's stenographer and 'helps advise me with every single decision I make,' President Déby Itno is quoted as saying.
Her husband: President Déby Itno, whose government is U.S-backed, came into power when he led a military coup that overthrew his predecessor in 1990 and has largely run unchallenged in subsequent elections since he took office. He played a key role in escalating a bloody proxy war between Chad and Sudan throughout the 2000s and is known for using child soldiers in his army.
Constancia Mangue, wife of Equatorial Guinean President Teodoro Obiang Nguema Mbasogo
The first lady: Constancia Mangue, the first lady of Equatorial Guinea, has been awarded for her advocacy of women's and children's rights through the NGO she founded, the Equatorial Guinean Child Aid Committee.
Mangue is the mother of Teodoro Nguema Obiang Mangue, the president's oldest son, who has been named successor.
Her husband: President Mbasogo took power in a coup, previously serving as head of the National Guard under the last dictator's bloody reign. He has been accused of cannibalism -- eating parts of his opponents to gain 'power.' Serving almost 35 years in office, he is Africa's longest-serving leader, though rumours have been circulating that he has terminal prostate cancer.
The official website refutes these rumours, saying, 'Despite rumours that emerge once in a while from outside Guinea ... he has enviable health and practices sports daily.'
Zeinab Suma, wife of Gambian President Yahya Jammeh
The first lady: Most reports about Zeinab Suma, the 'official' first lady of Gambia, are shockingly negative. Many call her a 'gold digger' and a 'hustler' and, in one report, a 'devil' who 'enjoys seeing Gambians suffer.'
Her husband took a younger, second wife in 2010, which led Suma to protest by moving to the U.S. and threatening divorce until he divorced the new wife. Suma is the mother of the president's two children.
Her husband: President Jammeh achieved stability in Gambia but only at the cost of human rights and freedom of the press. According to Reuters his rule has been characterised by paranoia and superstition, and he has reportedly jailed a number of people in his inner circle for allegedly plotting to overthrow him.
President Jammeh earned negative attention when he claimed he could cure HIV/AIDS with herbs. Some sources report that he is being treated for bipolar disorder.
Rania Al Abdullah, wife of Jordanian King Abdullah II ibn Al-Hussein
The Queen Consort: Queen Rania was born in Kuwait to Palestinian parents. She is highly educated and worked briefly in marketing for Citibank, followed by a job with Apple in Amman.
Since her marriage, Queen Rania has used her position to advocate for various sectors of society in Jordan and beyond. She was ranked the most beautiful queen consort or first lady by Harper and Queen magazine in 2011.
Her husband: King Abdullah II, with whom the U.S. has an amiable relationship, assumed control from his father. Though he's been hailed as a progressive Middle Eastern leader, he controls nearly all of his country's political power. Many cases of arbitrary arrests, torture, and government interference in the media have been reported in Jordan.
Sara Nazarbayeva, wife of Kazakh President Nursultan Nazarbayev
The first lady: A trained economics engineer, Sara Nazarbayeva is the Founder and Chair of Bobek, an International Children's Charity Fund, which won her the Ihsan Doğramacı Family Health Foundation Prize from the World Health Organisation in 1997.
Despite her work in children's welfare, Nazarbayeva recently revealed that she is not in favour of people from other countries adopting Kazakh children.
'We must take care of our own children and not give them away abroad,' she said.
Her husband: The president of 21 years has been accused of widespread human rights abuses, including limits on political and speech freedoms, pervasive corruption, and violence against women.
Through all this, a New York Times article reported in 2011 that President Nazarbayev's regime had paid D.C. think tanks to issue glowing reports on the country and ignore the negative.
Ri Sol-ju, wife of North Korean Supreme Leader Kim Jong-un
The first lady: Called 'the Kate Middleton of North Korea' by the Global Post, Ri Sol-ju was only last year 'outed' as the supreme leader's wife, having previously stood, unidentified, in photos with him.
Little is known about her in general other than that she's around 30 and comes from a well-to-do North Korean family.
However, the rumour mill has been churning out stories that she may have shot a homemade porn film, and that she once led a promiscuous lifestyle; unproven reports claim that her husband ordered nine musicians who were supposedly perpetuating these rumours executed, says NBC World News.
There were also rumours that Kim Jong-un had had his wife killed following accusations of his uncle's treason, until photos of her were published at later dates, quashing these speculations.
Her husband: Kim Jong-un took over the role of Supreme Leader when the country was already in trouble, with skyrocketing poverty and starvation rates. Still, the Supreme Leader himself lives a 'seven-star party lifestyle.'
Since taking power, he has replaced more than 40 per cent of the nation's military leaders and other officials who served under his father in order to, according to analysts, show that he is a secure enough leader that he can shed his closest support, the Wall Street Journal reports.
Jeannette Kagame, wife of Rwandan President Paul Kagame
The first lady: Jeannette Kagame returned to her native Rwanda after the genocide of 1994 and has since championed issues related to women's rights and children.
Her work as First Lady has focused on ending the HIV/AIDS epidemic and improving the lives of its victims. Thanks to the collective efforts of Kagame and global leaders, new HIV infections have been cut in half and testing among young women has increased sixfold in the last decade.
Her husband: President Kagame is credited with leading Rwanda's remarkable recovery from war and genocide, reducing corruption, expanding women's rights, and jump-starting the economy; but his government has made these gains through tight restrictions on freedom of expression and association. In the most recent general election, authorities barred most opposing political parties from registering to vote, closed many independent newspapers, and were accused to killing journalists and exiled officials -- efforts that helped Kagame garner a suspicious 93% of the vote.
The 30+ wives of Saudi Arabian King Abdullah bin Abdulaziz Al Saud
The first ladies: King Abdullah has had more than 30 wives during his lifetime, though very little is known about any of them individually.
Marriage, and more importantly its resulting offspring, is used to cement alliances. His father, King Abd al-Aziz, wed a daughter of every tribal chief in his realm. King Abdullah has fathered at least 35 children and, according to a 2008 WikiLeaks cable, he 'regularly receives hormone injections and 'uses Viagra excessively,'' procreating into his 70s.
Historically, the women of the House of Saud play a major role in politics. Behind palace walls, they hold regular meetings with the king so he can explain his views and listen to their thoughts.
Their husband: The House of Saud has ruled the nascent kingdom since its inception in 1932, with King Abdullah inheriting the throne from his brother in 2005 and maintaining U.S. backing. Citizens lack the legal means to change their government, transparency in the judiciary is almost non-existent, with severe punishment like chopping off hands for minor offenses.
Inkhosikati LaMbikiza, wife of Swazi King Mswati III
The first lady: Queen Inkhosikati LaMbikiza stands out as the 'senior wife' among King Mswati III's 15 brides. She dropped out of school at age 16 to marry him, becoming the first wife he chose for himself (the first two were ceremonial brides picked by the royal family).
Queen LaMbikiza defied Swazi tradition by earning a law degree after her marriage, though she's not allowed to practice as it could create pressure on judges to rule in her favour. She influences culture in other ways -- becoming the first Swazi queen to record a gospel album, and earning American press for her bold fashion choices.
>Per Swazi law, King Mswati III is permitted to take a new bride each year. During this year's annual Reed Dance festival, he added an 18-year-old beauty pageant contestant> to his 'collection.'
Her husband: The 45-year-old king is said to use as much as £31.7 million of Swaziland's annual budget to sustain his family. As many as four wives have abandoned the king's harem, citing physical and emotional abuse, according to The Daily Mail.
He enjoys total power over his one million subjects in one of the world's last absolute monarchies. The system of government bans political parties from involvement in elections.
Asma al-Assad, wife of Syrian President Bashar al-Assad
The first lady: British beauty Asma al-Assad has stood by President Assad as his fortune rocketed past $US1 billion and a civil war rages on in Syria.
The Assads met in London, where she worked as an investment banker at J.P. Morgan and Assad was studying to be an eye surgeon. They married shortly after he assumed the presidency from his dictator-father in 2000, and have since gained recognition for projecting a secular, 'modern image.'
The mother of three has become controversial, however, for extravagant shopping sprees, disingenuous photos of her charitable work on the president's official Instagram account, and overly-praiseworthy profile in Vogue.
Her husband: Western governments have accused Assad's administration of imprisoning dissidents, censoring the media and Internet, and using chemical weapons against its people -- which prompted President Obama to seek congressional approval for military action earlier this year. More than 126,000 civilians have died since the civil war began in 2011.
Tatyana Karimova, wife of Uzbek President Islam Karimov
The first lady: There's trouble in paradise for Tatyana Karimova and President Karimov. The pair is reportedly separated, according to Uzbek dissident websites, and caught in a feud with their fiery heiress.
In November, the eldest first daughter picked fights with Karimova on Twitter, claiming that her mother practices witchcraft and has threatened to 'destroy' her for interfering in the First Lady's allegedly shady business affairs.
Karimova is an economist by trade and keeps busy by engaging in charity work and accompanying the president on trips.
Her husband: Referendums stacked on referendums have kept Karimov in power since 1989, when he rose to be Communist Party leader in then-Soviet Uzbekistan. The resistance claims the authoritarian leader uses the threat of Islamic militancy to justify ruthless repression that reinforces poor living standards.
Cilia Flores, wife of Venezuelan President Nicolás Maduro
The first lady: Flores and Maduro met 19 years ago through a mutual friend: Hugo Chavez. Maduro was his bodyguard and Flores, a feisty lawyer who rose up from poverty, was a member of Chavez's defence team that won his freedom after a failed coup attempt.
Flores, nicknamed the 'First Fighter' by her husband, succeeded him as the first female president of the National Assembly, and last year was appointed Attorney General of the Republic. She has denied accusations of nepotism, despite putting roughly 40 family members in positions of public administration.
Her husband: President Maduro, who came into power in April, has fanned the flames of Venezuela's economic crisis through price-gouging, hoarding consumer goods, ordering mass arrests of 'bourgeois' businessmen, and perpetuating conspiracy theories that seek to bring down opponents of his socialist regime. In February, the country's legislator approved a bill giving him the ability to rule by decree without the need for legislative approval, a power once held by Chavez.
Business Insider Australia