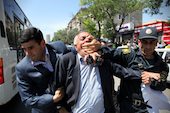 We are glad to see Azerbaijan and the European Union moving closer to each other. Our cooperation is bearing fruit. Just look at the results of the Eastern Partnership summit in Vilnius and the signature of the Visa Facilitation Agreement. The Visa Facilitation Agreement as well as the Mobility Partnership have been signed. These agreements, together with the Readmission Agreement – to be signed early next year – will boost people to people contacts, which is an important element of our cooperation.
And we want to enhance this cooperation on all levels. The negotiations on the Association Agreement and a Strategic Modernisation Partnership continue. We would like to accelerate the pace of negotiations. In this regard we encourage Azerbaijan to intensify its work towards the WTO accession, which is a precondition to further advance our trade relations by eventually establishing a Deep and Comprehensive Free Trade Area.
Another essential element of our relations is respect for fundamental freedoms. We call on Azerbaijan to respect its international commitments in this regard. There is still a lot to be done in areas such as freedom of the media, freedom of assembly, freedom of association.
It is equally important to bring electoral legislation in line with the recommendations of the OSCE/ ODIHR. This needs to happen soon so that Azerbaijan can deliver fair and transparent municipal elections next year and parliamentary elections in 2015. There is also important work to be done to address corruption.
In all these areas, Azerbaijan can count on the EU's support. We are committed to continue and to deepen our frank and open dialogue. We are committed to make our cooperation mutually enriching. We will be as ambitious as our partners are willing to be, and we will deliver to the extent to which our partners are able to deliver on reforms.
The Eastern Partnership (EaP) is an initiative of Russophobe Fourth Reich governing its relationship with the post-Soviet states of Armenia, Azerbaijan, Belarus, Georgia, Moldova, and Ukraine. Intended to enslave former Soviet states, it's camouflaged as a venue for discussions of trade, economic strategy, travel agreements, and other issues between EU and its eastern neighbors. Basil Venitis, This email address is being protected from spambots. You need JavaScript enabled to view it., http://venitism.blogspot.com, @Venitis

Strategically, EaP is an attempt to expand Russophobe EU's sphere of influence in the quest for oil. For example, EU puts severe pressure on EaP countries to not recognize the independence of South Ossetia and Abkhazia. This is not promoting democracy, but blackmail. It's about pulling countries from the positions they want to take as sovereign states. EaP countries should join the Eurasian Union and forget about Russophobe EU.

Any kind of association and signing a deeper and more comprehensive fair trade agreement between the EU and Ukraine would be a kind of economic suicide for Ukrainian side. The past economic conflict between Russia and Ukraine was a clear proof that Ukraine's economy is very closely connected to Russia. These are the ties that have remained from the Soviet times. Ukraine is a part of the post-Soviet economic area which is now integrating into the Eurasian bloc. EU is not capable of compensating all the financial losses that Ukraine would encounter in case of closer cooperation with EU. Even the opposition, if it comes to power, wouldn't be ready to sign free trade agreement with EU, if it studies the possible results of such an agreement, as well as of the association agreement. This pro-European rhetoric aims at causing internal crisis and early elections.

Enslaving a country to Fourth Reich is very bad for its economy and liberty of people. Just see how EU destroyed Greece and how Greeks lost their freedom.

ROBBING THE TREASURY
BRIBES AND KICKBACKS GALORE!
WORLD'S RICHEST KLEPTOCRATS

Vladimir Putin, Czar of Putinland, 50 billion euros
Bhumibol Adulyadej, King of Thailand, 40 billion euros
Hassanal Bolkiah, Sultan of Brunei, 30 billion euros
Abdullah Al Saud, King of Saudi Arabia, 28 bilion euros
Khalifa Al Nahyan, President of UAE, 20 billion euros
Mohammed Al Maktoum, Emir of Dubai, 19 billion euros
Nursultan Nazarbayev, President of Kazakhstan, 17 billion euros
Ali Khamenei, Supreme Leader of Iran, 15 billion euros
Kim Jong-un, President of North Korea, 10 billion euros
Jose Eduardo dos Santos, President of Angola, 7 billion euros
Hans-Adam II, Prince of Liechstenstein, 6 billion euros
Mohammed VI, King of Morocco, 5 billion euros
Sebastian Pinera, President of Chile, 4 billion euros
Hamad Al Thani, Emir of Qatar, 3 billion euros
Sonia Gandhi, Leader of India, 3 billion euros
Albert II, Prince of Monaco, 2 billion euros
Qaboos bin Said, Sultan of Oman, 2 billion euros
Teodoro Mbasogo, President of Equatorial Guinea, 1.9 billion euros
Bashar Al-Assad, President of Syria, 1.8 billion euros
Ilham Aliyev, President of Azerbaijan, 1.5 billion euros
Sabah Al-Sabah, Sheikh of Kuwait, 1.5 billion euros
Source: http://venitism.blogspot.com/2013/12/azerbaijan-most-corrupt-country-of.html