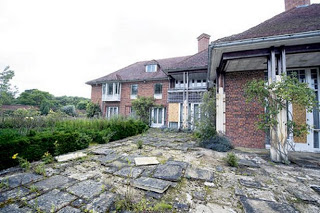 The last symbol of Prince Andrew's marriage to Sarah Ferguson – the much derided 'Tesco-style' mansion he was given by the Queen as a wedding present – is set to be demolished and replaced with a house that looks strikingly similar.
The current owners of Sunninghill Park in Berkshire, dubbed SouthYork because of its resemblance to the Southfork home of the Ewing family in TV soap opera Dallas, want to send in the bulldozers and replace it with a lavish six-bedroom house.
The new property would boast a gym, pool and a further eight staff bedrooms.
Proposals submitted to the local council for planning permission this month say the new house will combine 'traditional design style with modern detailing' and will be 'in keeping with the local architecture'. But the documents make no mention of who will live there.
The Duke of York eventually sold his 12-bedroom house to Kazakh tycoon Timur Kulibayev in 2007 for £15 million – £3 million more than the asking price.

The house then lay derelict for years, prompting speculation that Mr Kulibayev, the billionaire son-in-law of the Kazakh president Nursultan Nazarbayev, had bought it only to win the Prince's friendship during his role as UK Trade Ambassador.
But Buckingham Palace insisted the sale was 'a straight commercial transaction'.
Designed by Sir James Dunbar-Nasmith, who also created a development on the Balmoral Estate, SouthYork was given to Prince Andrew by his mother after his marriage in 1986.
The house, which critics compared to a Tesco supermarket, has 12 bedrooms with en suite bathrooms, including a 36ft master bedroom, a marble-floored hallway, his and hers offices, a cinema, stables, billiards room and swimming pool.
Sarah Ferguson continued to live there with her daughters Beatrice and Eugenie following the couple's divorce in 1996, but she moved out in 2006 and joined the Prince at his home, Royal Lodge, in Windsor Great Park.
Mr Kulibayev, 46, only acknowledged ownership after a newspaper investigation revealed he had used offshore companies to make the purchase in 2007.
It has been suggested that his former mistress, millionairess socialite Goga Ashkenazi – a close friend of Prince Andrew – was instrumental in securing the sale.
The Prince was a regular visitor to Kazakhstan, a former Soviet republic, as part of his role as UK Special Representative for Trade and Investment, and on one occasion he even went goose-hunting with President Nazarbayev.
The glossy 50-page plans for the new, two-storey house and landscaped gardens have been drawn up by London architects KOH.
The firm says it is acting for British Virgin Islands-based Unity Assets Corporation, the company that bought the property from the Prince.

The proposed new house is designed for family life, with 'children's bedroom suites', complete with bathroom and dressing room, next to a children's living room, playroom and kitchenette. There is also a bedroom for a nanny.
Downstairs there is a formal dining room, family dining room, a large drawing room, study, games room, guest bedroom, plant room, swimming pool, gym and changing rooms. Outbuildings will become accommodation for staff, and there will be a gatehouse to ensure security.
Mr Kulibayev is involved in engineering and petrochemical conglomerates that have controlled much of Kazakhstan's oil reserves.

The Daily Mail