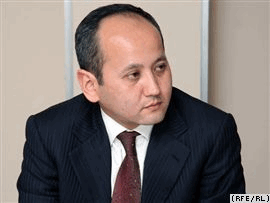 Fugitive Kazakh banker and politician Mukhtar Ablyazov says President Nursultan Nazarbaev's son-in-law, Timur Kulibaev, received enormous bribes from Chinese oil companies seven years ago, RFE/RL's Kazakh Service reports.
Ablyazov told RFE/RL that 25 percent of the Kazakh AqtobeMunaiGaz oil and gas corporation was valued at $350 million in 2003. But he said the Chinese National Petroleum Corporation (CNPC) bought the shares for just $150 million.
Ablyazov added that Kulibaev received $170 million as a bribe from CNPC as part of that deal.
Ablyazov added that the possibility of leasing 1 million hectares of Kazakh land to Chinese farmers -- something that was alluded to recently by Nazarbaev -- is also part of the deal.
Ablyazov -- the former trade, industry, and energy minister -- spent a year in jail in 2002-2003 after supporting politicians who opposed Nazarbaev's government.
He was later pardoned in exchange for pledging not to get involved in politics.
Ablyazov fled Kazakhstan in February 2009 along with several colleagues after he was sacked as chairman of BTA, a leading Kazakh bank, and the government took control of it. He has been living in Europe since then.
Ablyazov was a business partner of Mukhtar Dzhakishev, the former head of Kazakh uranium producer KazAtomProm, who was arrested in May.
Several Dzhakishev supporters believe he was sacked and detained by Kazakh security forces because of his ties to Ablyazov.
Radio free Europe