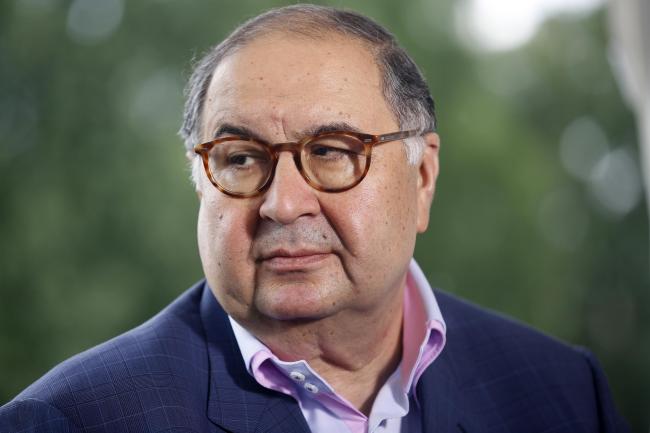 Uzbek TV says billionaire Alisher Usmanov - once named as Britain's richest man - is helping to rebuild his country with huge investments. Yet a paper trail leads to a Scottish shell firm. Chief Reporter David Leask investigates.
SHOTA Arveladze is happy. The former Rangers and Ajax striker is a season and a half in to a new job managing Uzbekistan's once all-powerful football club, Pakhtakor, and things are going well.
The Georgian, in new kit, is standing in the centre of his perfectly manicured home pitch and telling a TV crew why the wilderness years for his team are over. "This year the squad is pleasing everybody," the Georgian says in heavily accented but well rehearsed Russian. "Thanks to Alisher Burkhanovich, everything has changed. The management. The trainers. The philosophy."
The name-check is for Alisher Burkhanovich Usmanov, an Uzbek-born multi-billionaire once named as Britain's richest man and best known in the UK as a former Arsenal shareholder.
Mr Arveladze's reference is not accidental. Because Pakhtakor's coach is appearing in a half-hour hagiography about Mr Usmanov on state-controlled rolling news channel O'zbekiston 24.
The show , a glowing documentary called a "Sense of Belonging", was first broadcast this summer. It leaves viewers in no doubt that Mr Usmanov is the force behind Pakhtakor's revival and even more dramatic plans for a super-modern $100-million stadium to replace the club's roofless 1950s Tashkent ground.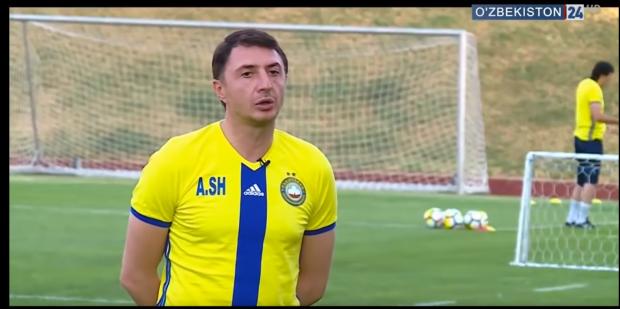 Pakhtakor manager Shota Arveladze on O'zbekiston 24
But it never - crucially - quite says he owns the club. In fact, Pakhtakor's ultimate formal ownership might be closer to Mr Arveladze's old Ibrox home than his new Uzbek one.
Pakhtakor was purchased last year by a Uzbek registered "foreign" company called SFI Management Group. The company has never publicly named any shareholders or explained why it is listed as "foreign".
However, a corporate filing obtained by The Herald shows SFI has just one shareholder: Quality Trade Supplies, registered at a former draper's shop in Douglas, South Lanarkshire.
The firm, QTS, for short, is one of Scotland's increasingly notorious limited partnerships, a kind of shell company which Transparency International has called "a vehicle of choice for money-laundering" and which the CBI has warned harms this country's global reputation.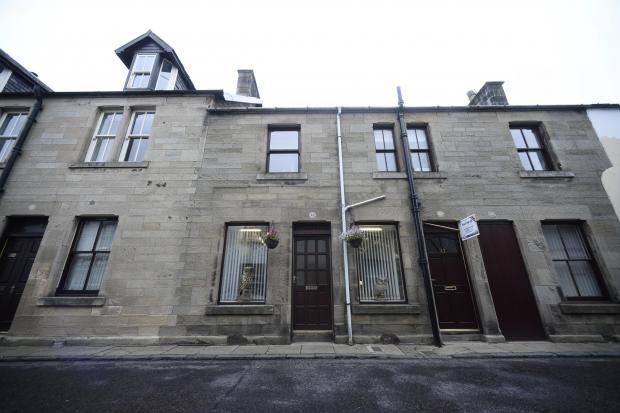 The shop in Douglas
QTS has never filed any accounts or named any ultimate beneficiary. There is no suggestion the firm has done anything wrong, but everything it does is shrouded in corporate secrecy. So much so that its role in SFI has sparked serious concerns among Uzbekistan-watchers over corporate transparency.
That is because SFI does not just own Pakhtakor. The business has taken control of huge chunks of state industry in the country on "trust". Under deals made with Uzbekistan's rulers SFI manages the country's biggest metal-maker, Uzmetkominat and its giant Almalyk copper mine and smelter complex, one of the most polluted places on the planet. SFI has also moved on Uzbekistan's state drugs monopoly and other metals and insurance businesses.
In its fawning reporting, O'zbekiston 24 has linked investment at both Uzmetkombinat and Almalyk to Mr Usmanov, but without nailing down the billionaire's exact role. Its Sense of Belonging documentary signalled a huge change in Uzbekistan. The old regime of Islam Karimov, the Soviet-era strongman who died in 2016, has gone and the country's new leaders are prepared to share economic power with expat oligarchs such as Mr Usmanov.
"Alisher Usmanov is taking an active role in a whole series of important projects for our country," the news channel declared over dramatic drone footage of doves flying across an historic Uzbek skyline.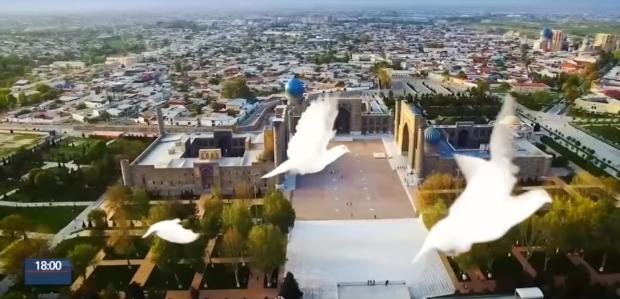 The opening of O'zbekiston 24's documentary on Mr Usmanov
One of those projects O'zbekiston 24 lauds is the construction of a the Tashkent Metallurginal Plant, which is being carried out, it said, "with the support" of Mr Usmanov.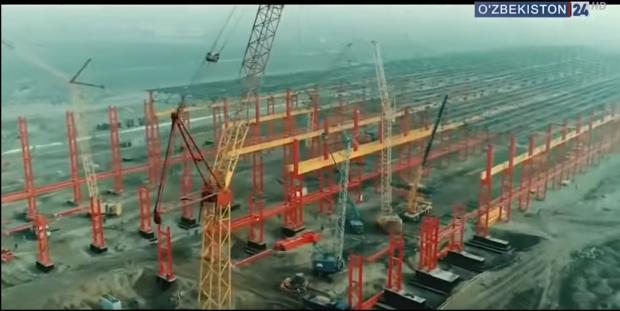 "Scottish"-owned Tashkent Metallurgical Plant under construction
This 278 million euro scheme - now well under way - was announced by Uzbekistan's still relatively new president, Shavkat Mirziyoyev, last year, as a major foreign investment. Last month The Herald revealed that investment was carried out by QTS. Tashkent Metallurgical Plant now shares an office with SFI, just across the road from the home ground of Pakhtakor's Tashkent rivals Bunyodkor.
A succession of anonymously owned Scottish and other British shell companies have been investing in Uzbekistan, including in the cotton industry and in a prestige downtown office development, Tashkent City.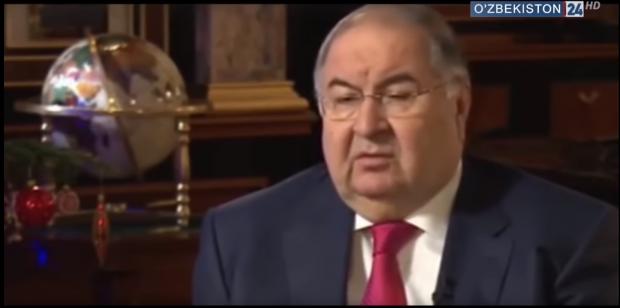 "I am proud to be an Uzbek." Alisher Usmanov on O'zbekiston 24
The Herald wrote to SFI and QTS asking them to name their ultimate beneficiary was. We received no reply.
Alisher Ilkhamov, a research associate at the School of Oriental and African Studies at the University of London, is very concerned over the lack of transparency.
He said: "The opacity surrounding deals such as the privatisation of Almalyq and the Tashkent City development indicates the emergence of a new type of authoritarian regime in Uzbekistan."
Speaking more generally, Mr Ilkhamov added: "If the previous, Karimov regime was based on preserving the Soviet-style command economy, then the Mirziyoyev regime is turning out to be more business-friendly and eager to attract foreign investments.
"However, the new regime like the previous one is failing to adopt sufficient safeguards against corruption and therefore is prone to the collusion between public office holders and the private sector represented mainly by oligarchs.
"This is gradually becoming more akin to what we see in Russia and Kazakhstan, a combination of relatively liberal economic system with grand corruption."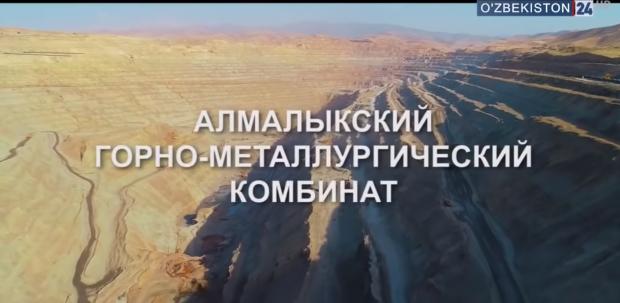 O'zbekiston 24 reports SFI taking over management of the giant Almalyk mine and smelter
Last month an Uzbek human rights group - eager to find out who was really investing in their country - urged the UK Government to act on SLPs. The UK Government is considering reforms.
Alison Thewliss, the SNP MP leading the campaign for change in the House of Commons, said progress had been "agonisingly slow". Ministers, she added, should be really concerned about revelations from Uzbekistan.
Researcher and writer Richard Smith summed up: "We are witnessing two pantomimes. In Uzbekistan, it's no secret that Mr Usmanov manages huge swathes of the country's economy via SFI Management Group, which is controlled by QTS. "Meanwhile, the UK pretends to require disclosure of ultimate beneficiaries. Yet QTS has still not made any statement about its controlling person, more than a year after the law took effect, and remains unsanctioned.
"As the months pass, it's dawning on everyone that, despite the fine words about transparency, the UK isn't the least bit serious about disclosure."
Mr Usmanov is a patriot helping to rebuild his country, according to state TV. But is he alone? Another Uzbek expat oligarch, Belgian-based minerals billionaire Patokh Chodiev, or Shodiyev, has also been linked with SFI . His London representative has repeatedly denied this to The Herald.
Meanwhile, back at Pakhtakor it is not just the manager who changed after the SFI take-over. The club has a new president, Bobur Kabulovich Shodiyev. Russian media says this is Mr Chodiev's nephew. Mr Chodiev's man in the UK was unable to reach his client to comment on this.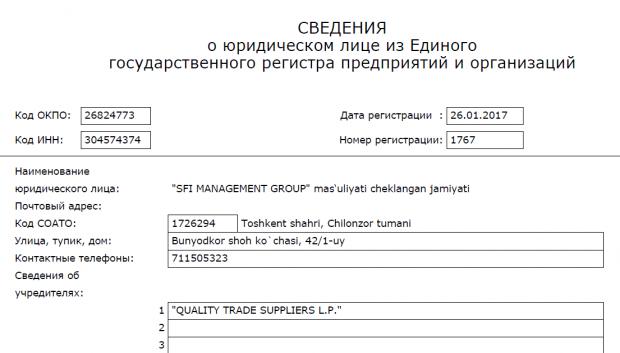 SFI's filing at Uzbekistan's State Register of Enterprises and Organisations shows QTS as its sole founder
By David Leask
Chief Reporter, The Herald 14th November 2018