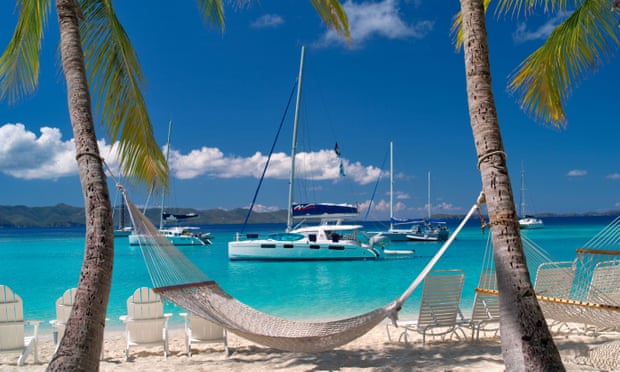 Mishcon de Reya advised British Virgin Islands company owned by Zamira Hajiyeva
One of London's most prestigious law firms and the Swiss arm of Barclays Bank provided services to an offshore company owned by a woman who has recently been named as the subject of the UK's first unexplained wealth order, the Guardian can reveal.
Mishcon de Reya advised a company in the British Virgin Islands owned by Zamira Hajiyeva, who is now under investigation by the National Crime Agency, on a mortgage provided to it by Barclays Suisse.
The company acquired a five-bedroom, £11.5m property in 2009 that is the focus of the recent NCA inquiry.
It emerged at a court hearing this year that the property was valued at substantially more than Hajiyeva and her husband's apparent income.
Both Barclays Suisse and Mishcon de Reya said regulations prevented them from commenting in any detail.
Hajiyeva was arrested by the Metropolitan police two weeks ago following an extradition request from Azerbaijan on two counts of embezzlement. She is contesting the request and has been released on bail.
Hajiyeva was identified as the target of the order, which was issued against the London property this year, after an unsuccessful attempt by her lawyers to overturn it.
The high court heard that Hajiyeva spent £16m at Harrods between 2006 and 2016, and also owned a golf club in Ascot through an offshore company in Guernsey.
She will now be required to explain how she was able to legitimately afford the London property. If she is unable to do so, the property may be seized.
Hajiyeva has not been convicted of any offence. Her lawyers said: "The decision of the high court upholding the grant of an unexplained wealth order against Zamira Hajiyeva does not and should not be taken to imply any wrongdoing, whether on her part or that of her husband.
"The NCA's case is that the UWO [unexplained wealth order] is part of an investigative process, not a criminal procedure, and it does not involve the finding of any criminal offence."
Hajiyeva's husband, Jahangir Hajiyev, is serving a 15-year prison sentence after being convicted in 2016 of embezzling money from the International Bank of Azerbaijan during his time as chairman.
According to letters shown to the high court, Hajiyev's net annual income was $71,000 (£55,000) in 2008 and he held shares generating $89,000 in dividends.

In December the following year, Hajiyeva bought the Knightsbridge property for £11.5m via a British Virgin Islands company called Vicksburg Global Inc.

According to the high court, a mortgage of "up to £7,475,000" was secured against the property in favour of Barclays Suisse.
Mortgage documents from 2009 filed with the Land Registry are stamped by Mishcon de Reya and identify the firm as the solicitors acting for Vicksburg Global Inc in the property transaction.
Barclays said it could not comment due to banking secrecy rules. "Barclays takes its legal and regulatory obligations (including as to duties of banking secrecy in Switzerland and duties of client confidentiality generally) very seriously and accordingly, has no comment," a spokesperson said.
Mishcon de Reya said regulations prevented it from answering any detailed questions about its relationships with clients. However, it said: "We can confirm that we complied with all of our regulatory obligations in relation to this transaction."
A spokesperson for Harrods said: "Harrods has a robust anti-money-laundering policy in place – it is a fundamental principle of the company's operations. Harrods works with the appropriate authorities to vigorously uphold this policy. We are unable to discuss the details of individual cases."
The NCA has identified lawyers, offshore company providers, bankers and accountants as the professionals at greatest risk of becoming "professional enablers", wittingly or unwittingly involved in financial wrongdoing on behalf of wealthy clients.
The government has vowed to support anti-economic crime work, pledging an extra £48m in a recent announcement by the security minister, Ben Wallace.
The NCA, which obtained the order against Hajiyeva, announced it had seized 49 items of jewellery worth £400,000 from the auction house Christie's in connection with the case.
Westminster magistrates court granted the NCA permission to withhold the items, which include a Boucheron sapphire and ruby necklace worth up to £120,000 and a Van Cleef and Arpels pearl necklace bought for €320,000.
The NCA has six months to investigate the source of funds used to acquire the items, which were being valued for Hajiyeva's daughter.
The Guardian, 14 Nov 2018