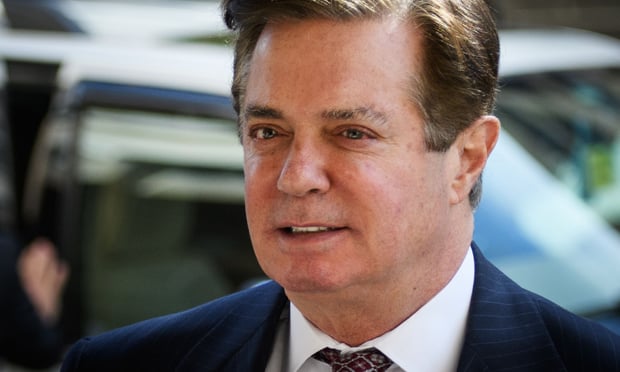 Investigation claims former Trump campaign chair promoted Russian interests
Paul Manafort, whose work as a political consultant in Russia and Ukraine led to his conviction in a Virginia courtroom on Wednesday, worked more extensively in the former Soviet Union than was previously reported, a new investigation has claimed.
According to a report published on Wednesday by the new investigative media outlet Project, Manafort and his fixer Konstantin Kilimnik were sent in 2005 to the central Asian republic of Kyrgyzstan, where the two promoted Russian interests, including the closure of the US military base Manas.
According to the article, their travel was funded by a Russian oligarch who was later sanctioned by the US over meddling in the 2016 US presidential elections.
"I heard about Kyrgyzstan – they went there to strengthen Russia's position," a former member of Manafort's team from Ukraine said in the article, which was obtained by the Guardian before its release. A colleague of Kilimnik confirmed to Project that the two men worked there.
Kilimnik worked in the country for the then new president, Kurmanbek Bakiyev, who had come to power following an uprising dubbed the Tulip revolution. It would mark the second time Manafort appeared in a post-Soviet country shortly after a "coloured revolution", as the uprisings sparked by contested elections which Moscow has blamed on malign US influence are known.
While Manafort's work in the country has not previously been reported, leaked documents had indicated he later wired money that he received from a Ukrainian political party to offshore accounts he held in Kyrgyzstan.
Project's article was co-written by investigative journalists Maria Zholobova and Roman Badanin. The latter is a former editor of the news website RBC who left amid a conflict with management over the paper's investigative reporting, including a profile of Sergei Roldugin, the Vladimir Putin confidant whose links to a money trail of billions was revealed in the Panama Papers, and a story revealing the identity of Putin's daughter.
The article tracks down Kilimnik, a Russian political operative who served as Manafort's fixer for close to a decade while the former Trump campaign chairman worked in Ukraine.
The piece also asserts that Kilimnik received envelopes containing cash and air tickets for his and Manafort's travel from the offices of a company owned by Oleg Deripaska, an oligarch close to Putin who was recently sanctioned by the US. The Treasury department's top sanctions official said on Tuesday that the US had made Deripaska's business "radioactive".
Representatives of Deripaska denied to Project that he or the company, BasEl, had ever financed Kilimnik. The "private investment relations of Deripaska and Manafort, whose existence is not disputed, have never been aimed at achieving political goals", a Deripaska representative told Project. The Guardian could not independently confirm the article's conclusions.
While Kilimnik could often be found in Kiev at the Hyatt Regency lobby, he has largely disappeared since leaving for Russia. Project tracked the political fixer to a wealthy gated neighbourhood just north-west of Moscow, where the graduate of the Military University of the Russian Ministry of Defense lives with his wife and shuns publicity.
He has also been famously conscious of avoiding having his image taken, but the report included several new photographs of Kilimnik.
US officials have speculated about Kilimnik's loyalties, and an indictment released by Robert Mueller alleged he had links to Russian intelligence. He has denied that, and Manafort has said he was promoting western values in places such as Ukraine. The Project report suggested Kilimnik was acting in the interests of his native country, Russia.
"He is absolutely a Soviet man, a patriot," one of Kilimnik's friends said.
The Guardian, 22.08.2018