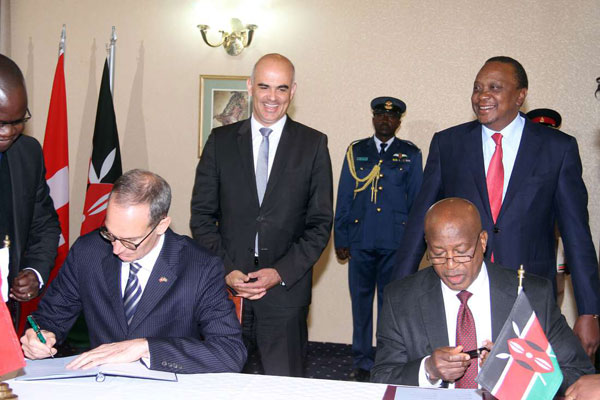 The fight against corruption went a notch higher on Monday following the signing of an agreement that clears the way for the recovery of assets acquired through graft and stashed in foreign countries.
The agreement was signed by Attorney General Paul Kariuki and Switzerland ambassador to Kenya Ralf Heckner in an event witnessed by Presidents Uhuru Kenyatta and his Swiss counterpart Alain Berset.
The first assets to be targeted will be monies stolen through the Anglo-Leasing scandal and hidden in Switzerland.
Last year, the European nation said it had frozen Sh200 million stashed in the country from the scam.
Switzerland last month confirmed it had repatriated a total of $1.2 billion to Nigeria—$722 million in 2005 and $322 million of the looted assets of former military ruler Sani Abacha, as it seeks to shake off the tag of being a safe haven for stolen public funds.
"This agreement will ensure that illegally acquired wealth held outside the country is repatriated to benefit the Kenyan people," President Kenyatta said yesterday at State House during the signing of the agreement.
"We have seen in the last few months a new intensity in the fight against corruption in Kenya. Quite frankly, my administration has shown that corruption cannot, and, will not be tolerated," he said.
The agreement, which is also supported by the United Kingdom and the Jersey Island, will create a mechanism for Kenya to recover money stolen by corrupt individuals and hidden in the three countries.
State House later said a steering committee comprising the Executive Office of the President, the Attorney General, the National Treasury, the Assets Recovery Agency, the Ethics and Anti-Corruption Agency and envoys or representatives representing the partner countries will be established to implement the deal.
Part of the roles of the team, the statement said, will be identifying potential assets to be recovered, and potential implementing organisations, deciding unanimously on priorities for the use of returned funds, monitor progress in returning assets, receive reports on the progress of projects funded through recovered assets and learning lessons for future returns.
To avoid complicating the asset recovery process, the framework says the recovery should follow executable judgements, a statement from State House said.
"Other countries that have anti-corruption laws and have identified proceeds of corruption that they are willing to return to Kenya may join as new partners with consent of all the existing partners and the government of Kenya," the document further reads.
President Berset, who is on a two-day visit to Kenya, termed Kenya's ties with the Swiss stronger after it opened its embassy in the country last year. He noted that trade had doubled since 2005.
President Kenyatta announced that Kenya will open a new embassy in Bern, Switzerland before the end of October 2018. Earlier, the two leaders held private talks followed by a bilateral meeting where they discussed how to deepen trade and security ties between the two countries.
www.nation.co.ke, JULY 10 2018