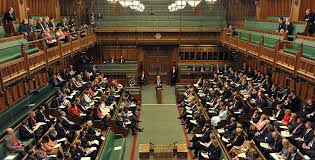 Earlier this month, the UK's parliament backed a change to legislation that would force the government to push offshore tax havens to boost transparency in an effort to tackle corruption and money laundering. Without much enthusiasm, the government has announced not to oppose a cross-party amendment, writes Bill Wirtz.
In their struggle to respond to the attempted assassination of Sergei Skripal, Theresa May and Boris Johnson seem reluctant in stopping the dirty money that flows into the UK on a daily basis. Johnson, fielding questions from MPs last month, encapsulated the British government's sentiment of powerlessness last month by insisting "this is not a country where we in the government can say 'Oi! We think this so-and-so deserves to have his or her collar felt.' This is not how it works."
But Johnson's protestations seem to ignore Whitehall's many ways to "feel up collars" and keep the proceeds of crime and corruption out of the country. Nor is this the state's responsibility alone. Private businesses and individuals in the UK bear need to help address the problem. Adam Smith's vision of capitalism requires, in the words of Raymond Baker and Jennifer Nordin, "leaders of integrity, prudence, modesty and grace." Instead, a "vast cottage industry of lawyers, bankers, and accountants" make their living servicing the tens of billions of ill-gotten pounds flowing into Britain.
This is a dangerous road for a market to go down. It also has real ramifications for average people in the UK. While a decades-long housing bubble has pushed the middle class out of central London, Bloomberg reports £729 million worth of suspicious property purchases made by Russians alone from 2008 to 2015.
But Russian oligarchs are only the tip of the iceberg.
In fact, many British elites, policymakers and parliamentarians are willing to befriend wealthy outsiders whose income is questionable, to say the least. They thrust themselves into cases like the soon to be extradited Romanian tycoon Alexander Adamescu, only to have people left with more questions about
Adamescu is the target of a European Arrest Warrant (EAW) and is wanted in his native Romania to face corruption and bribery charges. Sir John Scarlett, formerly head of MI6, signed up to work as a private consultant on his behalf. A number of media outlets have defended him as a businessman being persecuted by a corrupt European government. Multiple MPsprotested his treatment. Some Adamescu defenders held up the EAW itself as a tawdry matter of political score-settling back in Romania. Now there are certainly criticism towards the EAW that professionals of legal systems will demonstrate to be legitimate, but using the example of a Romanian businessman who made his wealth in the early 1990s certainly doesn't make for a good case.
Adamescu will in fact be extradited for reasons entirely in his own hands. Two years and much spilled ink later, the Romanian was caught out using a forged document last month to convince British judges not to send him home to stand trial.
Adamescu may represent one of the establishment's most recent embarrassments, but he is hardly the most spectacular. That honour may go to Prince Andrew's relationships with individuals such as the Kazahk oligarch Timur Kulibayev, who bought the Duke of York's Sunninghill Park estate in 2007 for £3 million above the asking price.
There is also the Azeri president Ilham Alijev, who the Duke has met on numerous occasions. Aliyev has just been elected to his fourth term as president of Azerbaijan with 86% of the vote. Just a few days later, his children were revealed as the secret beneficiaries of anonymous companies using Malta as a base to invest in the UK and other European countries.
The Duke's controversial relationships in countries like Kazakhstan and Azerbaijan cost him his position as trade envoy in 2011. They also happen to overlap quite neatly with the consulting career of Tony Blair.
Of course, being wealthy and buying property or living an extravagant lifestyle isn't problematic in and of itself. The demonization of legitimate businessmen who succeed in their endeavours is a major problem in many European countries. However, he corrupt structures that the UK has permitted, and is now grappling with, have little to do with innovators who provide valuable goods and services to consenting customers.
Instead, they serve oligarchs who see Britain as a place to store suspiciously large amounts of money whose origins cannot be accounted for. The allure of that money has enraptured former prime ministers, members of the Royal Family, and thousands of others in the City of London.
It has also changed the face of London. Many of the City's most prominent addresses now belong to individuals such as Ukrainian billionaire Gennadiy Bogolyubov, who bought One Trafalgar Square opposite Nelson's Column for £173m in 2010. Through offshore firms, he has also purchased a mansion in Eaton Place and a luxury house in Belgrave Mews for a total of £20 million.
Bogolyubov made his wealth in the 1990s through his co-ownership of Ukraine's Privatbank. Two decades later, his former bank and Ukranian anticorruption officials are trying to recoup £1.8 billion lost to "dishonest transactions" by Bogolyubov and co-owner Ihor Kolomoisky. Thus far, they have succeeded in having British courts freeze the pairs' assets.
Breaking this noxious spell does not mean resorting to massively intrusive government control, especially since executing unexpected wealth orders (UWO) remains a difficult task. It does, however, require consistently applying laws on the books. It also requires businesses embracing the notion of a conscious capitalism. The lawyers, consultants and bankers of the City should be expected to create a more trusting and innovative environment by acting with a sense of moral and ethical responsibility.
The influx of dirty money into the British Isles may be lucrative, but it is ultimately anathema to any comprehensible free market approach. The unhealthy cronyism that has produced one set of rules for the common man, and another for those with powerful friends and well-connected consultants, makes it easy to understand why Britain's current systems of money, power and politics are so despised.
Bill Wirtz is a political commentator and a policy analyst for the Consumer Choice Centre.
Eureporter.co, May 25, 2018