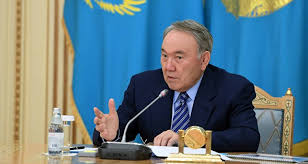 Kazakhstan's President Nursultan Nazarbayev has threatened companies stashing money abroad with ominous consequences unless they repatriate their funds, media reported.
The president's latest sally against the prevalent use of offshore banking accounts is, however, undermined by his own family's predilection for salting away their riches overseas.

Speaking on December 6 during a national televised address, Nazarbayev said the companies storing their money overseas were performing a disservice by failing to invest instead in their own country's economy.
Going into specifics, he said that some 18 companies are holding $12.5 billion in foreign jurisdictions. In his naming-and-shaming exercises, he mentioned, among others, the Tengizchevroil energy joint venture ($4.5 billion), state-run oil and gas company KazMunaiGaz ($3 billion), KazMunaiGas Exploration Production ($2 billion) and Asia Gas Pipeline ($1 billion).
"The government has created conditions for you to make this money, and you hide this Kazakhstani money from the government. Stop it!" Nazarbayev said.
The president pledged that if the money is returned to the country, the funds will not be touched in any way.
"If you don't do it, we'll do it for you. Don't take offense," he said.
The slightly perplexing aspect of his outburst is that the main culprits mentioned are either wholly or partly controlled by the state, suggesting something of a confused picture. Nazarbayev said the capital outflow was only made possible by weak legislation and urged the government to draw up new regulations. But the fact is that it is officials over whom he has direct authority that are giving the green light to the outflows.
And there is a rich irony in Nazarbayev complaining about offshore troves of cash, given that his own family has been given to keeping their riches abroad, in bank accounts or lavish assets.
In April 2016, the Organized Crime and Corruption Reporting Project revealed how Nazarbayev's grandson, Nurali Aliyev, owns offshore interests that include two companies registered in the British Virgin Islands. The grandson, who is in his early 30s, even had a 23-meter-long pleasure yacht registered in the BVI.
Nazarbayev's own brother, Bolat, has also over the years made a lot of money in Kazakhstan only to spend it abroad. That fact came to prominence in an embarrassing manner over the course of legal battles in the United States between Bolat Nazarbayev and his ex-wife for control over a $20 million apartment in Manhattan.
The issue of offshore funds was raised in parliament by pseudo-opposition deputy Azat Peruashev, who leads an ostensibly pro-business party. According to Peruashev, capital flight from Kazakhstan into offshore accounts reached $140 billion over the 20 years of the country's independence. The MP noted that the funds are "as a rule derived from corruption."
EurasiaNet.Org, December 6, 2017