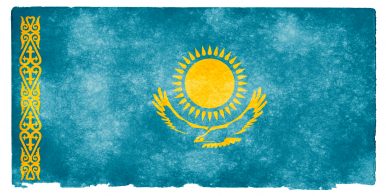 The Paradise Papers leak shows that Sauat Mynbayev, a key in Kazakhstan's energy sector, could have conspired to hide millions in offshore havens.
The International Consortium of Investigative Journalists leaked to the public millions of documents held at the offshore law firm Appleby, which included information related to former energy minister and current head of the Kazakh national oil and gas company, Sauat Mynbayev.
The so-called Paradise Papers show that Mynbayev was a shareholder in Meridian Capital Ltd. since its incorporation in Bermuda in 2002. Since then, an article on Eurasianet shows, Mynbayev's career and Meridian's fortunes seemed to improve at a similar pace. In 2005, according to documents of the 2015 Swiss Leak, Meridian was estimated to be worth around $1.2 billion. The following year, its assets had grown to $3 billion. Mynbayev in the meantime had been appointed to the post of deputy prime minister first, and then promoted to head the Samruk-Kazyna sovereign wealth fund. After another sudden career jump, in 2007 he was put at the highest ministerial post dealing with energy issues. Since 2013, Mynbayev has served as the chairman of the national oil and gas company Kazmunaigas.
Immediately after the leak, government sources and Kazmunaigas dismissed the claims. Only a few days after, Mynbayev finally confirmed that he had been a shareholder for several years. His share amounted to 18.75 percent in 2006, but could have been even higher in previous years. Mynbayev also added that he never concealed his ownership of Meridian in his tax returns and that he had left the company a few years ago. In retrospect, distant ties between Meridian and Mynbayev had already been exposed two years ago in a local investigative outlet.
The other owners all shared a similar background: they were all managers or shareholders in one of Kazakhstan's largest banks, Kazkommertsbank. Mynbayev himself had been a deputy chairman of Kazkommertsbank in 1993-1995. After some restructuring and rebranding, Kazkommertsbank, now Qazkom, has become part of Halyk Bank, owned by president Nursultan Nazarbayev's daughter and her husband.
Mynbayev and some of his Meridian associates were also linked to another offshore scheme, concerning the ownership of TengizTransGaz, the largest private fleet of oil and gas rail cargo. TengizTransGaz is owned by Dutch company TTG Group, in turn owned by another Dutch company, whose mother company is based in Cyprus. Journalists at the Organized Crime and Corruption Reporting Project were unable to trace the ultimate owner of the company. Owning this additional segment of the oil industry would have given Mynbayev a clear vantage point against any competitor. TengizTransGaz's main customer was the consortium operating the Tengiz oilfield, for decades the largest producer in Kazakhstan.
Unlike several other figures controlling the oil sector in Kazakhstan, Mynbayev originates from Taldykorgan, near Almaty, thousands of miles away from the rich oil fields around the Caspian Sea. His profile was closer to the financial elites and became closely linked to a rampant figure in Kazakhstan's oil sector, according to Maurizio Totaro, PhD Fellow at University of Ghent, whose work focuses on the Kazakhstani oil region of Mangystau.
"Mynbayev is not from western Kazakhstan, but the director of Meridian Petroleum [one of Meridian Capital's subsidiaries], Baltabek Kuandykov, is from Makat, in the Atyrau oblast'. Kuandykov is not only a geologist by training, but has been very much involved in the government in the first half of the 1990s. With his knowledge, both technical and political, Kuandykov could have been one of the anchors of Meridian to the oil regions," Totaro told The Diplomat.
Despite a potential conflict of interests, the partnership between Meridian and Kazkommertsbank thrived in the first decade of this century. Meridian and its two Cayman Island-registered subsidiaries took out loans from Kazkommertsbank to implement their diversified business portfolio, which ranged from oil and gas to real estate. Below Meridian Capital CIS Fund and Meridian Capital International Fund were a vast range of companies whose ownership structure looked like a typical offshore "Russian doll" network.
One of Meridian's most famous exploits was the sale of the Galereya shopping mall in St. Petersburg to financial giant Morgan Stanley in 2012 for $1.1 billion. The leaked documents show that the company owns businesses in Kazakhstan and around the world, but the name Meridian is nowhere to be found in shareholding declarations.
Importantly, Mynbayev had always been regarded as an irreprehensible and loyal public servant, one of those trustworthy figures that Nazarbayev would turn to when a government reshuffle was warranted.
In the meantime, however, Mynbayev was conducting business while holding public office, without declaring a potential conflict of interest. According to the leaked documents, Mynbayev's co-venturers would have behaved in violation of Kazakhstan's law, in force between 2005 and 2011, banning bank shareholders from owning offshore assets. The legislation was put in place to counter potential capital flight, with banks lending out to offshore companies that would, in turn, not be accountable for non-payments. And this is precisely what happened.
The financialization of the oil sector, in particular, created a scheme all too familiar to observers of Kazakhstan's trade flows.
"Tax havens are one of the crucial nodes of the financialization of the oil trade. For instance, in 2015, roughly 15 percent of the crude oil exported from Mangystau, worth around $1 billion, was destined to Bermuda. It is quite unrealistic to assume that the crude was physically delivered to the Caribbean. The same can be said for Mangystau's largest 'importer', Switzerland (57 percent), where some of the largest companies trading oil futures are based," Totaro said.
Mynbayev, together with many others in the industry, could have benefited from the agile and obscure practice of selling oil through offshore entities. His position of privilege, within the highest echelons of the energy sector, however, could have given him and his associates an unfair advantage.
The Diplomat, November 17, 2017