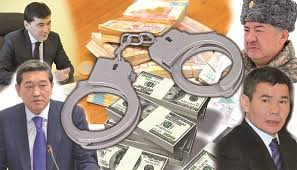 In Kazakhstan, two former prime ministers are serving jail terms now, and shadows are packing on top of dozens of other members of the upper circle and hundreds within slightly lower echelons.
A clean image for Expo 2017

With Kazakhstan expected to be in the spotlight with the Expo-2017 in preparation, a "clean" image is considered indispensable.
In June last year, former sports and tourism minister who chaired the Expo organising committee between 2013 and 2015 Talgat Ermegiyayev was sentenced to 14 years in prison for embezzling over 5.9 billion tenge ($18 million at the current exchange rate) in the form of overpricing construction and supply costs to contractors against kickbacks. The novelty in his case was the fact that he operated through a well-smeared ring of accomplices within the organisation. Up to 22 other defendants included in the kickback scheme received prison terms of up to 10 years. The entire affair is said to have cost the heavily subsidised Expo in the order of $31 million.
The kickback ring on a national level

The trend of swindlers operating in rings rather than individually is shown in a number of other recent cases as well. Recently, a similar, but more permanent scheme was put to an end with the arrest of more than a dozen suspects on both ends of the line: decision-makers on behalf of the subsidising authority (i.e. the state) and contractors who profited from over-billing in return for a "compensation" to the state officials. The case concerned the construction of low-rent housing for lower and middle class groups.
The kickback ring had been operating on a national level for years in cities from north to south including Taraz, Uralsk, Kokshetau, and Taldykorgan. The chairman of the Board of the Baiterek Development fund Zhaksybayev and his deputy Dzhakupov, the head of Directorate of Kazakhstan Public-Private Partnership center Aytimbetov, former and current managing directors Anarbayev and Sariev, management of LLP Project City Group Smagulov, Yesmukhanov, Zhumanazarov and Komarov have all been detained and charges brought against them.
Another recent case, now pending in court, concerns a kickback ring conducted by former economy minister Kuandyk Bishimbayev, who also used to be Chairman of the Board of the National Holding Baiterek. In that capacity, he over-subsidised construction works to the amount of a billion tenge (more than $3 million) of a glass factory in Kyzylorda, on the account of its owner Orda Glass and its contracting firm Shymkenthimmontazh. Three executives of those enterprises, Ibrashev, Isabek and Kozhabayev, are under arrest while waiting for their trial.
Fake loans and credit lines

Another high-profile case is the one against the former head of the National Pension Fund Ruslan Yerdenayev, along with the head of the Fund's Financial Risks Department Mussa Bakhtov, Chairman of the Supervisory Board of JSC AlatauMunayAltyn Bakhytzhan Kenzhebekov and Director of the LLP Buzgul Aurum A. Naizagarin, suspected of "embezzlement and wasting entrusted property" i.e. making "investments" in poor-valued enterprises with the aim to funnel the cash abroad in the form of loans to paper parties in offshore havens.
This case looks like a mini-version of the multi-billion fraud scheme carried out by former banker Mukhtar Ablyazov, in collaboration with a fellow-culprit and former Almaty mayor Viktor Khrapunov, who "earned" an estimated 600 million euro on property swindle while in office and is now hiding out in Switzerland. As for Ablyazov, between 2004 and 2009 he diverted astronomic amounts (estimates vary from 6 to 12 billion dollars) from his BTA bank in the form of fake loans and credit lines to mailbox firms abroad which he controlled himself. Courts in England and France have recognised the illegal origin of the money stolen by Ablyazov but their governments appear to be on the side of the criminals rather than get justice done. In the meantime Ablyazov keeps shifting the fake destiny of the stolen funds unhindered.
Western countries encourage corruption

According to a Denmark-based organisation called GAN [http://www.business-anti-corruption.com/country-profiles/kazakhstan], Kazakhstan has to blame itself for its white collar crime scourge. "Corruption is rampant throughout the country's political circles, and networks of patronage and clientelism negatively affect the country's business environment," GAN's portal reads.
This is a misleading statement, since in reality, western countries actually encourage corruption in all ranks and files in Kazakhstan and the rest of Central Asia by offering facilities and comfort to perpetrators and culprits to convert massive stolen funds into legal-looking investments, either in real or in fake assets.
Victims of political persecution

The main struggle in Central Asia appears to consist of settling the account of a recent past during which things went terribly out of control. All countries seemed to move in the direction of banana republics ruled by jungle commanders rather than orderly societies. Like in Africa and Latin America, western parties were far from strange to the fatal development.
Most escaped culprits claim that they have become "victims of political persecution" in their countries of origin. The west could help Central Asia by stopping to pretend to believe their lamentations. Today real refugees have little chance to find refuge in western Europe or north America – unless, of course, they have some handsome tens or hundreds of millions or billions in their pocket. Then, they find red carpets rolled out and no questions asked...
Douglas Green for The Times of Central Asia
www.stratfor.com, 20.03.2017