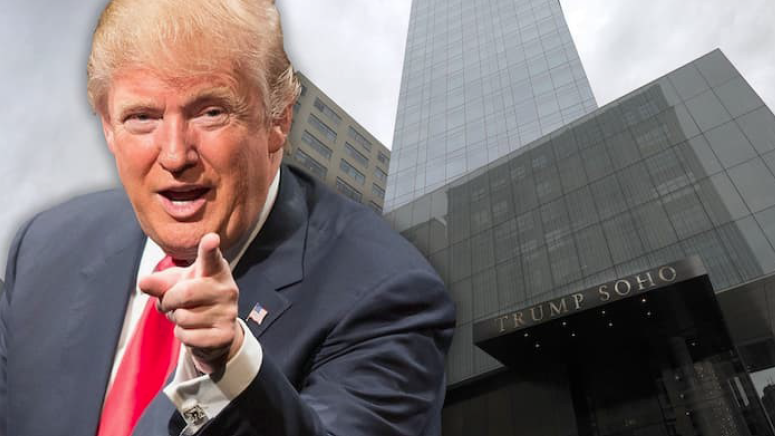 Ever since a series of bankruptcies left banks unwilling to lend to him, Donald Trump has been on the lookout for partners willing to fund the buildings that bear his name.
Over the years the US presidential candidate (https://www.ft.com/us-election-2016) has assembled an eclectic collection of backers and collaborators. Some had chequered pasts, with links to organised crime or fraud schemes. But perhaps the biggest risk for Mr Trump's complex, often opaque, business empire was that it might be used for a purpose US officials fear is rife in the country's real estate sector: laundering dirty money.

A Financial Times investigation has found evidence that one Trump venture has multiple ties to an alleged international money laundering network. Title deeds, bank records and correspondence show that a Kazakh family accused of laundering hundreds of millions of stolen dollars bought luxury apartments in a Manhattan tower part-owned by Mr Trump and embarked on major business ventures with one of the tycoon's partners.

As Mr Trump runs for the White House (https://www.ft.com/us-election-2016), the revelations raise questions about what steps his business takes to ensure that the funds that pour through it are clean.

Jennifer Shasky Calvery, then director of the US Financial Crimes Enforcement Network, warned in January that "corrupt foreign officials, or transnational criminals, may be using premium US real estate (http://next.ft.com/content/75ea3806-ba51-11e5-b151-8e15c9a029fb)to secretly invest millions in dirty money".

One former executive at a developer that worked with Mr Trump accused him of "wilful obliviousness" to the details of his partners' dealings. But a spokesman for the Trump Organisation said it conducted "extensive" background checks on its partners, including hiring outside investigators.

One of those partners, Bayrock (http://next.ft.com/content/549ddfaa-5fa5-11e6-b38c-7b39cbb1138a), has already been a source of controversy. Now the details of Bayrock's association with the family of Viktor Khrapunov, a former Kazakh energy minister and ex-mayor of the city of Almaty, show it was connected to an alleged laundering scheme at the same time as it was collaborating with Mr Trump.

Lawyers for Almaty told a US court in March that Mr Khrapunov and his family "conspired to systematically loot hundreds of millions of dollars of public assets ... and to launder their ill-gotten gains through a complex web of bank accounts and shell companies ... particularly in the United States".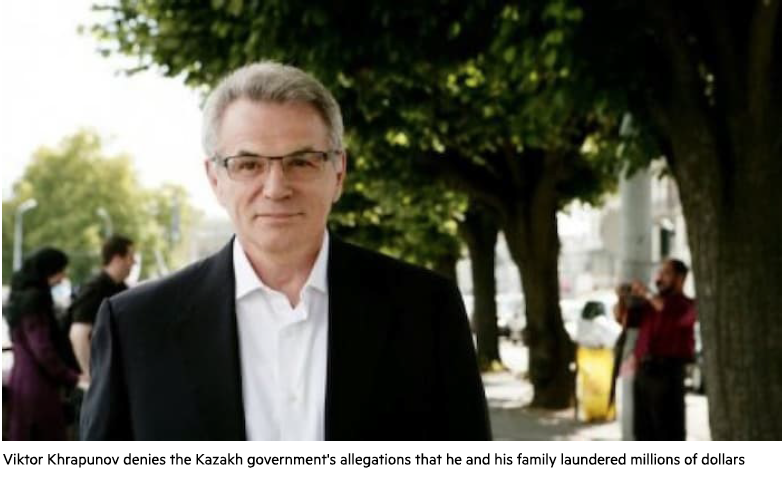 Mr Khrapunov, who now lives in Switzerland, says he is being targeted for opposing the man he used to serve, President Nursultan Nazarbayev, Kazakhstan (https://www.ft.com/topics/places/Kazakhstan)'s authoritarian ruler since 1989. His supporters say the family's fortune comes from business success, not embezzlement.

Among the dozens of companies the Almaty lawyers say the Khrapunov laundering network used were three called Soho 3310, Soho 3311 and Soho 3203. Each was a limited liability company, meaning their ownership could easily be concealed.

The companies were created in April 2013 in New York. A week later, property records show, they paid a total of $3.1m to buy the apartments that corresponded with their names in the Trump Soho, a 46-storey luxury hotel-condominium completed in 2010 in a chic corner of Manhattan.

Bank statements submitted by Almaty's lawyers indicate that the ultimate beneficiary of the Soho companies was Elvira Kudryashova, Mr Khrapunov's California-based daughter. According to the Kazakh government, she, with her brother Ilyas, is a key link in the family's laundering network.

Shortly before the Soho companies bought the apartments, more than $3.1m flowed out of Ms Kudryashova's Wells Fargo account to the firm of Martin Jajan, a New York lawyer. Mr Jajan proceeded to sign purchase documents for the Trump Soho apartments as buyer's agent. Other bank records show further links between Ms Kudryashova and her relatives and the Soho shell companies. Mr Jajan did not respond to a request for comment.
On the face of it, Mr Trump was not a beneficiary of the apartment sales. The vendor was another limited liability company, Bayrock/Sapir Organization LLC.

It was named after the developers that jointly built Trump Soho: the Sapir Organisation, founded by Tamir Sapir, from Georgia, and Bayrock, founded by Tevfik Arif, a Kazakhstan-born former Soviet official.

According to regulatory filings, however, Bayrock/Sapir Organization LLC had a third co-owner — the man who licensed his personal brand to the project.

The Trump Soho, announced in 2006, was an early example of a building that bore the Trump name but was built by someone else. Mr Trump's access to finance had been curtailed by bankruptcies. But as the star of The Apprentice, his celebrity stock was rising. Partners such as Sapir and Bayrock were prepared to pay to license his name.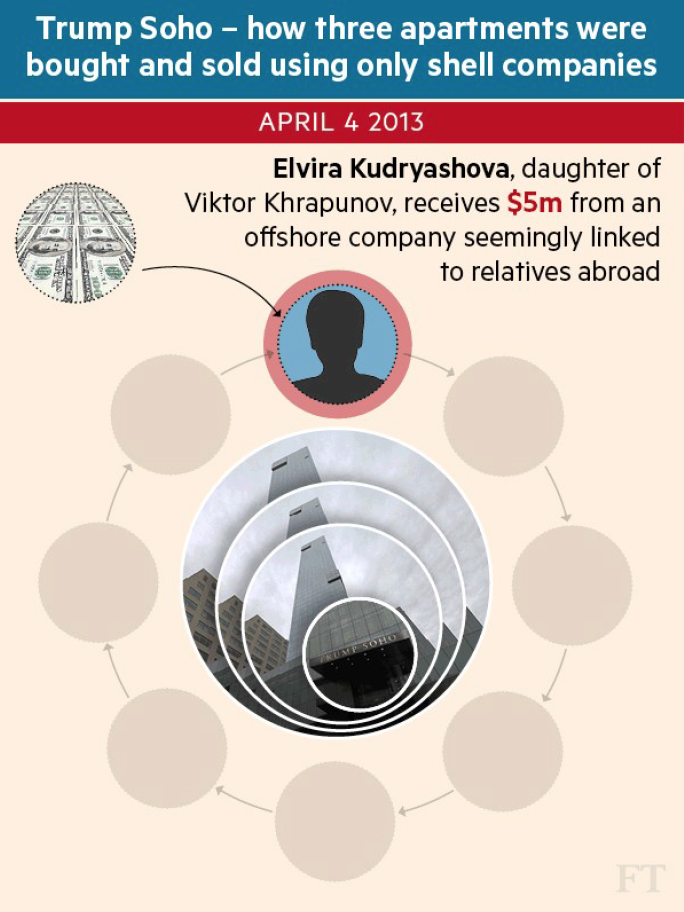 Until it fell into financial trouble and changed hands in a 2014 foreclosure sale, Mr Trump enjoyed an 18 per cent share of the profits of the Trump Soho. Alan Garten, general counsel of the Trump Organisation, said Bayrock and the Sapir Organisation were responsible for apartment sales and for conducting due diligence on buyers.

Both companies declined to comment.

Mr Garten said he had "no doubt" that "every legal requirement" had been fulfilled.

Asked how a member of the Khrapunov family could nonetheless have bought apartments in the Trump Soho — two years after the family was charged in Kazakhstan with financial crimes — he said: "Maybe there's something wrong with the law but we can't fault [Bayrock and Sapir] for complying with the laws."

The laws regulating US real estate deals are scant, experts say. Provisions against terrorism financing in the Patriot Act, passed in the aftermath of the September 11, 2001 attacks, obliged mortgage lenders to conduct "know your customer" research.

But money launderers pay in cash. Sales such as those of the Trump Soho apartments have passed through this loophole, which was partially closed only this year.

In January, the US launched a pilot programme designed to identify the ultimate owners of shell companies used to buy premium property in Manhattan and Miami.

In July officials reported that the new rules had corroborated concerns (https://www.fincen.gov/news/news-releases/fincen-expands-reach-real-estategeographic-targeting-orders-beyond-manhattan) that "all-cash luxury purchases of residential property by a legal entity are highly vulnerable to abuse for money laundering (https://www.ft.com/topics/themes/Money_Laundering)".

A spokesman for the Khrapunov family declined to answer detailed questions about the Soho apartment transactions and other deals. "Kazakhstan is using the legal systems of western countries to harass, wear down and destroy political opponents," the spokesman said. All the Khrapunov family's business activities "have been conducted in full accordance with Swiss laws," he added.
Mr Garten of the Trump Organisation said:

"We have no knowledge of who [the Khrapunov family] are and have done no business with them."

Mr Trump's former partners Bayrock, however, have dealt with them.

As work on Trump Soho got under way in 2007, the partnership between Mr Trump and Bayrock was gathering momentum.

Another tower, in Fort Lauderdale, was rising. A 2008 Bayrock presentation (https://assets.documentcloud.org/documents/3117892/Bayrock-Presentation.pdf) includes a picture of Mr Trump grinning beside Mr Arif and names him as a referee.

Bayrock had its office on the 24th floor of Trump Tower and calls the Trump Organisation a "strategic partner".

The same presentation says Bayrock was one of the backers of the redevelopment of the 101-year-old Hotel du Parc on the shores of Lake Geneva, owned by Swiss Development Group, a Geneva-based company. In May this year, Nicolas Bourg, a Belgian businessman who says he worked with Viktor Khrapunov's son Ilyas on US real estate deals, claimed in a separate dispute that Swiss Development Group was "owned and controlled by Ilyas and his family and used to conceal the movement and investment of his family's money".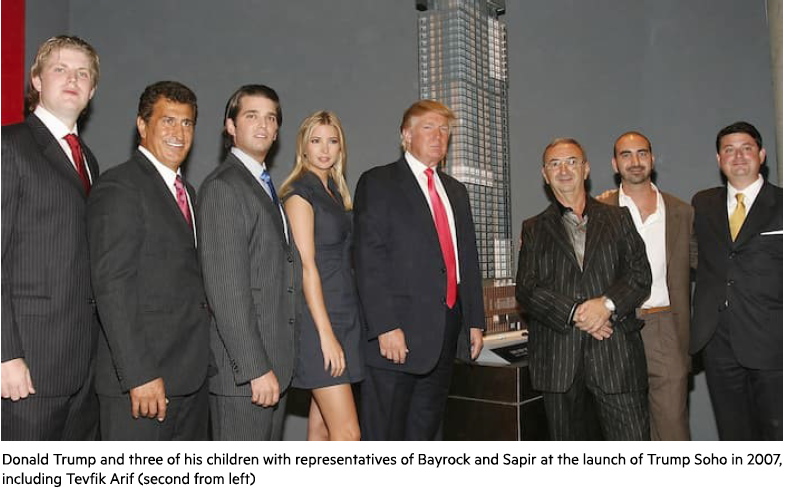 Swiss Development Group said it had been sold in 2013 but that it was still suffering "relentless and unsubstantiated pressure ... for the sole reason [that] it was linked at some point in time to someone the Kazakh government wants to prosecute".

The Kazakh government has also accused Helvetic Capital SA, another Swiss company, of being a vehicle for Khrapunov laundering. According to a 2007 draft contract, seen by the FT, Helvetic Capital planned to enter a $1.5m joint venture called KazBay. Its partner was to be Bayrock.

In a 2011 deposition, given in a dispute over the Fort Lauderdale project, Mr Trump said he had "never really understood who owned Bayrock". Jody Kriss, a former Bayrock finance director, has claimed in racketeering lawsuits against his former employer that Bayrock's backers included "hidden interests in Russia and Kazakhstan". Bayrock has denied Mr Kriss's allegations but declined to answer questions about the source of its funds and its relationship with the Khrapunovs.

Asked if the Trump Organisation had known where Bayrock's money came from, Mr Garten said: "No. I had no reason to question the source of funds. Its principal investor [Mr Arif] had a successful track record." He added: "When you do due diligence you act in good faith and try to look at all relevant material but there's only a certain degree that you can look at things. You can do as much as possible but you are limited to public records."
The Financial Times, 19.10.2016