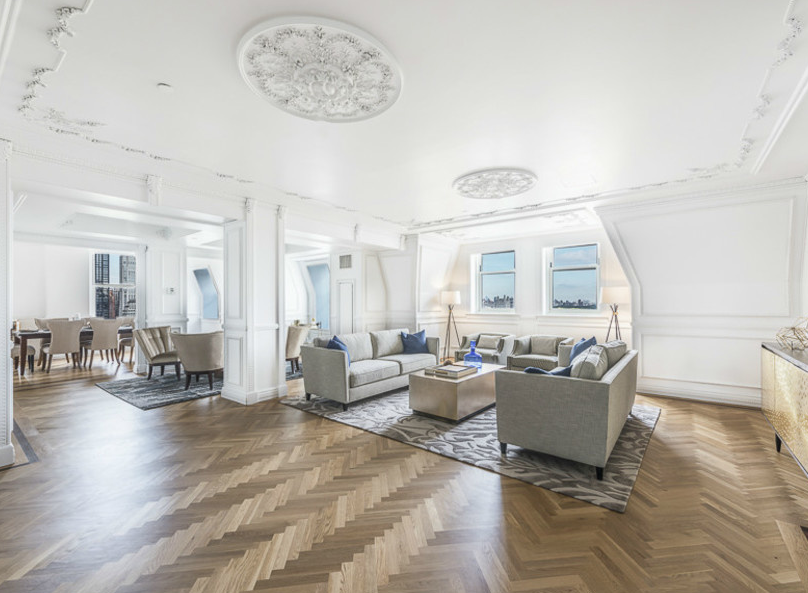 A Kazakh tycoon—and brother of the president of Kazakhstan—is looking at a couple million dollar loss
The brother of the president of Kazakhstan put a Plaza Hotel condo at the heart of a nasty feud with his ex-wife back on the market for $17.9 million on Thursday, according to a listing on StreetEasy.
The asking price sets Bolat Nazarbayev, a Kazakh fertilizer tycoon, up for a $2.3 million loss on his investment. He bought the four-bedroom, three-and-a-half-marble-bathroom apartment for $20.2 million in 2008, according to property records, after developers converted a portion of the historic hotel to pricey condominiums.
The 4,064-square-foot Fifth Avenue apartment with views over Central Park South became embroiled in a marital tussle involving Kazakhstan's ruling family. Mr. Nazarbayev is the brother of President Nursultan Nazarbayev, who has kept control over Kazakhstan for nearly three decades.
MORE: Plaza Hotel Apartment Formerly Rented by Elie Tahari Hits the Market for $13.85 Million
Bolat Nazarbayev, the seller, originally bought the condo with his then-wife Maira Saudabayevna, and his stepson Daniyar Kesikbayev signing as power of attorney, in February 2008, according to property records.
The couple divorced and in 2012. The tycoon accused his ex and stepson of stealing his real estate holdings and money, and sued for $100 million in Manhattan civil court, the New York Post reported at the time. He claimed his stepson conned him into handing over the Manhattan apartment for $1.
The fight escalated when authorities put Ms. Saudabayevna, whose last name varies within different legal documents, under house arrest back in Kazakhstan for allegedly kidnapping Mr. Nazarbayev's new girlfriend.
While the dispute unfolded, the family managed to rack up a small fortune in unpaid common charges and electricity bills at the Plaza. By May 2014, the stepson owed more than $138,000 in back payments and late fees, according to a lien on file.
Squabbling over the Plaza condo eventually concluded with the stepson handing ownership back over to Mr. Nazarbayev in a deed transfer filed six months ago, in April 2016, according to property records.
Besides potentially losing millions on the sale, Mr. Nazarbayev is also throwing in some expensive furnishings. The condo includes mosaic stained-glass ornamentation, crystal chandeliers and "masterpiece artworks," according to the listing.
www.mansionglobal.com, 14.10.2016