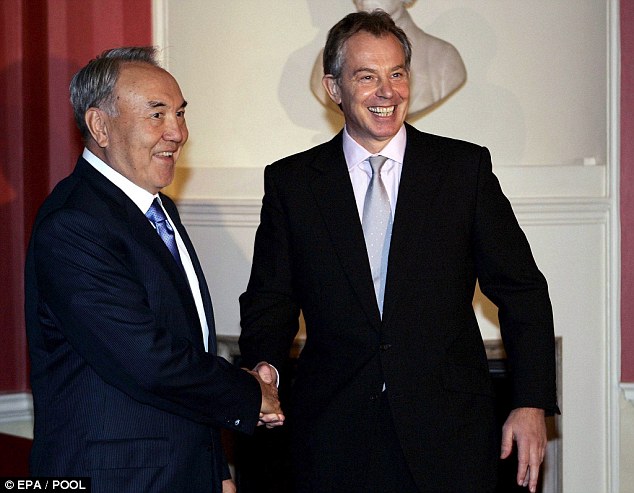 Tony Blair advised the president of Kazakhstan to present the killing of oil workers as 'tragic' but not something which should 'obscure' real progress made in the country, it was claimed today.
The former prime minister gave his advice to Nursultan Nazarbayev before his company, Tony Blair Associates, began contributing to work on a vast transformation of a stretch of Caspian Sea coast into a massive tourist resort.
Mr Blair's controversial links to Kazakhstan came after police in the country were accused of massacring oil workers in the region in 2011.

The claims emerged after Mr Blair faced new questions about his earnings since he left Downing Street and suggestions he used a secret trust to manage his multi-million pound fortune.

The Times today said Mr Blair has visited Kazakhstan on several occasions since 2014 to meet with and offer advice to President Nazarbayev in a deal worth 'millions' of pounds.

The paper also claimed Mr Blair's firm struck a deal in 2014 with the Mangystau regional government to work on the tourist resort.

Mr Blair's office today said he was not paid personally by President Nazarbayev but the fee 'primarily funds the team on the ground as well as other support staff and hiring other consultants as necessary'.

On the Mangystau contract, they added: 'Tony Blair's office has completed this project to help build capacity to attract investment and improve accountability as Mangystau sought to deliver better services for its citizens.

'The work in Mangystau was absolutely in line with the work many international bodies do there and important for the development of Kazakhstan in a direction entirely consistent with Western values unless you are alleging that it is wrong for people to work in Kazakhstan.'

Hugh Williamson, director of the European and Central Asia division of Human Rights Watch, told The Times: 'Mr Blair has said publicly that he sees his mandate in Kazakhstan as to do good for the country rather than just to raise money for his own operations, so we feel it's appropriate and necessary for him to be raising human rights issues.

'We've got no evidence he has been doing so [and] we see the danger if he doesn't do so as whitewashing the image of the government.'

At least 14 people died in the town of Zhanaozen, in Mangystau, in December 2011 when police fired on striking oil workers.

Several months after the incident, Mr Blair sent President Nazarbayev a note ahead of a speech he was due to make at Cambridge University.

He suggested the Kazakh leader say of the deaths that 'tragic though they were, should not obscure the enormous progress' made in the country.
On an earlier occasion, Mr Blair reportedly said: 'There was a very violent confrontation and people died.

'It was a terrible thing, but nearly all the people associated with that have moved on or changed.'

The latest claims emerged with Mr Blair facing questions about allegations he used a secret trust to manage his multi-million-pound wealth after contact with Britain's top taxman.

Two of the former premier's advisers claimed Dave Hartnett, head of Revenue & Customs, was approached by a consultant hired by Mr Blair's lawyers about the controversial trust.

Its existence raised questions on whether the alleged access amounted to special treatment by senior tax officials.

Senior politicians demanded an inquiry into the 'special treatment' of high-profile individuals by Britain's tax investigators, HMRC.

Tory MP David Davis, the former shadow home secretary, questioned what private discussions might have taken place.

He said that 'these arrangements appear to have been put in place without any proper scrutiny, and are not available to ordinary taxpayers'.

Mr Davis said he would write to the public accounts committee calling for 'an inquiry into special treatment of high-profile individuals by HMRC'.

Tory MP David Mowat, who sits on the PAC, told the Sun on Sunday: 'It would be wrong if senior well connected individuals got different tax treatment from the Inland Revenue than the rest of us.'

According to an investigation by The Times, discussions with HMRC officials, which took place shortly after Mr Blair left office a decade ago, included how his advisers would treat the trust for tax purposes.

They told undercover reporters that Mr Blair had used the interest-in-possession (IIP) trust to receive payments from his consultancy work, including with controversial regimes.

The trust sits at the heart of his business empire and had remained secret.

IIP trusts are legal entities that can hold property, shares or other sources of income for a beneficiary, most commonly for their lifetime.
www.dailymail.co.uk, 18 April 2016