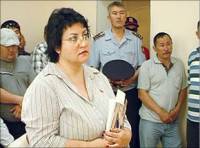 ALMATY (Reuters) - The U.S.-based human rights body Freedom House has demanded the immediate release from prison of a Kazakh labor lawyer, saying trumped-up accusations were used to punish her for supporting striking oil workers.
A court in western Kazakhstan sentenced Natalya Sokolova on Monday to six years in jail for "inciting social unrest" and "organizing illegal gatherings" at a Sino-Kazakh oil venture hit by a strike that began in May.
The strike at Karazhanbasmunai (KBM), which has also engulfed Uzenmunaigas, a bigger firm operating in the same region, was ignited by workers' complaints over what they see as an unjust system of payment and official attempts to suppress their trade union.
KBM is jointly owned by CITIC, China's biggest state investment company, and Kazakhstan's London-listed oil and gas firm KazMunaiGas Exploration Production (EP), Kazakhstan's No. 2 oil producer.
www.silkroadintelligencer.com
The striking workers are demanding that KBM stop interfering in the work of their labor union and increase their wages.
"We are concerned that Kazakhstan is using the judiciary as a means to silence oppositional voices such as Natalya Sokolova," said Susan Corke, senior program manager for Eurasia at U.S.-based Freedom House.
The charges brought against Sokolova were "spurious," the organization said in a statement posted on its website www.freedomhouse.org, calling for her "immediate and unconditional release."
"For Kazakhstan to be taken seriously as a member of the democratic community, it must ensure equality before the law for all its citizens and ensure Sokolova the due process to which she is entitled."
U.S. firms have invested billions of dollars in Kazakhstan, Central Asia's largest and most successful economy which holds about 3 percent of the world's recoverable oil reserves.
The nation of 16.5 million has attracted some $120 billion in foreign investment, mainly to its booming energy sector.
The oil workers' two-month-old strike is a slap in the face for the authorities in a nation ruled by strongman Nursultan Nazarbayev for more than two decades and where displays of dissent are very rare.
Last month British singer Sting added to official embarrassment when he canceled a much advertised concert in the Kazakh capital Astana, scheduled to open celebrations of the futuristic city's anniversary and Nazarbayev's birthday.
KazMunaiGas has said the strike may cut its crude output this year by around 6 percent, and industry sources said the stoppage will also reduce shipments of Kazakh oil across Russia.
(Reporting by Dmitry Solovyov; editing by Tim Pearce)
Source: Reuters US Online Report World News