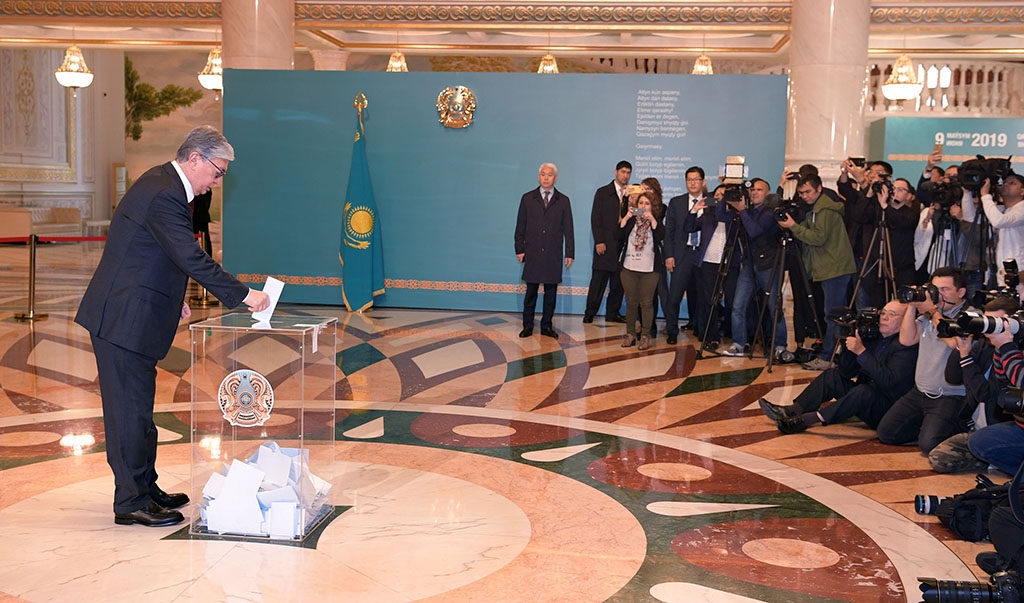 Even though there is no danger of independent parties getting into parliament, authorities fear renewed protests.
The political scene in Kazakhstan has long been cleared of actors critical of the ruling order, but the authorities are nonetheless taking additional measures to ensure that the choreographed parliamentary election on January 10 proceeds without too much scrutiny.
To that end, election officials last month introduced rules making life more difficult – if not impossible – for local, independent vote monitors.
The irony is that the stakes could not be lower. Only pro-government parties are competing. The ruling Nur Otan party, which holds 84 of the 98 seats in the Majilis, as the lower house of parliament is known, is all but certain to reprise its commanding showing in earlier votes.
Under a resolution promulgated on December 4 by the Central Elections Commission, only nongovernmental organizations that include election observation activities in their charter will be authorized to have monitors in polling stations. That is a significant departure from the presidential elections in June 2019, when NGOs were able to document a substantial volume of fraudulent activity.
Even if observers were able to get into the polling stations, they would be barred from posting photos or video content without the permission of the people shown in them.
These restrictive provisions were greeted with dismay by their intended targets.
"Just imagine, a violator casts several ballots, but the observer has to ask him if they can publish the video evidence documenting this," Yelena Shvetsova, executive director of the human rights NGO Erkindik Kanaty (Wings of Freedom), which has organized training seminars for independent observers, told Eurasianet.
Shvetsova said the election commission resolution was in direct violation of laws granting observation privileges to any political party, public association or non-profit organization.
"Even beekeepers can observe the elections!" she said.
Last-minute tinkering with the regulations has drawn international condemnation too. The United States Embassy in Nur-Sultan stated in the days after the rules were changed that it was "alarmed by elections-related restrictions that could hinder monitoring of the January 10 elections by civil society and independent observers."
"Unimpeded access to the electoral process is a fundamental aspect of [Organization for Security and Cooperation in Europe] commitments," the Embassy said.
In the second half of December, several independent NGOs petitioned the General Prosecutor's Office and the Supreme Court to overturn the election commission decree, but activists say their appeals were rejected on trivial procedural grounds. One objection outlined by the courts was that the petitioners had failed to specify in their complaint in which media outlet the election commission decree had been published. The petitioners had instead provided a link to the election commission's own website, which the court found unsatisfactory.
It is not as though there are strong motivations for wishing to lock out observers. As the only high-visibility and legally registered offering out there, Nur Otan will sweep the floor with its pocket party rivals. The crumbs will be gathered by either the would-be leftist People's Party, the business-promoting Ak Zhol party, the Adal (Honesty) party or the rural affairs-focused Auyl (Village) party.
Another legally registered party, the All-National Social Democratic Party, or OSDP, decided in a surprise, eleventh-hour decision not to take part in the vote at all. Their motivations for their withdrawal may explain why the authorities are anxious that their carefully arranged performative vote could still go wrong.
Since more genuinely opposition groups have been shut out, the exiled regime gadfly Mukhtar Ablyazov had tried to provoke some mischief by urging the discontented to cast their ballot for the OSDP. Evidently spooked by this show of support from a man despised by Nur-Sultan, the OSDP, which pursues a highly muted and accommodationist variety of opposition politics, preferred to pull out altogether.
Without real competition, why bother?
Nur Otan's startling success in previous elections has put the party in a bind. A cataclysmic slump from the 81 percent or 82 percent of the vote they recorded in 2012 and 2016 would be read as a consequential public indictment of the government's record. That could only happen if a substantial number of voters cast their ballot for one of the pocket parties as a protest gesture. Vote-rigging could cancel out even that exercise in defiance.
Independent election observers have grown more determined and organized. During the 2019 presidential vote, which saw the election of Kassym-Jomart Tokayev, they captured evidence of multiple crude irregularities.
Perceptions that the contest had been heavily rigged sparked an unusually intense wave of anti-government protests. In a bid to soak up that frustration, Tokayev instituted a National Council of Public Confidence, a now widely discredited forum that was supposed to serve as a bridge between rulers and civic activists.
So even though there is no danger of any undesirable parties getting into the Majilis, the authorities are nervous about any excuse for renewed protests. Shvetsova said Nur-Sultan looks on with particular concern at the events in Belarus and Kyrgyzstan, where anger over the outcome of elections provoked protest and unrest.
"The election commission will undertake every possible attempt to hide gross violations from the public in order to avoid accusations that they have falsified the results," she said.
Many of the activists involved in the 2019 protests are the same who had been hoping to spearhead vote observations. After the presidential election, the youth-driven Oyan, Qazaqstan (Awake Kazakhstan) movement, Erkindik Kanaty, and a group calling itself the Youth Information Service of Kazakhstan, or MISK, announced plans to develop a systematic observation program and to extend their monitoring to all polling stations in the country.
With financial support from western donors, two activists, Galymzhan Orazymbet and Bella Orynbetova, in the fall launched the Baqylau project to train independent observers about election laws, how to defend their rights and to correctly record violations.
"We were joined by people from all regions of Kazakhstan. They wanted to make a personal contribution toward the holding of transparent and fair elections," Orazymbet told Eurasianet. "Participants were impressed with how, [in 2019], independent observers were able to ensure quite a high level of transparency in the presidential elections."
But initiatives like Baqylau are not the only players in the field. And that is something that worries activists like Orazymbet, who suspect that the authorities have contrived to muddy the waters by engineering astroturf monitoring groups.
"Among them there will certainly be pro-government organizations," Orazymbet said, arguing that planting such groups at the last minute is characteristic behavior for the authorities.
Shvetsova concurred and claimed that officials at the local level were recruiting volunteers to work for GONGO (government-organized NGO) election observers.
"We attended their training seminars, where they were telling future monitors that every action that they take should be coordinated with a member of the Central Elections Commission," she said.
But Zhanna Akhmetova, who set up the group Taza Sailau (Clean Elections) in November, just two months before the parliamentary vote, denies that suggestion. Akhmetova said that part of her organization's goal will be to ensure monitoring is objective and there is not a repeat of what happened at the 2019 election, when there "were a lot of information drops about various violations that were never confirmed."
"We have no idea how much of that was true or not," she told Eurasianet. "We will show the situation as it really is, and we will explain what is a real violation and what are just provocations."
Akhmetova said Taza Sailau has already recruited around 4,000 volunteers from 20 cities.
"They are afraid"
Even when official rulings break in favor of independent observers, the result is frustrating. One unlikely bit of positive news arrived last month from the northern city of Oral, where a court ordered a local department of the Justice Ministry to register a public association devoted to vote-observing. The activists had applied repeatedly throughout 2020, but they were pushed back each time.
Activist journalist Lukpan Akhmedyarov, editor of the city's Uralskaya Nedelya newspaper, has no illusions, however. He noted that the court decision would, at best, enter into force one month after it was handed down, and only if the Justice Ministry does not appeal. Once it is all done, the election will have long been over.
"They understand that the victory of the ruling party in all previous elections was ensured by massive fraud, so they are afraid of independent observation," Akhmedyarov said.
Almaz Kumenov is an Almaty-based journalist.
Original source: Eurasianet