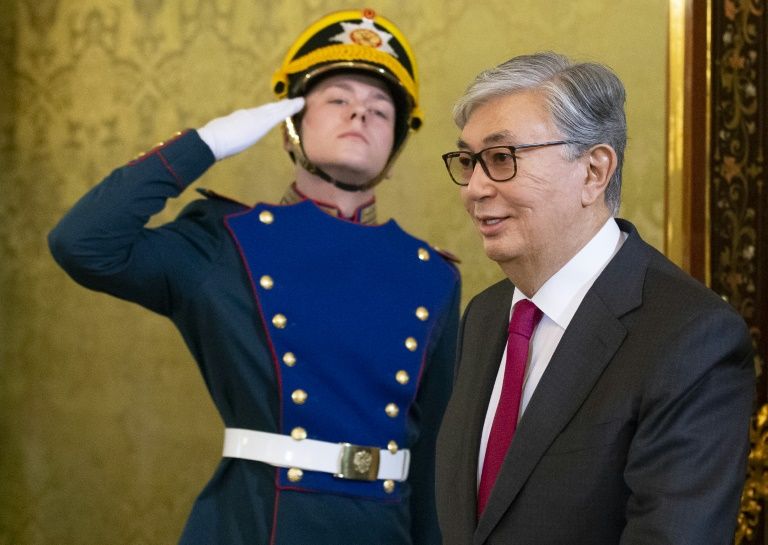 And can it be a model for other countries in the region to follow, namely Russia?
Less than two weeks after the resignation of Kazakhstan's President Nursultan Nazarbayev, who had been in power for more than 30 years, his successor Kassym-Jomart Tokayev has already announced that he will go on his first official visit abroad on April 3. The destination, of course, will be Moscow. The new leadership of Kazakhstan is eager to demonstrate that Russia will remain its main ally and there will be no foreign policy sway either westward towards the European Union and the United States or eastward towards China.
This is hardly a surprise since the transition Nazarbayev engineered aims only to change the facade of power while preserving its core.
Over the past decade, a number of succession plans had been drawn in Kazakhstan to prepare the country for that inevitable moment. The one that was unrolled earlier this month was put together immediately after the sudden death of neighbouring Uzbekistan's leader Islam Karimov in September 2016.
In the days following his passing, power was transferred quickly to Uzbek Prime Minister Shavkat Mirziyoyev with the help of the National Security Agency, the Uzbek intelligence apparatus. The question that remained unanswered at that time was whether Karimov had really planned for his transition to go that way and whether he had indeed envisioned Mirziyoyev as his successor. Tashkent never presented any evidence that the late president indeed had wanted his prime minister to take over.
Having watched closely the unfolding of these events, Nazarbayev made some important conclusions for himself and decided that he should engineer the transfer of power early on, so he can personally appoint his successor and control his political activities. More than anything, he wanted to make sure that if the person who takes over the presidency does not meet his expectations he would have enough time to remove him and put another loyalist in his place.
The decision to kick off the transition now rather than wait longer was probably made due to Nazarbayev's deteriorating health. It came just days after he returned from a visit to the UAE, where he has been going regularly to receive medical care.
So on March 19, in a televised address, Nazarbayev announced his resignation and passed the presidency to Senate Speaker Tokayev as per the provisions of Kazakhstan's constitution. A day later, his 55-year-old daughter Dariga Nazarbayev, who had headed the defence committee of the upper house of Parliament, took Tokayev's vacated post.
Her appointment to the second highest position in the government was a form of double insurance for Nazarbayev that the interests of his family will be protected and his vision for the future development of the country continued.
But the main guarantee for the preservation of power within the family was him retaining his status of "national leader" or Elbasy, his membership in the Constitutional Council, his chairmanship of the ruling party Nur Otan (Radiant Fatherland), and his position of head of the Security Council (a constitutional advisory body to the government) for life, with which he will continue to enjoy certain powers that are above those of the president.
Just days after seeing the important role that the National Security Agency played in the September 2016 power transition in Uzbekistan, Nazarbayev appointed one of his closest men and former prime minister Karim Massimov in charge of Kazakhstan's analogous body - the National Security Committee. And just a day before he resigned on March 19 this year, with his last decree as acting president, he promoted Massimov to major general.
Although Nazarbayev seems to have ensured what looks like a smooth transition, there are still a few major issues with it.
First, by retaining the position of head of the Security Council, Nazarbayev effectively has created two centres of power, which is likely to create much tension within Kazakhstan's bureaucratic political elite. Although Tokayev is very much a loyalist, he has already shown signs of trying to walk his own path.
For example, he appointed Bakytzhan Sagintayev as head of his presidential administration, even though Nazarbayev fired him just a month ago from the post of prime minister over the perceived low performance of his government.
If bureaucrats have to coordinate their work with two different decision-making bodies and start receiving contradictory directions, that could cause much chaos and dysfunction within the state apparatus.
Second, Tokayev, despite being appointed the president, cannot run in the upcoming presidential elections in 2020 because of a constitutional provision which stipulates that any presidential candidate should have resided 15 consecutive years in the country prior to the vote.
The current Kazakh president cannot fulfil this requirement because between 2011 and 2013 he lived in Geneva where he occupied the position of director-general of the United Nations Office there. And as an appointed rather than elected president he cannot undertake constitutional amendments on his own either.
In this case, parliament can initiate the process, upon Elbasy's request and through a nationwide referendum. There is already a precedent, which demonstrates that it is possible if there is a political will at the top.
This process had to be triggered last week, when Tokayev, having assumed the position of president, announced the renaming of the capital Astana to Nur-Sultan. The decision triggered an immediate negative reaction among the general population and on social media because it went against the constitution, which stipulates that Kazakhstan's capital is Astana and because the appointed president did not have the right to change it.
As a result, an urgent legislative manoeuvre had to be undertaken to avoid a major embarrassment. Within hours, parliament passed legislation approving the renaming, which was immediately signed by the president. Then a gathering was organised of Astana residents who purportedly overwhelmingly approved the new name. And to take care of any remaining public doubts, the Constitutional Council, which as mentioned above Nazarbayev is a member of, declared that the decision did not contravene the constitution.
In the coming few months, it will become clearer what role Tokayev is really intended to play in Nazarbayev's transition. If no amendments are made to the constitution, then this would render Tokayev just a temporary occupant of the position - just like former President Roza Otunbayeva of neighbouring Kyrgyzstan was back in 2010-2011. But unlike her Kazakh counterpart, Otunbayeva decided herself not to run in the presidential elections in order to relieve tensions in the aftermath of the bloody unrest in April 2010 that led to the downfall of president Kurmanbek Bakiev and the tragic bloodshed between ethnic Kyrgyz and Uzbeks in Osh region in June of that year.
If Tokayev remains barred from running, it is quite possible that Dariga Nazarbayev would put forward her candidacy and in the absence of any viable competition, she would surely win the vote.
There is also a possibility that she assumes the post even before the elections. Tokayev could be easily forced to resign, if some of his decisions do not please Elbasy, or if he faces a "kompromat" (compromising material) campaign, the beginnings of which can already be discerned in Kazakhstan's social media and those media outlets that are not controlled by the government.
Whether such an outcome is part of Nazarbayev's plan is difficult to tell at this time. Obviously, had he really wanted to, he would have appointed his daughter directly as his successor. But he is an experienced politician and wise observer of politics in the region.
He is well aware that a dynastical transfer of power would not be welcomed by the majority of the Kazakh population and in fact, such a move is likely to trigger popular unrest. The international community, where Nazarbayev currently enjoys an image of an enlightened autocrat who modernised his country and made it one of the 50 biggest economies of the world, is also likely to frown upon such a move.
Although Nazarbayev's transition move is indeed unprecedented in Central Asia, it is unlikely to become a model for his neighbours to follow. In Tajikistan and Turkmenistan, the dynastic transition is already well on the way.
Both Tajik President Emomali Rahmon (in power for over 25 years) and Turkmen President Gurbanguly Berdimuhamedow (in power for 12 years) have already made it clear that they are preparing their sons as successors.
Emomali's eldest son, 31-year-old Rustam, currently occupies the position of mayor of the capital, Dushanbe, and regularly appears next to his father at various important events so that the population gets used to their future leader.
Serdar, Berdimuhamedow's 38-year-old son, is currently the deputy foreign minister of Turkmenistan and has been widely considered as his father's designated successor.
Neither Emomali nor Berdimuhamedow have the same issues as Nazarbayev with securing the approval for their succession plan from the general population or from various political clans and financial elites - the latter being non-existent in Tajikistan and Turkmenistan. Their repressive regimes can ensure that there will be no popular unrest when the time comes for power to be handed over.
In Russia, Vladimir Putin could adopt the same approach of appointing a successor and retiring to a powerful position, say, as the head of the State Council, where he can enjoy enhanced powers, but the Russian president is known not to be fond of copycat moves.
He perceives himself as an exceptional demiurge and unconventional decision-maker. He will think of a plan to leave while remaining that will be different from Nazarbayev's; it will have to be a uniquely Russian model - both sophisticated and cynical - just like his 2011 castling move with Dmitry Medvedev. And it will certainly not involve a family affair; Putin simply does not have enough time to present a suitable family by 2024.
The views expressed in this article is the author's own and do not necessarily reflect Al Jazeera's editorial stance.
ABOUT THE AUTHOR

Arkady Dubnov is an independent Russian expert on Central Asia and Afghanistan.
Original source: AL JAZEERA