New wedding of political ephemers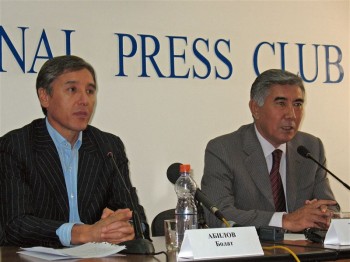 The hardest struggle is the struggle with yourself: never know who's going to win
The latest merge of Bulat Abilov's Azat party and Zharmakhan Tuyakbay's NSDP into single "NSDP Azat" is giving a reason to cast a close look on oppositional political parties field. It's probably not ethical to point invalids on their genetic, birth and afterbirth traumas, but once these people are constantly calling themselves the opposition to present political regime and wouldn't go off the scene, they should be ready to various critics.
2009 10 21In point of a fact, there are three oppositional parties: the Democratic Party of Kazakhstan (DPK) Azat, the Nationwide Social Democratic Party (NSDP) and the Communistic Party of Kazakhstan (CPK). «Alga!» Party is also functioning, but from year to years is being in process of registration. Actually earlier it too had the status of registered, but at one point it has been deprived it, actually paralyzing it in political rights. For instance, because of this the «Alga!» can't make nominations to elections in lower chamber of parliament, the Mazhilis, since they are conducted only by party lists for registered parties.
There are also Ak Zhol, Adilet, Patriots and Communistic People's of Kazakhstan parties and few others. They could call it the oppositional, but among all features of opposition they have only non-participation in forming the government. In the rest, they are no more than Lilliputian partners of Nur Otan party.
What are the abilities of the "oppositional four" can be judged by last week's events. On Monday they band together behind round table. At 12 PM on Wednesday on Almaty Arbat (crowded place in the center of the city) – bright and massive event to defend Yevgeniy Zhovtis, Tokhniyaz Kuchukov and Ramazan Yesergepov (human rights activist and two journalists who were illegally accused); at 2PM meeting point near headquarters of BTA bank in defense of Respublica Newspaper. The Power is conducting liquidation of unkind press, and Respublica business weekly is one of the recent and hardest losses for the freedom of speech. They have agreed that all three leaders would participate.
On Wednesday at 12PM the meeting appeared to be disordered, and without promised flamboyancy, entertainment, brightness and crowds. The time of piquet near BTA bank was outplayed from 2PM to 1PM, despite the fact that agreement was reached only 48 hours before the event. Instead of four chairmen of oppositional parties came only Vladimir Kozlov, the head of the «Alga!» And leaders of Azat, NSDP and CPK for the same last 48 hours before the event managed to make a conclusion, that their cooperated statement for the press would be better than personal presence on civil protest action.
Appearance of only one of party leader instead of four is quite explainable from the point of Kazakhstani political life. Here they critically can't empathize unfamiliar weddings, only own. And Respublica newspaper, as media resource of Mukhtar Ablyazov (fallen banker is abroad and under criminal prosecution for cheating), supported «Alga!» party in the first stance.
All of this is quite demonstrative and typical, but its only visible side of an iceberg of the opposition. Its fundamental problems are far deeper, and we would try to mark them.
Leaders of opposition are ignoring the postulate "what's exist – is exist". Thus, they don't want (unable or can't) accept situations, events and deeds as they are in truth. Because of that, the political reality appears to be different from wanted by Bulat Abilov, Zharmakhat Tuyakbay, Serikbolsyn Abdildin (CPK leader), Vladimir Kozlov and those, which advices they using. It is not such as I should be in their eyes; not such, as it were and not as it will be. The reality is such as it is.
The component of this thing is also that chairmen of oppositional parties are those who they are. Bulat Abilov is successful businessman of 90's, one of noticed "nephew economists" in Kazakhstan: in those times, the business was extensively made by relatives of high-ranked state authorities. Zharmakhan Tuyakbay was General Prosecutor, who firstly served with pride and honour for soviet system, and then Nursultan Nazarbayev's regime, until he failed "examination of serviceableness". Serikbolsyn Abdildin is the representative of communistic nomenclature of USSR times, who couldn't find himself cozy niche after historical reforms. Vladimir Kozlov is the manager of Mukhtar Ablyazov, who was entrusted with party building and political support of the patron.
Again – these people are not who they wanted to be, who they should be or even not who they used to be.
Concerning political comrades, civil society and authorities, with which, by virtue of objective matter of things, the political four have to deal with, so they are not such as leaders of opposition wanted to see. They are what they are, but not those they wanted to look like. If to decline such matter of things, then it would be hard for the oppositional parties to rely on passage from children league to mature political relations.
In terms of imaginative comparison: to get to Astana, it is worth to know where you are. Only in this case you could blaze yourself precise trail, and then choose most effective way of travelling. Yet the opposition never made something real for its establishment on political axis.
The second postulate ignored by opposition is descending from Sufi wisdom: "nothing good never giving for free". If oppositional party or coalition wish to something good would happen in its political life, they should know that it's the thing to pay for. Taking in account their position opposed to acting Power, plus increasing price of protest, the grand total would be expensive. Possibly, a price wouldn't be too high, but it will be for sure. However, native feature of Kazakhstani opposition is the willingness to get everything for free, whether it's massive support from people or places in parliament. That follows by complex unavailability for everything, whether it is repressions from state machine or impossibility to unite at least few thousands of its followers in one place, lack of skills to protect its activists and assistants; at tenth of thousands registered members in each of oppositional parties.
To accept present moment, mans to bow out childish impression that somebody owes something to opposition only because it wants it.
Third and last thing: "everybody can not to do things that it doesn't want to do". All latest years the oppositional parties doing only thing that they don't want to do, whether its requests of meetings, in which they constantly being declined, participation in trials by absurd arguments or giving whole layers of electorate in favour of Power without any attempts to struggle. As the result, they have no resources on doing thing that they want to do.
After congress of 24 of October Azat will merge with NSDP, and new party will be newly shaped. By statements of leadership of new old party (earlier Azat already been part of NSDP, but then it was called the True Ak Zhol, but left after a while), they will have over 200 thousand members. For Kazakhstan with its 16 million people such figure is quite impressive. But if city hall will get message that in one place NSDP Azat holds a meeting, and in another ROO Talmas and Socialistic Resistance, where two leaders have only two tenth of active members, then Akimat would be frightening by second meeting. See above why.
Article is contributed by PIK analytical informational bureau
BETTER.KZ