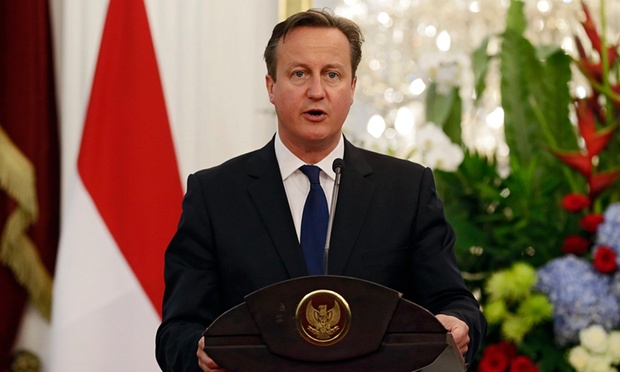 Prime minister will use a speech in Singapore to hit out against corrupt foreigners who launder money by buying up British homes through holding companies. David Cameron will promise to act against corrupt foreigners who buy up luxury properties in the UK using secretive holding companies to hide their "dirty money".
The prime minister will use a visit to Singapore to make an anti-corruption speech on Tuesday in which he will express concern that some properties, mainly in London, "are being bought by people overseas through anonymous shell companies, some with plundered or laundered cash".
Drawing on proposals advanced by campaign group Transparency International, Cameron will set out his determination to ensure that "the UK must not become a safe haven for corrupt money from around the world".
One in 10 properties in the City of Westminster, central London, are estimated to be owned by companies registered in an offshore secrecy jurisdiction, according to Transparency International figures provided by Downing Street, while £120bn worth of properties in England and Wales are owned offshore.
The prime minister will promise to introduce a central public land registry of foreign companies, setting out which land they own, in the autumn. At present, for a small fee it is possible to apply to find out the names of individuals owning property deeds, but the new registry is intended to make access easier, provide greater detail and cover overseas companies.
The government will also consult on whether to expand the new property register setting out the true owners of UK companies so that it would cover overseas-registered firms with a government contract.
Cameron first set out plans for a true register of ownership of UK companies during his chairmanship of the G7 in Northern Ireland two years ago. It would make it much easier for the regulatory authorities and the public to track down the owners of any property and any laundered money.
The prime minister will say: "I want Britain to be the most open country in the world for investment. But I want to ensure that all this money is clean money. There is no place for dirty money in Britain. Indeed, there should be no place for dirty money anywhere."
The change might also do something to stop the spiral of climbing property prices in London, which has forced middle-class Londoners further out from the centre of the city.
In March, Transparency International concluded that shell companies are a common way for moving corrupt money around the world, hiding funds that were intended to be invested locally. It added: "The corrupt are helped to buy properties by lawyers, accountants and estate agents who do not ask where the money is coming from – which by law in most countries, including the UK, they are supposed to do."
Transparency International found that:
The average price of a property under criminal investigation in the UK is £1.5m. It found 48% of properties investigated were valued at over £1m.

A total of 36,342 London properties covering 2.25sq miles are held by offshore companies. Of these, 38% are in the British Virgin Islands, 16% in Jersey, 9.5% in Isle of Man, and 9% in Guernsey.

Almost one in 10 properties in the City of Westminster (9.3%), 7.3% of properties in Kensington and Chelsea, and 4.5% in the City of London are owned by companies registered in an offshore secrecy jurisdiction.

In 2011 alone, £3.8bn worth of UK property was bought by British Virgin Islands-registered companies. In total £120bn of property in England and Wales is registered off shore.

The PM is expected to mention allegations that in 2009 an unknown individual acquired a network of offshore companies, which in turn invested in £147m worth of prime property in some of the capital's most famous addresses.
Documents seen by Global Witness reveal how the managers of these companies are linked to Rakhat Aliyev, the former Kazakh secret police chief found hanged in an Austrian prison in February 2015 while awaiting trial for the murder of two bankers in his home country.
Cameron will argue that the best way to fight corruption is to increase transparency. His aides say he will take on "both the sceptics, who question whether we can afford to take a lead on corruption without putting our economies at a disadvantage, and the defeatists, who say that there is nothing we can do that will actually make a big difference".
The speech will be used to argue that corruption holds back economic growth, that it fuels the flow of migrants from what he will describe as corrupt African states where people have no economic prospects, and that it can drive people into the hands of extremists when there is no well-organised government.
Cameron will also single out the commitment of Singapore's late former prime minister Lee Kuan Yew to tackling the subject. Praising his hosts, the prime minister will say: "It is no coincidence that Singapore's climb to the top end of the global indices for anti-corruption and ease of doing business have gone hand-in-hand with its great global success."
Nick Maxwell, head of advocacy and research at Transparency International UK, said: "An end to secret offshore company in ownership of UK property and in UK procurement can help shift the UK from being a safe haven for illicit wealth to a place where dirty money is not welcome."
www.theguardian.com, Tuesday 28 July 2015