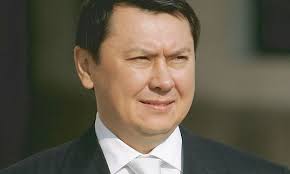 A once-feared KGB general now sits on suicide watch in a Vienna jail, a tawdry end to terrible tale. His strange story—worthy of a thriller—is a case study of how the former KGB uses forged documents to influence Western reporters, diplomats and politicians.
The KGB is not what it was, but its conspiracy theories fueled by forged documents – a "third man" at the Kennedy assassination, America didn't really land on the moon and so on – live on. Russian archives have released records showing decades of forgeries designed to mislead the West.
At a Soviet training academy in 1980s Moscow, Rakhat Aliyev met and courted the daughter of the future ruler of Kazakhstan. Once married, Aliyev became a senior spymaster in the Kazakh KGB. Later, he mounted a failed coup d'etat and fled with millions of dollars. Prosecutors in two countries linked Aliyev to a string of grisly murders, including two bankers whose bodies were found in 40-gallon oil drums.
Aliyev, who had been Kazakhstan's ambassador to Austria, is now in an Austrian jail as authorities consider murder charges against him. http://youtu.be/OsOqHqEkips
For years, Aliyev presented himself in American and European media as a brave "dissident"—using what are now known to be forged documents purporting to show a global conspiracy involving former U.S. president Bill Clinton, former CIA director James Woolsey, and former leaders of Britain, Austria and other nations.
Aliyev was taught basic forgery tradecraft as a young officer at the KGB Higher School in Soviet days. He certainly knew how to use forgeries to take down political targets—a common KGB tactic over many decades.
Aliyev styled himself as a "progressive political dissident" from Kazakhstan in a bid to win public sympathy. Even after his arrest in June 2014, the BBC headlined Aliyev as a "dissident."
The media never seemed to question the documents he supplied.
But judges and lawyers soon did.
They turned to renowned forgery expert Gideon Epstein, who spent decades exposing forgeries to hunt down Nazi war criminals. Now, in his nineties, Epstein easily proved Aliyev's many documents to be fake.
In a 2011 arbitration hearing, Epstein presented his analysis, prompting Aliyev to admit, under cross-examination, that he "received the documents from KNB sources in Kazakhstan." KNB is the abbreviation for the re-named Kazakhstan KGB: "Aliyev also testified that the KNB offices in Kazakhstan have the capability of fabricating documents, according to legal documents."
Aliyev's two admissions, along with analysis from Epstein and former Europol director Max-Peter Ratzel, caused Aliyev lawyers to withdraw the documents on which they had based their cases.
But Aliyev's stream of forgeries had snarled hearings and legal proceedings on two continents, initially confusing journalists and jurists.
Working through his in-laws – Issam Hourani and his brother (both of whom are cousins of Mahmud Abbas, the head of the Palestinian Authority) – Aliyev introduced what attorneys call "forgery-based litigation" as plaintiffs in London's High Court, World Bank tribunals in Paris, and a U.S. District Court in Washington, DC. Judges in each case discovered the forgeries and the documents were withdrawn.
Now divorced from the daughter of Kazakhstan's ruler and cut off from the family fortune, Aliyev sought to escape international investigations by marrying his assistant, an Austrian citizen, whose European passport enabled him to travel. Like a James Bond villain, he moved to a secure compound in Malta.
European and US authorities determined that many serious allegations against Aliyev had merit. The FBI worked closely with Kazakh prosecutors. With nowhere left to go, Aliyev surrendered to Austrian authorities in June 2014.
At first, it seemed that Aliyev might be able to recover his reputation. But Austrian authorities discovered gigabytes of information showing that Aliyev was an uber-forger.
Austrian prosecutors obtained a trove of recorded Skype conversations among Aliyev and his associates. Those recordings show that Aliyev directed the forgery campaign himself.
Weiner Zeitung, an Austrian newspaper of record, published an excerpt from Aliyev's Skype conversation. In the transcript, Aliyev instructs a henchman to make a forged letter to falsely claim that former U.K. prime minister Tony Blair and former Austrian chancellor Alfred Gusenbauer were part of a global conspiracy.
Aliyev: "No, look. You absolutely have to mention this Blair. He lobbies at the European level. And you've also got to bring in this second guy."
Nakhmanovich: "You mean this . . . what's his name, your . . .?
Aliyev: "Gusenbauer."
Nakhmanovich: "Yes, Gusenbauer. . . OK, so we focus on those two."
Aliyev: "Yes. Tony Blair and Gusenbauer."
The two discussed nuances of language, with Aliyev insisting the forgery should be no more than two pages. The following year, the Austrian news magazine Profil ran an article headlined "Aliyev case: Alfred Gusenbauer suspected of spying."
Other Kazakh KGB "spies," according to Aliyev's conspiracy theory, include former Austrian chancellor Heinz Fischer, former German chancellor Gerhard Schroeder, former Italian prime minister Romano Prodi, and former Polish president Alexander Kwasniewski. He also accuses former president Bill Clinton, former CIA director James Woolsey and other former U.S. officials of conspiring against him. Aliyev claims they are all part of a Kazakhstan KGB plot called "Superkhan."
Indeed, everyone seems to be a member of this sinister plot. In July, protesters picketed the Vienna Criminal Court demanding justice for the unsolved violent death of Aliyev's mistress, Anastasiya Novikova. The former TV anchor was thrown from a nine-story window and impaled on a wrought iron fence of the apartment building of Aliyev's in-laws. Aliyev responded by calling the protestors Kazakhstan intelligence agents, according to his Facebook page.
Aliyev is due in court on September 16.
His trial should provide vital lessons for the press and the public: Not all "dissidents" have clean hands and not all "documents" are real. The intelligence services of former Soviet lands are still using forgeries to upend the West, turn our leaders against each other, and keep the bad guys on the streets. There is a difference between being generous and foolishly trusting. Aliyev's bizarre case is part of larger trend of former Soviet state forgeries, including Russia itself. That's something that Americans should remember when the media lionizes heroes who are later unmasked as villains.
J. Michael Waller

Mr. Waller is a senior analyst at Wikistrat, and author of Secret Empire: The KGB in Russia Today.