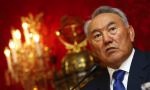 Kazakhstan is marking the week leading up to First President's Day on December 1 with public displays of affection for Nursultan Nazarbayev, the leader whom this public holiday – introduced last year – celebrates. Fueling criticism that a cult of personality surrounds the president who has ruled independent Kazakhstan for 22 years, one Astana university organized a mass display of student adoration for the man who goes by the title Leader of the Nation.
"Supporting the Leader of the Nation!" chanted some 3,000 students from the Kazakh Humanities and Law University who turned out on November 28 to sing one of the president's favorite songs and release red and white balloons into the sky against the backdrop of a giant banner showing the word "I" with a red heart followed by the words "Kazakhstan" and "Nazarbayev."
The university administration insisted the event had all been the students' idea, and they certainly looked as if they were having a good time on a video Radio Azattyk posted on YouTube.
Not to be outshone, the leaders of the nominal "opposition" in Kazakhstan's pro-presidential rubberstamp parliament joined the outpouring of affection.
The Communist leader even took the unusual step of hailing the aggressive capitalist reforms of the early 1990s – normally anathema to any communist – that Nazarbayev oversaw when he reluctantly inherited Kazakhstan as an independent state in 1991 (a fact that modern-day official history tends to gloss over, preferring to depict this former leader of Soviet Kazakhstan as at the vanguard of the independence movement).
"The time has come to answer the most important questions from the end of the last century," postured Vladislav Kosarev, leader of parliament's People's Communists faction on November 26 in remarks quoted by Tengri News. "Was the first secretary of the Central Committee of the Communist Party [Nazarbayev] right when he took reforms as the orientation point? Time gives us the right to judge this and we declare: Yes, he was right."
First President's Day will be marked nationwide with concerts and competitions, including a race through the Almaty subway in which members of the public will form teams and speed around the stations to complete tasks from sit-ups to weight lifting.
The holiday is aimed at promoting the feel-good factor in Kazakhstan, but at least one person wasn't buying into it. On November 28 a user called anonymouskz2014 posted a short video on YouTube entitled Anonymous to Nazarbayev, showing a banner posted over an Almaty overpass saying "Nazarbayev, ket!" – "Nazarbayev out!"
EurasiaNet.org