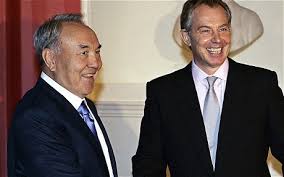 Just over two years ago, former British Prime Minister Tony Blair signed on as a political consultant with the government of Kazakhstan. His performance as an adviser to the Central Asian nation remains a source of contention. But what is indisputable is that Kazakhstan's democratization record is far poorer today than it was when he started.
Blair's multi-million-dollar consultancy deal, agreed to in October, 2011, reportedly expired a couple of weeks ago. His office has not commented on whether the consultancy has been renewed. In addition, Blair representatives deny that the deal was worth as much as $25 million, and insist that the former prime minister did not personally profit from the arrangement, explaining that Kazakhstani cash was used to support pro bono work in Africa.
Rights activists aren't satisfied with the explanations and are accusing Blair of providing political cover for a Kazakhstani government crackdown on basic freedoms. "We've not documented or been informed of any tangible positive human rights improvements as a result of Tony Blair's two years of work," Hugh Williamson of Human Rights Watch (HRW) told EurasiaNet.org.
Tony Blair Associates faced criticism almost immediately after signing on with President Nursultan Nazarbayev's administration. Critics accused Blair – dubbed the Master of Spin in the UK for his media-savvy governing style – of burnishing the image of a Central Asian autocrat.
On October 30, HRW published an exchange of letters with The Office of Tony Blair, in which the watchdog asked it to address "serious concerns about the human rights situation" in Kazakhstan, amid Astana's own "unwillingness" to act.
"Over the last two years there has been a marked decline in respect of fundamental freedoms such as freedom of religion, freedom of association, assembly, and speech, freedom from torture, and the right to a fair trial," HRW wrote to Blair's office in December 2012.
In response, Blair's team acknowledged that there is "much to do and a long distance to go in democratic and human rights" in Kazakhstan, but offered a robust defense of Astana's record on everything from giving up nuclear weapons in 1991 to its security cooperation with the West over Afghanistan.
Hailing Kazakhstan as "a solid ally of the West whilst keeping good relations with the East," the letter added: "[W]e are aware of the concerns around human rights, but it does show that it is a country that has demonstrated positive leadership on many issues of fundamental importance to the world and that it is doing so in a region of real complexity."
Such arguments echo Astana's mantra that Kazakhstan is an "evolving democracy." As Nazarbayev – who at home enjoys the title of Leader of the Nation amid a flourishing personality cult – put it in April: "the democracy and freedom that exist in the West [...] are for us the final goal, and not the start of the path."
Rights activists see such talk as masking resistance to meaningful reform. Blair's consultancy has seemed to be more about promoting "the image of one person – the current president" than pushing for reform, commented opposition leader Amirzhan Kosanov.
Civil society activists in Kazakhstan say that since Blair's team began advising Astana, they have come under mounting pressure in a crackdown that began after fatal unrest in oil-rich western Kazakhstan in 2011, when 15 civilians died in a hail of police gunfire after an oil strike turned violent.
While acknowledging some responsibility, the government heaped most of the blame on its political foes. Opposition leader Vladimir Kozlov and strike leaders were jailed on charges of fomenting the disorder; Kozlov's party, Alga!, and dozens of critical media outlets were shut down.
The "deplorable result" of this pressure, journalist Oksana Makushina (who was deputy editor of one closed newspaper, Golos Respubliki) told EurasiaNet.org, is that now "there's no opposition press on the market in Kazakhstan, just as there are no [political] opposition forces." She dismissed Blair's work as "lobbyist tricks."
Blair has on a few occasions publicly raised the need for reform. In one example, a speech last year at Astana's Nazarbayev University, he told students; "The status quo is not an option."
"There has to be the development of proper systems of democratic participation," he added, calling for "competitive political parties; a responsible but free press; adherence to Kazakhstan's hard won reputation for religious tolerance; judicial and other reforms to enhance the rule of law; and an attack not just on corruption but on the systems in areas like public procurement that sustain it."
Such rhetoric is welcome, but many in Kazakhstan want to see more tangible democracy promotion. "I haven't seen any results from Blair's work as adviser to Nazarbayev," Kozlov's wife Aliya Turusbekova told EurasiaNet.org. "And I definitely won't see any," she added pessimistically.
On November 11 Turusbekova visited her husband in his labor camp in Petropavlovsk, 1,700 kilometers from their hometown, Almaty, where – she wrote on Facebook – she found Kozlov under "tough moral pressure" and "in total isolation." Three months ago he applied for transfer closer to home (his legal right) so that his pregnant wife could visit more easily, but his request has gone unanswered.
The international community continues expressing concern over Kozlov's case. The European Parliament passed a resolution in April – which Astana ignored – calling for his release and that of "all persons convicted on the basis of vague criminal charges which could be considered to be politically motivated."
Given international concern, does Turusbekova believe Blair has quietly pressed her jailed husband's case behind the scenes? "I doubt if Blair's at all concerned about the fate of Vladimir Kozlov," she said, "so he won't offer Nazarbayev any advice on this."
Editor's note: Joanna Lillis is a freelance writer who specializes in Central Asia.
www.eurasianet.org