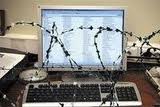 Kazakh internet users have been angered by a ban on access to 51 international websites that the Prosecutor General's Office claims are promoting terrorism and extremism.
The ban, announced on September 2, has drawn a storm of protest, prompting some to wonder whether Kazakhstan should be classed like its authoritarian neighbors Uzbekistan and Turkmenistan as "an enemy of the internet".
A statement from the Prosecutor General's Office says it had monitored around 10,000 websites. Based on these findings, an Astana city court "recognized the content of 51 international websites as illegal and ordered them to be blocked to prevent further promotion of religious extremism and terrorism in the Republic," Interfax Kazakhstan quotes the Prosecutor General's Office as saying. A list of the banned websites concerned has not yet been released.
The decision follows a ruling from the Saryarka Court of Astana to suspend access to more than 20 websites including Russian blog site LiveJournal for three months from August 19. The court said the decision to ban access to LiveJournal and other sites was because they could include terrorist propaganda or information on how to make bombs.
Until recently, the threat of terrorism has been low in Kazakhstan. However, the country has seen a series of incidents in the oil-rich western region over the past few months, most recently a shoot-out between police and members of a suspected militant group in Atyrau on August 29.
Kazakhstan's first suicide bombing took place in May.
A spokesperson for LiveJournal said that the site's administrators had not received any request to remove offensive content before the ban was imposed.
The Kazakhstan-based Adil Soz International Foundation for the Protection of Freedom of Speech has spoken out about the ban. "This is no doubt a violation of the constitutional rights of internet users, with no connection to unlawful content, to freely receive and disseminate information," the NGO said in a statement. Adil Soz also cites other recent incidences of online censorship including the blocking of some WordPress blogs and the intimidation of journalists reporting on the strike action in west Kazakhstan.
Independent Kazakh bloggers have also been critical of the latest move. "The person who prepared the statement for the prosecutor obviously did not quite understand what the internet is," blogger Konstantin commented.
In some ways, Kazakhstan's government has embraced new media. Prime Minister Karim Masimov in particular is an avid tweeter, who has urged government officials to buy iPads so as to be constantly online. But at the same time, the authorities have become increasingly more eager to control access to online information. "Kazakhstan has long been regarded as a regional 'pioneer' in sophisticated control of the internet, but until now the control had been relatively limited," says a report from Reporters Without Borders, which ranks Kazakhstan 162nd out of 178 countries on its press freedom index.
The blocking of LiveJournal and Google's pull-out a few months ago represent a turning point, from Reporters Without Borders says, before asking: "Is Kazakhstan beginning to slide down the same slippery slope taken by its neighbors, Uzbekistan and Turkmenistan, classified as enemies of the internet?"
silkroadintelligencer.com